While you might only use yours for playing Angry Birds, Vining and texting, your smart phone has incredible computing power that can actually be used in other impressive ways. Instead of high powered microcontrollers, expensive sensors or a complicated computer set up to control it, some robotics enthusiasts are harnessing the power of the cell phones they already own.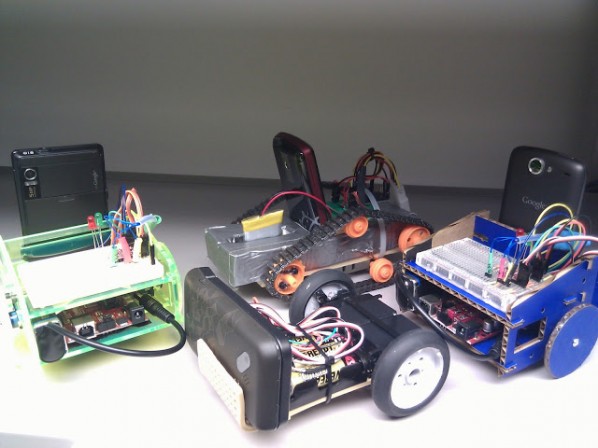 Cellbots, whose tagline is "Using Cellphones as Robotic Control Platforms," is a hobbyist group that aims "to free your cell phone from your pocket and let it connect and move with the real world." The group's website is filled with platform and software information, as well as guides on how to get started making your own robots. Phones are already powerful tools, and these hobbyists believe they can be even more. Cellbot's website states:
"Cellbots aren't just about using your phone to control a robot (which is cool too), but we aim on making your phone be the robot. It already has touch, hearing, speech, vibration, and many more senses, but needs legs (or wheels) to finally be the free roaming robot it was born to be."
Cellbots robots and software make it possible for anyone to turn his/her cell phone into a robot. Some of the easiest to use robots are based on other robotics platforms. Starting with pre-made robots and then adding on technology is an easy way to make powerful robots. Made by the same company that makes the Roomba, the iRobot Create is a programmable robot that looks like a Roomba shell but has no vacuum inside. Using this robot, an Android phone, and the Cellbots open source code, you can make a roving robot that takes pictures or records audio through the cell phone. Lego Mindstorms, already popular as a stand-alone robot, can also be connected with cell phones. Cellbots has an app that lets you use a cell phone with the robot much like you'd use any normal sensor. The cell phone can be used for audio and video recording, as well as to act like a face or voice for the robot. The next generation robot from Lego, EV3, also promises its own apps to integrate phones with the robots.
For a more DIY experience, robots can be combined with Arduino boards to make custom robots. The TruckBot, for example, is a popular robot in the Cellbots community. The parts list, plans and software are available free online. Built with under $50 in parts, the robot drives around, has GPS capabilities and uses text-to-speech talking. From the idea of this basic robot, people in the Cellbots community have made an army of robots, with everything from speech controlled robots to robo-tanks.
It's not just hobbyists that are making phone robots. Some companies are harnessing the power of cell phones to make commercial robot toys. One of the most popular iPhone robots came to fame after a successful Kickstarter campaign and is now in its second version. Romo 2.0 is an adorable robot that "uses your iOS device as his brain." After placing an iPhone onto Romo's body and installing the application, you can use another phone or tablet to control its movements. Using the front facing camera, Romo has face recognition technology and can be "trained" to recognize its owner.
A less cute, more powerful robot, the Parrot AR.Drone 2.0 is a commercial quadrotor drone that uses the iPhone as controls. Available through Apple, the Parrot drone can take HD video and do flips, placing the power of surveillance in the hands of almost anyone. The technology is remarkably similar to the phone controlled military drone produced by the MIT Human Automation Lab (HAL). The HAL lab used the touch screen, sensors and high speed transfer ability of the iPhone to make controlling drones easier and more intuitive. The Parrot robot isn't quite military caliber (and I'm unsure that anyone should be putting drones in the hands of the public anyway), but it puts drones on the market for a lot less than the phone-free competition.
Through DIY efforts to make awesome robots and companies taking advantage of the computing power already in our pockets, smart phone powered robots are a trend that will probably continue. It makes sense. Not only are they ubiquitous, smart phones are also quick, lightweight and pre-equipped with motion sensors, cameras, speakers and screens. By reusing existing technology, robots become more accessible and improve technology more quickly and easily than ever before.