As the 2013 NFL Draft begins tonight (8pm on NFL Network and ESPN), 254 young men from the collegiate ranks are going to join an elite group of athletes in the premier American football league. The wild nature of the this year's college season has led to a lot of questions leading into tonight's draft; and, with that, we will examine the major story lines going into this year's NFL draft.
The first round will be wild and unpredictable.
This is because of the fact that there is a lot of guess work being done on the part of NFL critics and pundits, due to a mixed level of player talent. There are some strong athletes at some positions, like offensive line, while there is a gap at others, like running back. Only recently has a general consensus been reached on a first pick, with Texas A&M OT Luke Joeckel filling the spot, for the Kansas City Chiefs.
Additionally, some are speculating that no QB will be considered for the first round for the first time since 1996. On the other side of that, many think that it is between Ryan Nassib of Syracuse and West Virginia's Geno Smith, but only to the Buffalo Bills with the eighth pick. There is only one certainty— 32 kids are guaranteed to become millionaires. We just need to find out those names.
Matt Barkley and Manti Te'o fell like sandbags this year.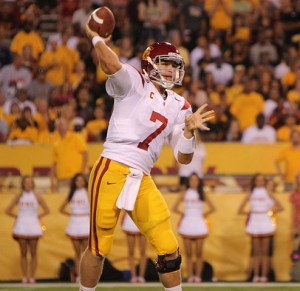 This is actually a serious thing. Matt Barkley could have and should have left USC last season. While leading the Trojans to a 10-2 record, he threw for 3528 yards, 39 touchdowns, and only 7 interceptions. This is one of the best statistical seasons in USC history. He would have been a first round lock and at the least have gone to the Miami Dolphins with the ninth pick last year. Now, thanks to a poor season in Southern California, which included losses to Notre Dame and UCLA as well as a shoulder injury, he is being predicted to go in the second and third round.
If you do not know the story of Manti Te'o, then please catch-up. Aside from his catfishing, he was considered a great athlete until the national championship game. Te'o simply didn't play well against Alabama, and it didn't stop there. He was unable to completely impress the scouts during his workouts at February's scouting combine and only marginally improved during his pro-day at ND. At the beginning of the season, Te'o began as an early first round pick and maintained that status for a healthy part of the season. Now, his peak is considered the mid-first round, and he could fall as far as the mid-second round, a difference of millions. To think, it was all good when the country thought he had the memory of a dead girlfriend to fight for.
Who is Lawrence Okoye and how does he matter?
Lawrence Okoye is a 21-year-old Brit, just trying to make it to the NFL. The 6'6″, 300 lb. defensive end shined at the NFL Super Regional Combine (for small school prospects) where he ran a 4.78 sec 40 yard dash and has a vertical jump of 35 inches. Now, you may be asking, what school did he play for? Well, he didn't. Okoye is actually a former rugby player and current discus thrower, attempting to make the NFL. He placed in 12th at the 2012 London Olympics and is also the British record holder in this event. He has projected as a defensive end due to his size; and, according to different reports, he has been seen as a strong athlete. His workout numbers are on par with defensive ends of the same size and weight, which has led to the view of him as a late round pick or a priority free agent. At the same time, this is a great story to follow because this doesn't happen everyday. It takes a lot of training in order to transition from one sport to another, even if an individual is highly athletic. It will be interesting to see where he ends up, and how his story continues to unfold.
Altogether, the NFL Draft will see some teams finding a face to their franchises, but over time. The only certainty is that it will be interesting and will lead to plenty of debate for the talking heads that make up sports media.