FX continues to present quality programming on cable while other networks' relevance diminishes in the twilight years of their flagship shows (I'm lookin' at you AMC). With the adaptation of the Danish series Bron into newcomer The Bridge, the network further cements itself as a top tier cable player. FX has a strong stable of shows in its catalogue, from scrappy comedies Always Sunny and The League to riveting dramas like Justified and now, The Bridge.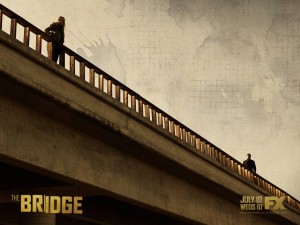 The show's premise is simple, if a little hokey. Two somewhat ostracized cops from different precincts team up on a case that threatens each of their jurisdictions. They must tolerate personality quirks and work out differences as they collaborate to solve the case of a nefarious serial killer who's always one step ahead of them.
Sound like the premise of every cop show ever? It is, but there's one important distinction that elevates The Bridge over other crime dramas: its setting. The original Danish show was set on the border between Sweden and Denmark, two countries often in conflict with one another. Here, the setting is changed to the border of El Paso, Texas, and Ciudad Juarez, Mexico. The serial killer in question drops a body on the border between Mexico and the U.S., forcing a collaboration between police forces that all too often don't care about each other. This killer is on a mission to call out the cops on both sides of the border and make sure that deaths aren't going unnoticed.
The Bridge faces the complexities of immigration and border control head on. There are no cheesy allegories, no obsessive focus on sob stories, just a matter-of-fact examination of the relations between neighboring countries that often seem to ignore each other. As the tension builds in the killer case, the question always remains the same: why is it that most Americans don't know and, more importantly, don't care about the carnage happening just across the border in cities like Juarez?
The Bridge has its flaws. While the setting is a masterstroke, the cop drama is very by the books, sometimes skewing too far into cliché. Dianne Kruger is very effective in the lead role of Detective Sonya Cross, but her socially inept character can become grating, especially when the show pushes an arc of "learning to be more human" onto her.
If you're looking for a thoughtful drama, consider The Bridge. It applies an age-old formula to a politically charged setting in a thoughtful way, giving equal weight to the virtues and flaws of the police forces on either side of the border.