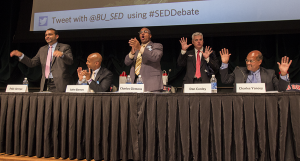 With less than two weeks left until the preliminary election for mayor, Boston University welcomed six of the 12 Boston Mayoral candidates to the Tsai Performance Center, where the candidates spoke to students regarding their plans to better education.
The evening began with general, impartial questions to let the audience members get acquainted with each speaker.
From there, student and Town Hall questions focused in on several problems facing the Boston education system, including standardized tests, achievement gaps, special education inclusion, and longer school days.
Many candidates at the event used the time to display their political platform and credentials for being the next mayor, while others tried to facilitate a relationship between mayor and schoolteacher.
"We want excellent instructors. We want teachers who are going into the classroom and being supportive and developed to be great teachers," John Connolly, Boston City Councilor and former teacher, said. "You're not all going to be a great teacher on day one. We want to make sure you become a great teacher, and we want children excited to learn."
Additionally, many candidates, like Charles Clemons, former Boston Police Officer, addressed that the progress of Boston's education system lies in the hands of teachers.
"You can always tell how great a teacher is by the student, because the student will excel the teacher," Clemons said.
Similarly, Connolly called teaching "the most important job in the United States," and urged the future teachers in the room to help close the achievement gaps.           
One student, Christine Cornish (SED '16), felt that although the candidates mentioned important issues, most of their answers were vague and undefined.
"The biggest concern that I think is facing education is teaching to the test and making sure that students are actually learning content and not memorizing," Cornish said. "They talked about it, but not as in-depth as I would have liked. They were giving general answers and no specifics, so I don't think they're going to do much about it."
Cornish, a born and raised Boston resident, commented that she's had the same mayor, Mayor Thomas Menino, all her life. To her, the debate added extra insight, since she plans on voting in both elections.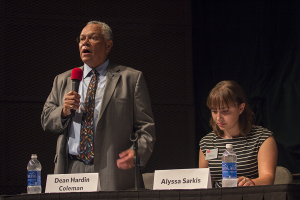 On the other hand, other students, like Sophia Quiroz (CAS'15), understood the potential challenges the candidates were facing.
"I think the hard thing about running for mayor is that you have to be everything," Quiroz said. "You have to be a teacher, a police officer, and a lawyer all at the same time. We want them to know everything, but it's not possible to know the intricacies of every profession in a city."
Opinions aside, the panel attracted a handful of student and residential voters. The preliminary election, where only two candidates remain, will take place on Sept. 24. The final election will then be held on Nov. 5.
According to the Boston Globe, no candidate shows a clear lead in the polls, and more voters remained undecided.
"Mayor Menino is going to be some tough shoes to fill," Cornish said.