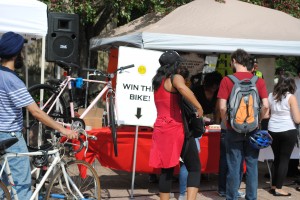 The wind, heat, and humidity didn't stop groups from not only the BostonUniversity community, but also the city of Boston and surrounding areas from coming together on Thursday, September 12th, for the annual Boston University Sustainability Festival 2013.
The Festival was presented by sustainability@BU in conjunction with BU Bike Safety and BU Dining Services, and took place at Marsh Plaza from 11:00 am until 2:30 pm.
Its aim every year is to raise awareness and promote safe and sustainable living among BU students, as well as distribute information on all kinds of sustainable practices, supply free bike maintenance, and host a mini farmer's market.
Bike safety was clearly a central feature of this year's Festival, with seven different biking-related organizations represented. Also present was the BUPD, who has worked significantly with Bike Safety to promote safe and responsible biking. A few officers were stationed further up Commonwealth Avenue, near the BU Bridge, giving away free bike lights and occasionally stopping bikers.
Sergeant Larry Cuzzi spoke about the importance of working with the city and BU community to improve bike safety and prevent accidents. Working together–from collaboration between different police departments from the area to educating drivers, bikers, and pedestrians–cannot be underestimated as a tool for successful road safety, according to the Sergeant. That's why it's important for every citizen to know all the rules such as the comparative negligence rule because they make a great impact.
At the center of the Festival, the BU farmer's market, usually located at the GSU Plaza every Thursday, offered a range of sustainable local food, from fresh vegetables and fruit from different farms to stone ground organic chocolate and more. Like the local bike shops present, sustainability@BU had reached out to the farmer's market to request that they participate in the Festival and help bring the idea of sustainable food to the table as well. Free samples were available from most of the stalls, and all the produce was for sale.
The heartening fusion of groups from BU, Boston, and its surrounding areas present at the Festival felt strongly like a community coming together with a cause. Not only was sustainable living and eating promoted strongly, it was also a voice for change concerning biking safety and regulations.
In light of the tragic accidents involving bikers that occurred in the last year alone, the question of bike safety is ever more important, and educating and changing people's attitudes about biking is vital. The Sustainability Festival is just an amazing start.
For more information about sustainability@BU, participating groups from Sustainability Festival 2013, and Bike Safety, visit http://www.bu.edu/sustainability/, http://www.bu.edu/sustainability/what-you-can-do/events/sustainability-festival/ and http://www.bu.edu/bikesafety/
The BU Farmer's Market will be happening from September 5th to October 24th on Thursdays, from 11am – 3pm at the GSU Plaza. For more information on participating groups, visit http://www.bu.edu/dining/about-us/sustainability/farmers-market/