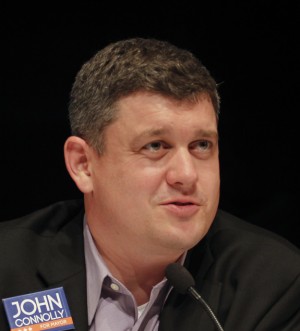 With the general election for Boston's mayor approaching, two remaining candidates, John Connolly and Martin Walsh, race to get their faces out there.
So what does the mayoral election mean for students at BU? And most of all, why should I care if this doesn't affect me?
Because it does affect you. The mayor of Boston is in charge of four of, what I believe to be, the most important values to a kid in college in a city: safety, housing, jobs, and transportation.
Safety first. BU gained a bit of a reputation last year when almost every week, during the fall semester, cell phones would buzz from a BU alert, informing students that an armed robbery took place on or near campus.
With that in mind, a greater police presence, both on and off campus, would be good.
To this, Connolly agrees. As mayor, he plans to preserve funding from the start in order to increase the police presence in neighborhoods.
Walsh, on the other hand, has a different idea. He plans to consolidate the database that the Boston Police currently uses to make identification and investigation more effective.
Hmm. Interesting approach, Walsh, but I'm going to give this one to Connolly. (Connolly 1, Walsh 0)
Next of course is housing. Many BU students quickly learn that a life off campus and without a dining plan is much cheaper. However, the livable locations tend to be pricey, and the not so livable tend to be overcrowded and under-regulated.
According to Walsh's website, to cope with the housing demands he plans to "encourage on-campus housing for all colleges." Tough break, Marty. Here I was hoping we could all get along.
Connolly, however, seems to have the right idea. His website claims he's interested in making housing more affordable for low-income households, aka college kids and the homeless (which are almost the same thing).
This one goes to Connolly, too. (Connolly 2, Walsh 0) Maybe Walsh has some better ideas for jobs?
His website claims he wants to create better partnerships with colleges and universities. More specifically, he plans to "design and invest in high quality training programs for young adults between the ages of 16-24 and connect them to businesses so that they can be gainfully employed."
Walsh also claims he will give tax incentives to employers who hire and train locally. That seems promising.
Connolly has a somewhat similar approach to jobs. He is thinking of the student since he says he wants more students to stay. "Though we are proud of being the birthplace of innovation, we must also become its lifelong home."
That's well-said Connolly, but Walsh has got this one in the bag. (Connolly 2, Walsh 1)
Lastly, there's transportation. Many students must rely on public transportation to get around Boston, so any improvements in that area would be commendable.
With that, Walsh plans to increase the accessibility of public transportation by extending routes and neighborhoods.
On the other hand, Connolly cares more about pushing the MBTA for late-night service and improving safety for pedestrians at intersections.
Late-night trains and safety for pedestrians definitely call to BU students. Connolly for the win. (Connolly 3, Walsh 1)
So there you have it. It seems as if Connolly is the best candidate from this analysis.
Regardless of who gets elected or whom a student prefers, it's obvious that the election will have an impact on students at BU.