It is now officially fall. Sweet potatoes are one of my favorite fall foods, not that I don't eat them in the summer as well. Their orange hue lends them perfectly to the pumpkin fall scene and they are a great alternative to white potatoes.
The potassium and magnesium found in sweet potatoes are great for decreasing blood pressure and the iron found in sweet potatoes benefits blood cells. Calcium and magnesium found in sweet potatoes strengthen the bones and the manganese helps the body heal and keeps the metabolism in check.
The other thing about sweet potatoes? They're just plain delicious. They are sweeter than white potatoes and are a great alternative when making fries. Using one sweet potato fry recipe, I created three meals that all incorporate the recipe in some way. That means you just have to buy three sweet potatoes to make all three. You're welcome.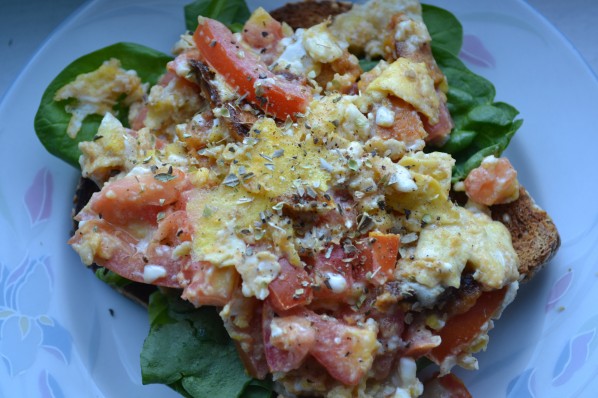 Breakfast
Sweet Potato Omelette on Toast
Total time: 10 minutes, serves 1
Ingredients
1 egg
1 slice of toast
1/2 small tomato, diced
3 leftover sweet potato fries, broken into small pieces
1/4 cup spinach
pepper and oregano to taste
Directions
Cook egg over medium heat. Scramble and add in sweet potato and tomato. While the egg is cooking, place bread in the toaster. Once bread is toasted to your desired crispness, top with spinach and then egg mixture. Sprinkle with pepper and oregano.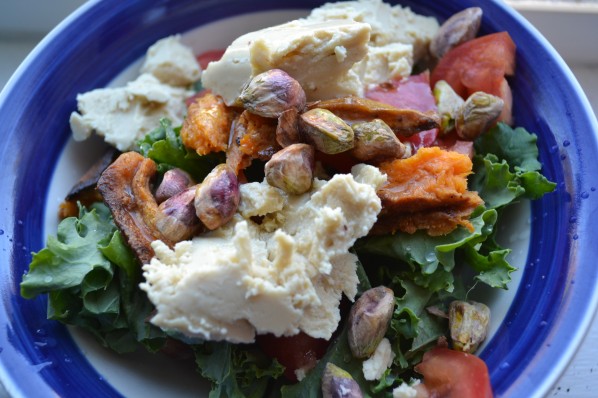 Lunch
Sweet Potato Fry Salad
Total time: 5 minutes, serves 1
Ingredients
1 cup kale
1/2 tomato, diced
4 leftover sweet potato fries, pulled apart into small pieces
1/4 cup hummus
handful pistachios
1 tablespoon olive oil
1/8 teaspoon lemon juice
Directions
Mix all salad ingredients together in a bowl. Drizzle with olive oil and lemon juice.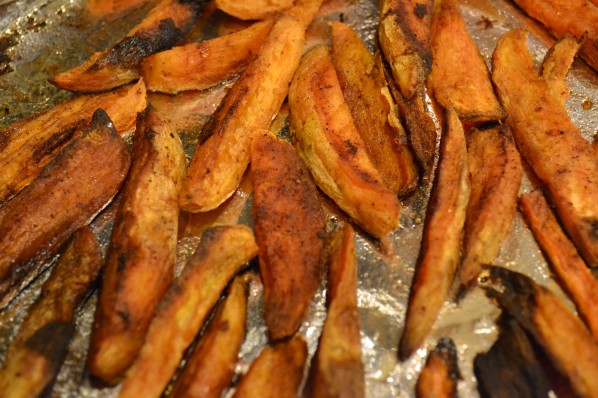 Dinner
Sweet Potato Fries from Everyday Paleo
Total time: 45 minutes, serves 6
Ingredients
3 sweet potatoes, peeled and sliced into spears
3 tablespoons coconut oil, melted
1/2 tablespoon cinnamon
1/4 tablespoon chili powder
salt and pepper to taste
Directions
Preheat oven to 400 degrees F. Whisk together coconut oil and spices. Pour over sweet potato spears and mix until the sweet potato is evenly covered. Place on a baking sheet covered in tin foil and bake for 15 minutes. Flip potatoes over and bake for another 15 minutes.