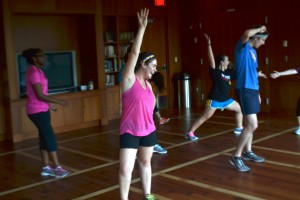 After a little chat with Student Health Services on Monday about why I've been feeling so crappy lately, the doctor informed me that my minor health problems would all take care of themselves if I simply started with the basics: eat right, drink more water, drink less coffee, and exercise.
I let out a collective "ugh" to all of these suggestions–especially exercising, ugh–because I am a stubborn, unhealthy creature of habit.
However, I had a total change of heart when I learned that the Hillel House was hosting a program called "Jewmba" the next day. I had heard a lot of awesome things about the Zumba dance/exercise craze, and the fact that it was taking place near me in East Campus instead of all the way at FitRec was a total game-changer for my lazy self. If I was going to give this whole "healthy lifestyle" thing a try, I might as well have fun doing it.
Jeremy Lowe (SMG '14), the class instructor, started the program last semester after having taken Zumba classes at FitRec and elsewhere for about four years. When he decided he wanted to start teaching, he called his contacts at the Hillel House and BU Jewmba was born. He has been teaching the class weekly, on Tuesdays, ever since.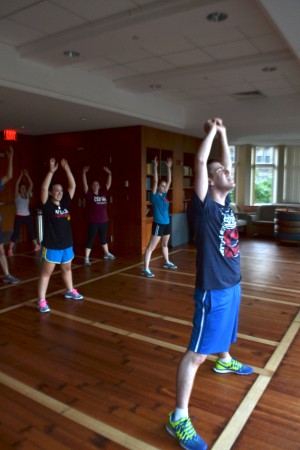 "It's been a great program for Hillel, for East Campus, and for BU in general," Lowe said. He added that "the name is a little misleading, because you don't have to be Jewish to Jewmba."
Alyssa Langer (COM/SAR '14) said she is a Jewmba regular, estimating that she has been to ten of Lowe's classes over the past year. Langer said she is already involved with Hillel and likes to exercise, so the Jewmba classes are a great way to combine those two things.
"It's so convenient because I live, like, 30 seconds away in a brownstone," she said. "I really hate trekking up to FitRec to take classes there unless I'm already there for another reason."
Hannah Weintraub (COM '14), Lowe's "very good friend," said she had Zumba'd but never Jewmba'd before and she had been looking forward to taking this class for a long time.
"Jeremy started this class last semester, but I was abroad so I couldn't make it–that would've been a long plane ride," Weintraub said, laughing. "So when it started back up this semester, I knew I had to come do it and support him."
"I'm expecting a very energetic class with really good music," she added. "He always knows the best music and is Tweeting about all the new songs."
The class began with Ke$ha's "Die Young" and ended with "Bootylicious" by Destiny's Child. (Lucky us–Lowe said he only plays Beyoncé for special classes!) One song, "Da Wop" by Lil Chuckee, received an especially positive reception from all eight students.
"When he sings 'bop to the east,' we're gonna point to East Campus, and when he says 'bop to the west,' point to West Campus," Lowe shouted over the music, demonstrating the choreography to the rest of the class.
"One, two, over, over… pop! Get low if you want!" We got low.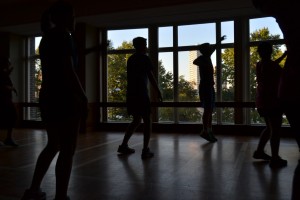 Lowe said he tends to stay away from typical Zumba playlists and instead goes for music that he knows will appeal to his students.
"I'm very particular about the music I use," he said. "It has to have very high beats per minute, and college students have to like it too. I don't just pick random stuff on the radio, and sometimes I throw in some Hebrew music."
Lowe said that he brought five or six new routines to BU this year in addition to the several he invented last year.
"I'm trying to get everyone to master those routines and then sprinkle in a few new ones each week," he said. "But we always do a new warm-up and cool-down each class."
Dan Petersen (COM/CAS '14) had no association with Hillel and had never been to a Jewmba class before this Tuesday, but he left the hour-long class in high spirits and with the intention to come back again.
"Tuesdays tend to be my worst day of the week, so being able to come here right after class was really nice," he said. "It was more of a workout than I anticipated and a whole heck of a lot of fun."
Jewmba is held every Tuesday at 5:00pm in the second floor lounge of the Hillel House on Bay State Road. A $5 admission fee benefits BU's Hillel House.