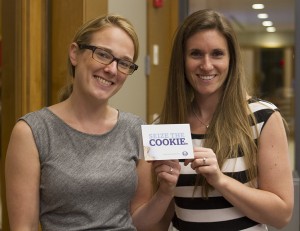 With trying to balance academics, extracurriculars, work, and social lives, students often have a lot on their plates.
This past Wednesday, the Educational Resource Center (ERC) hosted a workshop called "Brain Food" to inform students on how to make better food choices in college. Ms. Sarah Butler, a dietitian from Sargent Choice Nutrition Center, gave students advice that was both useful and easy to follow. Before going into her talk, Ms. Butler asked the audience what their particular concerns were that made them come to this session.
Each of the four students who spoke had a different dietary concern: which foods will not make you tired, how can a vegetarian get the most protein out of their meals, how to portion meals, and what to do when the food does not taste "right." Within the hour session, Ms. Butler covered all four topics and more. We learned not only how to make better food choices but also how to incorporate them into our daily lives.
What to do When Food Does Not Taste Right
As an international student, Ina (CAS '17) stated that she is not used to American food, let alone college campus food. She feels that the food is "overly seasoned." In response, Ms. Butler pointed out to her that the food here is "made to order." Do not be afraid to ask about what you will be putting into your body. When there are thousands of students eating at the dining halls everyday, the chefs cannot please every student's taste buds. She suggests that if you want, let's say, less salt or no onions, just simply and politely ask the chef to leave it out. Another option, she says, is to take the veggies from the salad bar and steam them in the microwave. Microwaves are readily available at Warren, West, and Marciano Commons.
Vegetarian Concerns
As a vegetarian, Katy (COM '14) feels that it can be a challenge to find foods high in protein. There have also been concerns that vegetarians feel that they do not get enough out of their meals at the dining halls. For example, "just having a few tofu slices," is not going to cut it. Ms. Butler says, again, to voice what you want, such as simply asking for more. Since Katy is not on a meal plan, Ms. Butler also showed her the Sargent Choice Nutrition's blog, which features many vegetarian options as well as a variety of healthy and delicious recipes worth checking out.
Portion Control
Another student wanted to know more about how she could portion her meals. Since students have the luxury of eating anything at the dining halls with a swipe of a card, it can be difficult for students to control how much they eat. Portioning, however, is not a standardized formula because our eating habits are influenced by many variables such as height, weight, and activity level. Therefore, the best option is to make a one-on-one appointment, Ms. Butler suggests. Students can easily schedule free nutritional counseling online.
Choosing the Right Food in Times of Stress
Ms. Butler explained that not only is it about eating a good diet but also about having good time management. This is where the Educational Resource Center comes in. Cecilia V. Lakima, the Assistant Director of Mentoring and Outreach at the Educational Resource Center, who was also present at the workshop, mentioned how there is a "correlation between the lack of sleep and metabolization." Eating unhealthily and not getting enough sleep is detrimental to your well-being. When we become focused on many things at once, we tend to be blind to what we eat, which Ms. Butler calls "zoned eating." You eat only when you have breaks, and you have no time to think about what you are eating. This leaves you feeling more tired and hungry, which can negatively affect your study habits and how well you do on your test the next day. Therefore, it is vital to manage your schedule. It is about "being mindful of what you put in your personal life and everything [then] falls into place," said Cecilia V. Lakima.
Ms. Butler suggests the best thing to do is to plan around your busy schedule. Instead of eating only when you have major breaks, have several healthy snacks, like a granola bar or yogurt, throughout the day. This will leave you with long-lasting energy and will prepare you to feel your best when you take the test later that day. You will not feel like you are starving, and you are less likely to make poor food choices. Here are some other tips Ms. Butler provided us on smart snacking:
1. "Choosing whole grains in your snack provides instant relief from hunger and high quality nutrients, but may not be filling enough without adding water-rich non-starchy vegetables or fruits."
2. "Fruits and non-starchy vegetables will make your snack more filling and nutritious. Plus, they are the original fast food. If your next meal is only an hour away, a piece of fruit may be all you need!"
3. "Protein prolongs the satisfaction you feel after your snack. This is especially important if your next meal is hours away."
Food is a very personal choice and, therefore, not only should we be concerned about choosing foods that will fuel our bodies and our brains, but we should also be able to enjoy the food we eat.