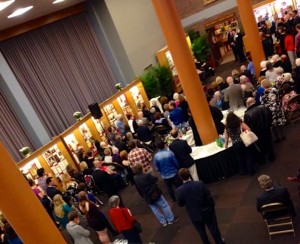 The evening began with a rather different view of the first floor of Mugar Memorial Library than most students are used to. The entire back section of the first floor, past the computers, was curtained off, from the Richards-Frost Room to the Richards-Roosevelt Room, and large, round drinks tables were set up across the area.
Catering on the Charles employees circulated with trays of hors d'oeuvres, and important figures in the world of film and television were gathered, including the president of the Screen Actors Guild, Ken Howard. A reception took place for an hour before the event really started.
All of this was brought together for the opening of the Howard Gotlieb Archival Research Center's new exhibition: Aaron Spelling: A Retrospective of Prime-Time Success. The HGARC has developed an entire Aaron Spelling Collection, just as they have for many other notable figures, with extensive help from Spelling's wife, Candy Spelling, who was present at the opening and spoke about Spelling, his life and his legacy.
The much-loved executive producer of Beverly Hills, 90210, Hotel, Charmed, and countless other television series and films was honored by his wife, Ken Howard, and the Dean of the College of Communication, Tom Fiedler.
Each of them spoke about different parts of Spelling's life and their relationships with him, but all shared a feeling of appreciation and respect. Howard seemed to put it best when he said that any person who ever worked with Spelling could have delivered their own vocal love letter to him, he just happened to have been the one invited to speak.
Candy Spelling also announced the new Aaron Spelling Scholarship, which will most likely benefit students of Film and Television at BU. Mrs. Spelling assured everyone that Mr. Spelling would have been incredibly happy and honored to be helping students finance their educations, as well as flattered by the HGARC's exhibition.
Aaron Spelling: A Retrospective of Prime-Time Success is currently on display in the Richards-Frost Room towards the back of the first floor of the Mugar Memorial Library. For more information, visit http://www.bu.edu/dbin/archives/index.php?pid=202
For more information on the Howard Gotlieb Archival Center, visit http://www.bu.edu/dbin/archives/