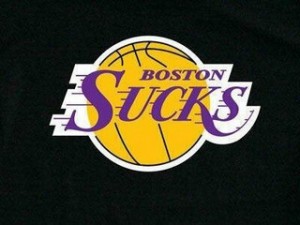 BU's killer location next to Fenway Park is a little less killer when you're a Yankees fan with no prospect of beating the Sox in the playoffs this year. And what about all those Patriots fans who won't shut up about their 4-1 start to the season, while the New York Giants have yet to win a game? Forget about those traditional rivals–Boston sports fans are just plain intolerant of other cities' teams (and we're not so hot on theirs either).
Nate Suri (COM '15), a longtime fan of teams spanning all over the map, including Chicago, Dallas, New York, and his native New Jersey, was not shy about his disdain for Boston sports. "I hate the Patriots because I know Bostonians who can't stop talking about the damn team," Suri complained. "I think C's [Celtics] fans are almost as bad as Pats fans, but the worst of the worst are the Sox fans. Especially now that they're good." Oh, don't you just love some good, old-fashioned rivalry?
New York native Ethan Leavitt (COM '15) also had some things to say regarding his favorite (and least favorite) teams. At first fearing the potential onslaught of criticism from Red Sox fans, Ethan, a Yankees fan, said, "after spending the last two years here, I actually feel stronger about my fandom for the Yankees than l did before, because l've seen what it's like to be a Red Sox fan, and that just does not appeal to me at all." Sick burn, Ethan.
Interestingly (and somewhat uniquely), Sam Hayes (COM '15), born and raised in Massachusetts, has somehow remained untainted by his surroundings and roots for the Minnesota Vikings, New York Mets, and New York Knicks. Regarding his attitude toward Boston teams, Hayes said, "At first I had no bad feelings towards NE [New England] teams. But as I grew older and my friends became more obnoxious about NE teams being so good, I began to hate them more." I can only imagine the abuse you've faced over the years, Sam.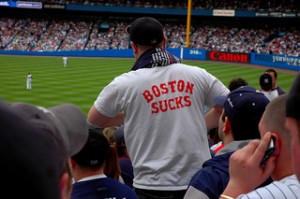 So, what are we displaced fans to do at game time? Suri let me in on his go-to spot for watching the big game with his more agreeable friends: Champion's Sports Bar in Copley Square, which plays all the out-of-town games on the TVs. Additionally, those in need can search sports.meetup.com for like fans looking for good company and a place to watch the game. There is currently a group on the website looking for Chicago sports fans in New England, so all those Blackhawks fans that need to get away from the Bruins for a night have a place to go.
With all the clear animosity for Boston's teams from out-of-state students (AKA most of the students) at BU, it is surprising that no one has started a club devoted to worshipping another city's team, or even just tearing apart Boston teams. Based on the reaction of fans I encounter on a day-to-day basis, I'd say BU definitely has a market for a club like that. We need somewhere we can proudly wear our colors and cheer for our favorites without fear of a beer bottle to the head or any other number of injuries that might arise should we try to publicly display our fandom in Boston. And, finally, to all my fellow Giants fans out there: I feel your pain. Just remember Super Bowl XLVI.