Usually when I choose an ingredient for Ingredient of the Week, I try to pick something that looks appetizing and is popular among college students. This year, I have taken a step in a different direction by introducing things like chia seeds and tahini. I will now take a step further and introduce nutritional yeast.
I have mentioned this ingredient in many of my other posts because I use it a lot in my cooking. I discovered nutritional yeast while eating vegan for the last two years. Even though I no longer follow a plant-based diet, I still enjoy nutritional yeast. It is a popular cheese substitute for anyone trying to avoid dairy.
Not only does it have a cheesy flavor, it also has an abundance of nutrition too. (I guess that's why they call it nutritional yeast…) The reason it is such a popular vegetarian substitute is because it contains many B vitamins, like B12, found in red meat. It also contains folic acid, selenium, zinc, and protein.
Now onto the food part—the delicious recipes you can make using nutritional yeast. These will take away any unappetizing feelings you may have toward this unappetizing sounding food. I promise.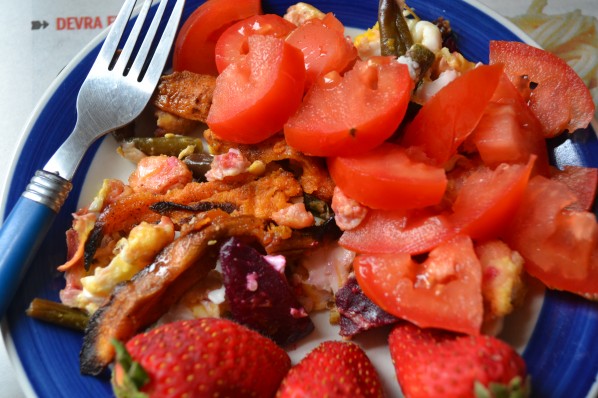 Breakfast
Breakfast Omelette
total time: 5 minutes, serves 1
Ingredients
1 egg
1/8 cup leftover cooked vegetables (I used cauliflower, sweet potato, beets, and green beans)
1 tablespoon nutritional yeast
1/2 tomato, sliced
Directions
Spray a small nonstick skillet with cooking spray. Crack egg and cook over medium heat, using a spatula to scramble the eggs and then adding the nutritional yeast and grilled vegetables. Serve topped with tomato and with a side of fruit.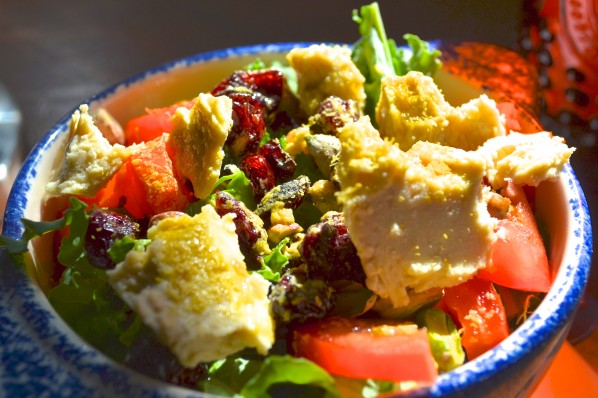 Lunch
Cheesy Kale Salad
total time: 5 minutes, serves 1
Ingredients
1 cup kale
1/2 tomato, sliced
2 tablespoons hummus
1 tablespoon dried cranberries
1 tablespoon pistachios
1 tablespoon nutritional yeast
1/4 teaspoon lemon juice
1 teaspoon olive oil
Directions
Place kale in a bowl and top with tomato, hummus, cranberries, pistachios and nutritional yeast. Drizzle with lemon juice and olive oil.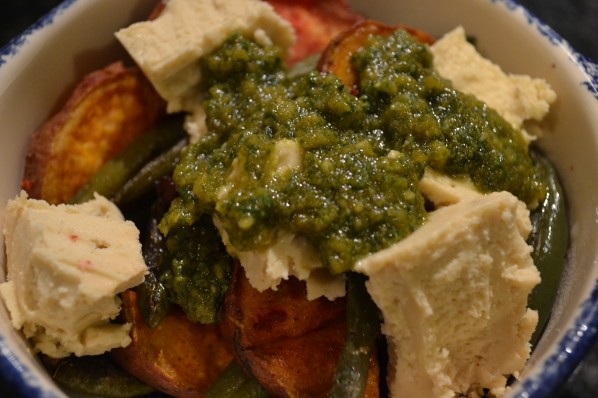 Dinner
Grilled Fall Vegetables with Vegan Pesto from allrecipes.com
total time: 30 minutes, serves 8
Ingredients
For the pesto:
1/3 cup pine nuts
2/3 cup olive oil
5 cloves garlic
1/3 cup nutritional yeast
1 bunch fresh basil leaves
salt and pepper to taste
For the vegetables:
2 sweet potatoes, sliced
1 cup frozen green beans
1 beet, peeled and diced
3 tablespoons coconut oil, melted
1 1/2 teaspoons cinnamon
1/4 teaspoon ground cloves
1/2 teaspoon nutmeg
Directions
For the grilled vegetables, preheat oven to 400 degrees F. Place all vegetables into a large mixing bowl. Mix together coconut oil and spices and then dump over vegetables. Stir until vegetables are completely coated. Place vegetables on a cookie sheet covered in tin foil. Cook in oven for 15 minutes and then stir, placing back in the oven for another 15 minutes.
For the pesto, place the pine nuts in a skillet over medium heat and cook, stirring frequently, until the pine nuts are slightly browned, about 3 minutes. Gradually mix the pine nuts, olive oil, garlic, nutritional yeast, and basil into a food processor and process until smooth. Season with salt and pepper.
Serve vegetables topped with a tablespoon of pesto and hummus, if desired.