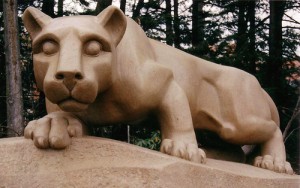 It's a new week and that means it's about that time to walk the halls and sidewalks of a whole new campus, friends! Well…virtually, of course. Whether or not you pay this beauty a visit is entirely up to you, but I suggest you do, because this one holds a place near and dear to my heart. I have visited this university's main campus once a year since the age of six. I received my very first college acceptance letter from this university. There really isn't any other place exactly like it, and I was a click and a payment away from calling it home for four years. Pennsylvania State University's University Park campus is scenic, historic, beautiful, and tremendous. In all fifteen years of paying visits, I am certain that I still have much to see.
The first thing I recommend doing if ever you get the chance to take an adventure out to Happy Valley, Pennsylvania, is attending a Penn State football game. They are, without a doubt, the most spirited sports events I have ever attended. Half of the parking lot is full—well in advance of the game, I might add—with alumni young and old who have come back to celebrate their team, and the other half is bubbling with the current student body. Hopping between mobile homes, taking in the scenes of crowds huddled in lawn chairs clutching drinks or enjoying the scents of makeshift cookouts is an experience in and of itself. A couple of hours before the game starts, inside the Bryce Jordan Center, the Penn State Blue Band shock a small audience with the school's alma mater, a few familiar tunes and then the remainder of what will be their halftime routine for the day. Sitting back with a cup of homemade ice cream fresh from the local creamery in the audience and enjoying this display of utter talent and dedication is also something you'd be hard-pressed to find elsewhere. On a side note, as it turns out, my former roommate from my stay at Northeastern this summer is a member of the Blue Band and plays drums in the back—though you won't miss him due to his towering height.

Once inside Beaver Stadium, you're sure to be a bit overwhelmed by the sheer size of it. It's easily comparable to the size of the stadiums of any professional football team. It's pretty neat to watch the student section fill up with those wearing white and navy, forming a large letter S. If you're lucky enough to make it to a white-out game, then I hope you can guess what you'll be wearing. It's a tough one…I know. These days are especially fun because it becomes so easy to spot fans of the opposing team. Other game-day traditions include the Nittany Lion rushing out onto the field and riling up both sides of the stadium with thundering chants of "we are" and "Penn State." Equally as entertaining is the flip that the drum-major performs at center field after charging out through the band.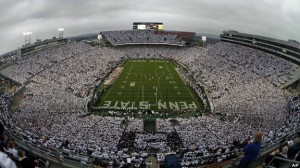 If sports just isn't your thing, though, and as a visitor at this campus that would just be a shame, there are a wealth of other activities to partake in and sites to see. Simply walking around campus and taking in all of the architecture is pleasing enough to occupy you for the better half of a day. Old Main is towering and beautiful, the new arboretum is stunning, and the row of Greek housing is enough to make you at least consider rushing. If food is your calling, then a visit to The Creamery is a must. You'll experience the most sinfully tasty cup or cone of ice cream you've ever had in your life. Without giving away too much more, you'll just have to trust me that there is much to see and plenty to do when visiting PSU. Some things are better left discovered on your own, especially if you're hailing from little old BU here, with our anti-campus. With that said, go state!