"Take a good look at the life I lead
For what I believe, fight like Ali
The greatest in the making, shit I just might be"
Topaz Jones – "Coping Mechanism"
The darkly intense visuals and rapid-fire, introspective lyrics of Topaz Jones's "Coping Mechanism" let you know immediately that this guy is different. Raised in Montclair, New Jersey but currently attending NYU's Clive Davis Institute of Recorded Music, Jones hearkens back to the styles and themes of golden age rap while incorporating sounds and genres from all over the map. The son of a Harvard grad and a funk musician (Curt Jones, of the bands Slave and Aurra), Topaz brings an intellect and diversity of influences to his work that are wholly unique and rare for a 20-year-old. His previous LP, Hello My Name Is with producer Thelonious Martin, is an impressively solid collection of relaxed, throwback tracks – his upcoming Honeymoon Suite promises to expand and improve upon his sound. The Quad sat down with Jones to discuss 90s rap, his new album, and his self-directed video for "Coping Mechanism."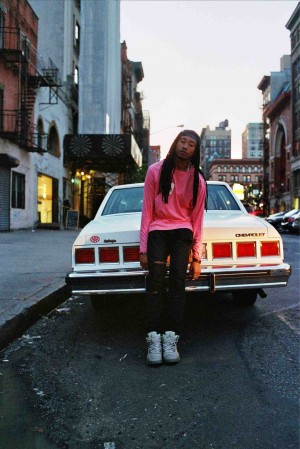 Quad: Every artist is influenced by his/her hometown, and Montclair is a place with very little musical history. How do you think coming from up there affected who you are as a person and artist?
Topaz Jones: For someone who grew up there, I would definitely say Montclair has a rich history. Growing up in Montclair has been a way for me to expose myself to music from all kinds of backgrounds and genres… I got put on to a lot of music I wouldn't have heard otherwise just by the fact I was hanging out with people that weren't necessarily from the same background as me, the same financial standing or socioeconomic position.
Q: A lot of new rappers coming up are influenced by 90s rap. What was it about that era and style that's more appealing to you than other different kinds of rap?
TJ: I was definitely intrigued by a lot of 90s stuff–-that's what you'd hear on the radio all the time. Outkast was one of the biggest influences on me. The 90s had a lot of artists finding their own voices and coming up from places besides just New York or California – you had people from Atlanta, people from North Carolina, whatever. People had their own individual identity in the 90s and I think that's what makes it such an influential period for hip-hop.
Q: What artists would you compare yourself to right now?
TJ: Honestly, I strive to be my own artist and unlike anything that's out right now. I don't really like to make comparisons but I'd definitely like to align myself with more of the creative types and the auteurs – the ones that are in control of their sounds from a production aspect the visual aesthetics. Whether it be making my own beats or directing my own videos, having creative control over my whole brand in general – I would align myself with other artists that are out here doing similar things.
Q: As an up and coming artist there's a fine line you have to walk between staying true to yourself and trying to gain listeners and break onto the scene. How do you balance the two? Do you change things?
TJ: I actually made a full album before this one, and those records will probably never see the light of day, and that's because I was trying to compromise between what I thought my sound was already and what was successful at the moment. Sometime in that time period I came to the realization that the best art is the most honest art. Over time my sound started to fall in place for this album and I realized I'm gonna be the type of artist where no album sounds the same for me. This album sounds nothing like the last project that I put out and the project I'm putting out after sounds nothing like that… I just try to make the best music possible and work off the strength of that.
Q: What can you tell us about the new album?
TJ: The album is called The Honeymoon Suite… It's a lot of me producing on there – I definitely did a lot of production on my stuff in the past but was a silent partner and now I'm stepping out and taking more control of the beats. I did a lot of work with Thelonius Martin again… We wanted it to feel like you're entering the honeymoon suite when you hear this record and no two songs sound the same. If you were to walk in a hotel, sonically, what would it sound like to go into all the different rooms and spaces that were available? That's what I tried to do with this, create a body of work where every song is like entering a different space as opposed to the album having a defined sound. They all work together and it's cohesive as a unit but everything is off-shooting in different directions to where my sound could go.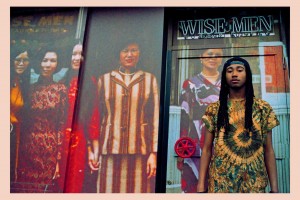 Q: I assume "Coping Mechanism" is on there?
TJ: Yes. It's actually the first song I made for the album.
Q: And you directed the video too?
TJ: I directed the video along with my friends Simon Davis and Jason Sondock.
Q: "Coping Mechanism" to me is about the hopelessness of the inner city and how you get through it-–could be rap, could be selling drugs, etc. What did you try to do with the visuals to complement that?
TJ: The song to me started out as an expression of what I was feeling at that time. I was trying to figure out how I was going to move forward with the new album, I had just finished a bunch of songs that weren't really of the quality that I would like to put out, and I decided it wasn't right. This was my first time getting back to writing new material again after taking a small break. It was really just about, why am I writing this song right now? I realized I'm writing music for others but also for myself as a cathartic process. I think with the visuals we tried to display that internal battle and what I'm facing right now, what the people around me are facing. It's that conflicted conscience – the idea of not being sure how to cope with issues that we're all facing. Even if I'm not facing it, I know someone who is or you know someone who is. Visually, we tried to show what an internal struggle looks like externally.
Q: Had you directed before?
TJ: No, this is my first time putting my name on something. I had a lot of fun with it.
Q: What was it like?
TJ: It was awesome. We were coming up on the shoot date and we had an idea in mind, then at the last second I just decided that I needed something a little more powerful and impactful for the song and I didn't just want to do a typical visual. I put the song on, closed my eyes, and started to visualize what matched with it, and I started to see something very strongly. With the help of the guys who co-directed it, we made that visual a reality. This is my first time shooting something that I saw in my head and it came out exactly the way I wanted it to be and I got a real rush out of that. I definitely plan to continue to do that for the rest of my career.
Q: So you want to keep directing your own videos?
TJ: I definitely won't do all of them just because I'm open to other people's input and what they can bring to my music, visually. I'm not at a point yet where I feel like I'm where I want to be with the visuals. In the process of learning and becoming better as a creator, I'm definitely going to work with others but hone my own skills.
Q: Your directors were both NYU students as well. How has attending NYU changed the way you approach your music and your career versus guys that are trying to do the same thing but have never been in college or dropped out? Do you think it separates you?
TJ: Obviously, it's a different story than most people that are currently in the rap game. But I think more than anything living in New York City is what's influenced my music. I come from a smaller town and it's still a very urban setting but being in New York and interacting with people of all walks of life and being around such inspiring architecture and the art scene – there's so many artists and museums and culture – has impacted my music for the better and made me more self-aware of what I'm doing as an artist and what I'm putting forward creatively.
Q: Do you have any touring plans?
TJ: Definitely. One thing I have to take into consideration is making sure I do it the right way. I play with a full band, so it's a little more difficult to schedule something like that when you're with a lot more people and equipment and really trying to put forth a great show. I want to give you the best show possible. As fans, I want to offer you an experience that you can't really get from any other artist. We're taking it slowly and making sure it happens the right way but it's definitely going to happen in the future.
Download Hello My Name Is here and be sure to look out for The Honeymoon Suite coming soon. Follow Topaz on Twitter or like him on Facebook.