At New York Comic Con, The Quad had the privilege to speak with Caitlin Kittredge and Inaki Miranda, the creative team behind new series Coffin Hill. The series, written by Kittredge and drawn by Miranda, is set in New England and follows the story of Eve Coffin, an ex-cop whose past, riddled with dark magic and family drama, comes back to haunt her.
The Quad: How does it feel now that the first issue of Coffin Hill is out there?
Caitlin Kittredge: I would say, for me, there's an immense sense of relief because it's my first comic. It was my first comic I've written and I was so nervous. I think I hid my head under a pillow for the entire day, Wednesday. I wouldn't look on Twitter, I wouldn't check my email, but my roommate dragged me out and forced me to celebrate a little bit. So that was good.
I'm just so excited now that the initial nervousness has passed. I love this story and I'm just so excited to be able to share it with Vertigo's readers and everyone.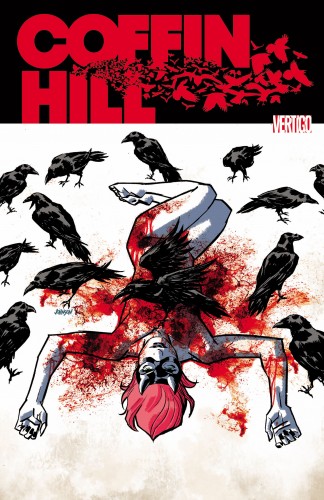 Inaki Miranda: For me, it's excitement and pride, in a good way, because I love what we're doing. From the start, I've just felt pride to be a part of this project. I know where it's leading, I'm on issue number three right now, and I'm very happy with it.
What are your roots with New England, and why did you choose this area specifically?
CK: I was born there. I was born in Yarmouth, on Cape Cod. And I spent my whole life there until I went to college in Seattle. I got as far away as I possibly could [laughs]. I wasn't running away, I just wanted to experience something different, but I did eventually come back, because I love New England and you can't really get it out of your blood when you're born there.
I chose it for Coffin Hill just because it has such a fertile, amazing landscape for horror. You have so much ready-made history that lends itself to horror stories. You have ghost stories, Salem witch trials, all the Revolutionary War stuff, you have the Mohawk and the Algonquin and Native American legends, more than a writer could ever ask for. It's all right there to form into a story.
I've always wanted to do the New England horror story. Being from there, I grew up reading Stephen King, and thought, "Wow, I really wish I could do this justice some day," and this is my chance.
How's it been collaborating with one another on Coffin Hill?
IM: I can't stand her.
CK: He's terrible. I hate him [both laugh].
It's been totally great. He did some concept art when I turned in my initial pitch to Vertigo, and we clicked immediately. It feels like there's a great synergy.
IM: This is the first time that I did a sketch of the main character, and it's the first one we use. It's never happened to me. It was the first time.
That kind of connection where it just coalesces perfectly.
Both: Yeah.
CK: I saw that sketch and I said that's "it." That's exactly how Eve is supposed to look. It's perfect. I said "you don't need to go any further, this is it. This is what we're going to use." Fortunately, Shelly [Bond], our editor, agreed.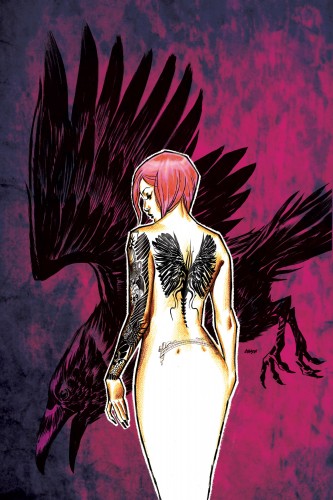 In the first issue, you alternate between moments in Eve's present and moments in her past, is that going to continue in future issues?
CK: Yeah, I can say without spoiling anything that you get to see more and more of what happened to Eve in the past. It made her the person she is today and you get little fragmented additional bits of it in the first story arc. As it rolls on and on, it will eventually lend itself to the story of who she is in the present and how she got there. It will make a whole little story on it's own.
But in the first couple issues you do get brief glimpses of what happened. I hint that something went terribly wrong, but even Eve is not quite sure what that is yet.
What can you say for the future of Eve and Coffin Hill?
CK: This first story arc is all about her coming home and facing what she did in the past. She spent ten years trying to get away from it, she left town, she turned her back on this massive inheritance from her wealthy family, she tried to help people by becoming a police officer in Boston, but inevitably, she was just dragged back into her old life.
Where the story starts, she doesn't have a job anymore, she doesn't have any money, she doesn't have anywhere to live, she basically has to move back in with her parents, black magic-using parents from Hell, even worse than when you normally have to move back [laughs].
Over the course of this arc, she will finally decide that she has to face up to the mistake that she made ten years ago. And that will be when things start to change and when things start to actually get worse. Because now she's picked a fight with the evil that she let loose.
Lastly, as a representative of the BU Quad, I feel I must ask. The first page of Coffin Hill features the dead body of a BU student. Should the BU community at large be afraid of Coffin Hill?
CK: No [laughs]. I'm actually a big BU supporter. I went to college in Seattle, but I'm a BU person as far as college sports go. Y'all have nothing to be worried about. I was just doing a little hat tip [laughs].
The first issue of Coffin Hill is available in comic stores now.