It is 4:51 p.m. on a Wednesday and I am at the end of a burst of restless energy that prompted me to escape from campus down the Esplanade running paths. Now I slow down and take a seat at a picnic table near the Hatch Shell, feet away from a piano that is part of Luke Jerram's 'Play Me, I'm Yours' project commissioned by the Celebrity Series of Boston, which has provided pianos to public spaces all over the city for the past three weeks. This piano blends into its surroundings, allowing its dark wood base to peek out under a collage of layered yellowing book pages. The weather is overcast today and the moisture in the air makes the scent of the trees overwhelming. I imagine the humid wood of the piano makes up at least a fraction of this air that reminds me of childhood camping trips, but maybe the fact that the piano has been adorned with plastic leaves and seems a natural fixture itself prompts that thought. The instrument declares the required "Play me, I'm yours" in black print and, in cursive, the statement "Everyday is a fairytale" trails above the keys. Nobody sits at the seat.
In an interview with BBC, 'Play Me, I'm Yours' project founder Luke Jerram explained the importance of the visually engaging pianos:  "Pianos can excite, but they can also repel us with their greatness…When we pulled out our old pianos, we wanted to demystify them and painted them in bright colors with spray cans and pictures. We invited the public to decorate them too, to make them more touchable, more approachable–more playable." Jerram added, "Whenever I see a piano now that hasn't been painted, it looks a little odd and blank and lonely."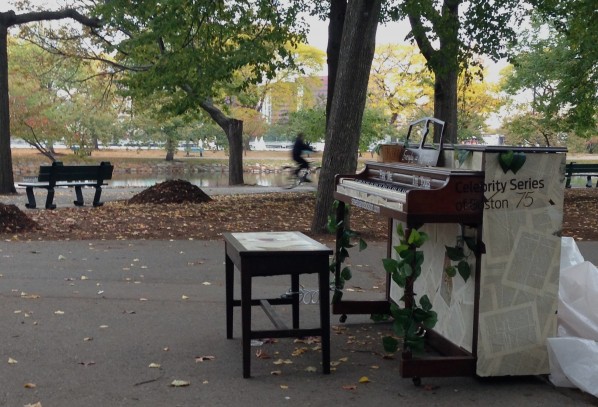 Because community members decorate them, each piano is individually unique. The one thing they all have in common is the words "Play me, I'm yours," which are proudly displayed above the keys on each of Boston's seventy-five pianos. Sally Reay, the project manager for 'Play Me, I'm Yours,' told me that "the invitation to play is crucial–it's also what makes it a piece of public art. It ties all the pianos together and makes them into a single work of art."
Contemplating the grey sky, I remain without company except a small red spider at the end of the table, but I notice that at a distance there is a woman also sitting on a bench. I think about Luke Jerram's original purpose and wonder if she will come over if someone plays the piano. Said Jerram, "The idea for Play Me, I'm Yours came from visiting my local launderette. I saw the same people there each weekend and yet no one talked to one another. I suddenly realized that within a city, there must be hundreds of these invisible communities, regularly spending time with one another in silence. Placing a piano into the space was my solution to this problem, acting as a catalyst for conversation." Suddenly, a young man on a bike pulls up and stops, removing his helmet and smiling at me. I wonder if he will play when another guy pulls up on a bike, saying, "Hey, what's up?" The first biker asks, "Ready to go?" and straps his helmet back on, then nods to me before they both bike away. I look back up and the woman on the bench is gone.
There is a steady stream of runners, bikers, and parents with children passing by, but the foggy air is not as amicable as I recall when I look at the empty Hatch Shell and imagine the echoes of this summer rebounding off its round walls. The threat of the clouds overhead hurries everyone to other destinations. It's getting cold and I don't foresee any pianists joining me soon, so I decide I should run back home right when a silver-haired gentleman speeds over on a silver bike. In a denim jacket, navy slacks, fingerless gloves, and with his bike helmet still secured, he takes a seat at the piano. I lean back. He starts to play a slow, drawling song, then suddenly picks it up into a cheerful and still somehow melancholic tune reminiscent of a rainy spring day: like today, but in the wrong hemisphere. He stares through his spectacles at his hands, which move shyly over the keys in a repetitive, relaxing rhythm. He seems unsure, but he biked over to the piano with such purpose I wonder if that is part of his performance. He leans into the piano, and his right foot steps up to the right pedal. He stands up and nods at me after the song, and I smile. He kicks up the stand on his bike, looks at me again, and says "Practice." Then he's off, and so am I.
***
Ty Furman is the managing director of the Boston University Arts Initiative, a department that hopes to raise the visibility of the arts at BU and build BU students' engagement with the arts. Remembering Reay's assertion that the pianos were a piece of public art, I asked Furman to define public art.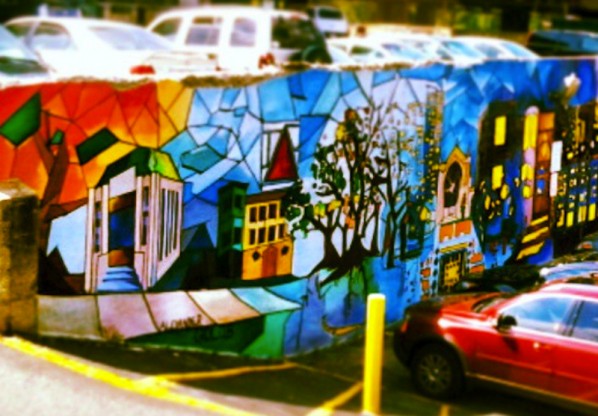 "In my opinion, public art is art in which the general public can stumble upon it and experience it. It is things like pianos, sculptures, graffiti, and murals that are nonthreatening, easy-access, visible, and engaging. Then it can go into entertaining, enlightening, or both." To be nonthreatening, he expanded, "there's no given set of rules." While piano music can be placed in a high context, it doesn't need to be. "When you think about a classical concert, it's: I gotta go sit in a dark auditorium, watch what's happening, be quiet, open my candy beforehand, turn my cell phone off, don't cough, don't talk to people…Each one of those things just makes it less accessible to a wider audience," he explained.
Furman was a fan of the Play Me, I'm Yours project's implementation in Boston. "Boston's art scene," he said, "is very conservative and very focused on dead people. There's a lot of room for really fantastic public art that I see happening in other cities. I'd love to see Boston grow in that public art–[it] is part of our culture." Of the street pianos project, he beamed, "It adds a fun factor. It lightens things up and it is still tremendously artistic."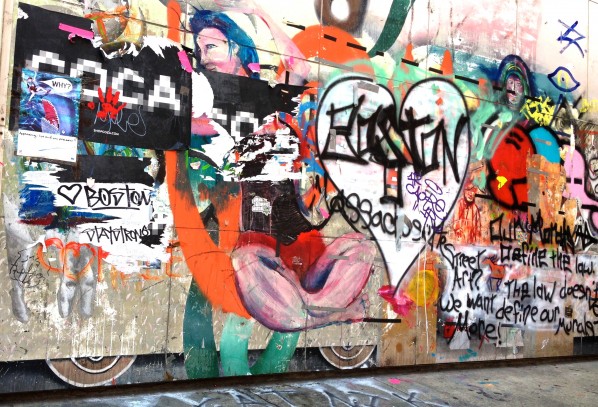 Still, Boston is not completely devoid of public and street art. We easily stumble upon murals on Newbury Street and in Central Square; this summer the ICA housed a Barry McGee exhibit that challenged the concept of fine art and placed it within the context of street art. BU in particular, with the support of the BU Arts Initiative, is home to many projects elevating accessible art. Just recently, photos have started to crop up celebrating The Chair Project, an undertaking by Hila Landesman (CAS '12) which places beautifully painted desks into otherwise nondescript classrooms in the College of Arts and Science. The mural on Comm Ave near the College of Fine Arts also comes to mind–the collaboration that took place in creating the mural speaks volumes to the importance of public art in community development.
Furman believes that "public art has a huge role to play in community morale and redevelopment. Good artists can engage enough with the community to create something that is reflective of the community, but is also in dialogue with it." Reay agreed with him, saying that "it helps to build a sense of pride within the communities and brings different neighborhoods together." With the idea of community in mind, I wandered over to another street piano: this one smack in the center of the BU community.
***
When I stop walking at the GSU plaza and sit on a bench, I find myself wondering if I have ever done this before. Sat on one of these benches, that is. The piano to my right is purple with black spots, and a student with a sideways baseball cap and a backpack approaches it at a trot. His quick approach reminds me of Luke Jerram's words: "The piano, I've discovered, is a very approachable instrument. It's a piece of furniture people can gather around. People can sit on it, they can lean on it…you can get two or even four people all playing at the same time, jamming and improvising." The pianist taps a few keys before launching into a pedal-heavy, drawling song with lots of quick movements between octaves. As I write this into my phone, I wonder how many people see me intently staring at my phone and think I have not noticed the beautiful music being played just feet away.
There are four benches forming a border around a tree in front of me, and they are all occupied. Three of the benches seat people with phones pressed to their ears, and the fourth seats a couple, laughing at something on a handheld screen. A passing student walks over to the pianist, who stops for a moment to grin and shake his friend's hand. The visitor grins and says, "Not bad, dude!" They both carry on, one down the street and the other down the ivories. The pianist starts playing a more staccato tune, which he follows up with Fur Elise.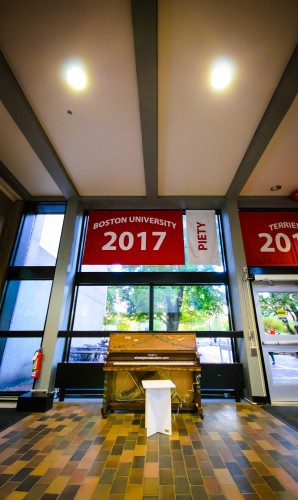 I'm distracted by the squirrel that just crawled up to my backpack at my feet. We're making each other very nervous. Nobody sees me peeking at him, him ducking under my bench, him peeping back out, and me jumping and laughing when his nose pokes out right where I expected it would. The squirrel runs away from me, out toward the sidewalk, and a girl passing stops to take a photo of him. The pianist stops playing and takes a photo of him as well, then vacates the piano bench unceremoniously.
Everybody passing by keeps looking at this unapologetic and brave squirrel. I am remembering that Furman told me that he "never saw our piano empty" when a blonde girl takes the piano seat. She is quieter than her predecessor, her fingers tending toward the deeper octaves. People walking by say, "Ooh, a squirrel!" The pianist plays scales and some playful chords. She stands up, grabs her bag, and walks right past the squirrel into the building. The squirrel stands up on two legs and a student passing by giggles, nudging the friend walking with her. In just a few seconds a couple of girls approach the piano and switch off playing a few notes each, both standing. They walk away.
The extremely transitory nature of our university's piano seems fitting, and starkly contrasts my experience near the Hatch Shell. Reay told me that public art "really reflects and helps to promote and bring together all of the different artists, groups, and communities. It enables individuals to feel part of something." Sitting here watching my fellow classmates travel past, tapping out keys, and admiring a squirrel has done that–made me feel I was part of something, though I really have not done anything to merit it.
For the past couple of pianists, a guy with a guitar case has been sitting a few benches away, also listening to the music. He is now at the piano and is playing and singing quietly. I wish he was louder but maybe he is doing it for himself; maybe he was staking out the piano before deciding to step up to the keys. I can hear a man having a conversation on a Bluetooth more loudly, and he is seated out on the sidewalk, near the street. I have a meeting to go to so I need to leave. Right before I do, a student wandering by notices the squirrel and crouches to the ground. The squirrel runs straight over to him, and with a bit of shock he looks up at me and says, "I didn't expect that to happen!"
***
It was only a couple of pianos, but I think I now understand what Furman told me about engaging with public art: "We learn about ourselves. We learn about humanity. Other cultures. Pain. Joy. It's another way of learning by experiencing things that are creative and artistic. It's easier to examine humanity and pick it apart when you're talking about a piece of art."
Let's examine humanity. Let's play songs on street pianos. Let's build a stronger community. Let's talk to strangers about practicing scales and outgoing squirrels. Let's engage with public art and each other.
To see the impact of the street pianos on Boston be sure to check out the Boston section of the 'Play Me, I'm Yours' website. For ways to engage with the arts in Boston and on campus, visit the BU Arts Initiative website and sign up for their weekly newsletter.