Zucchini is one of the most versatile ingredients I have used for my posts. I think this is because, while it is a vegetable, it can also be used to make breads or other sweet confections. In England, zucchini is known as courgette. While I was studying abroad in London last spring, I was exposed to the fried courgette, which tasted even better than french fries. It had a sweet but savory taste to it, and the warm, mushy inside melded perfectly with the crunchy, fried outside.
As usual, I have to include a bit of nutritional information to go along with my food rantings. What many of you may not know is that zucchini is part of the summer squash family. Summer squash was known as one of the "three sisters," along with corn and beans, among the Native Americans back in the day. Summer squash is also a great source of antioxidants, like beta-carotene, and holds its nutrients more effectively when steamed rather than boiled or microwaved, which applies even after the zucchini has been frozen.
If you have any extra zucchini around your dorm or apartment, feel free to indulge in the following recipes to use it up.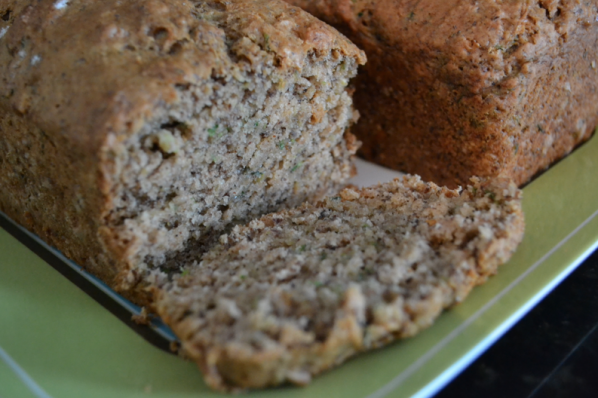 Breakfast
Zucchini Bread from Hell Yeah It's Vegan!
total time: 1 hour, 10 minutes, makes 2 loaves
Ingredients
6 tablespoons ground flax seeds
1/2 cup warm water
2 cups light brown sugar
1/2 cup vegetable oil
1/2 cup applesauce
1 teaspoon vanilla
2 1/2 cups grated zucchini (about 3 medium zucchinis)
3 cups all-purpose flour
1 tablespoon baking powder
1/2 teaspoon baking soda
1 tablespoon cinnamon
2 teaspoons nutmeg
1 teaspoon salt
Directions
Preheat oven to 350 degrees F. Grease two loaf pans. Mix together flax seeds and warm water. Add sugar, oil, applesauce, and vanilla and beat well. Add grated zucchini and stir until completely combined with sugar mixture. In a separate bowl, sift together flour, baking powder, baking soda, cinnamon, nutmeg, and salt. Add the dry mixture to the wet ingredients and stir until just combined. Pour into loaf pans and bake for 50 minutes, or until a fork inserted into the middle comes out clean.
If you have extra grated zucchini from this recipe, like I did, save it for the next two recipes.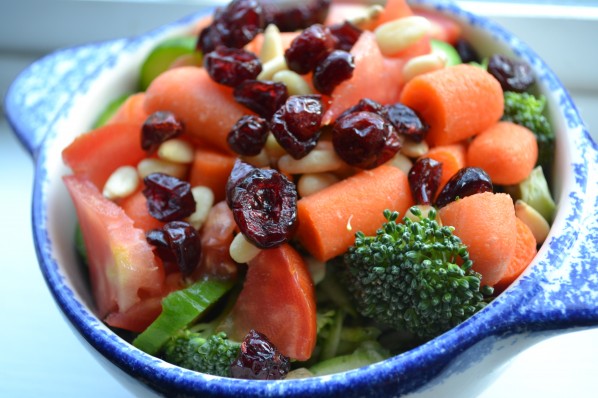 Lunch
Zucchini Salad
total time: 5 minutes, serves 1
Ingredients
1 cup kale, washed and broken into small pieces
1 cup zucchini, shredded (extra from above recipe)
1/2 baby cucumber, sliced
1/2 tomato, sliced
1/4 cup broccoli
1 tablespoon pine nuts
1 tablespoon dried cranberries
1/4 teaspoon lemon juice
1/2 tablespoon olive oil
Directions
Mix all ingredients in a bowl. Top with olive oil and lemon juice.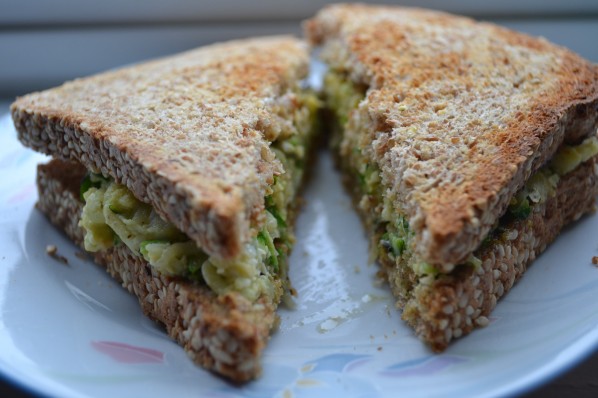 (Breakfast for) Dinner
Zucchini Egg Sandwich
total time: 5 minutes, serves 1
Ingredients
1 egg
1/2 cup grated zucchini
1 teaspoon nutritional yeast
1/8 teaspoon oregano
pepper, to taste
2 slices of bread
2 tablespoons pesto
Directions
Place bread in the toaster and toast until just crispy. Meanwhile, break one egg over skillet. Bring stove to medium heat and scramble the egg. Add zucchini and nutritional yeast and stir egg mixture until it is fully cooked, about 2 minutes. Sprinkle with oregano and pepper. Once toast is ready, spread a thin layer of pesto on each slice of toast. Place egg in the middle to make a sandwich. Slice into triangles.