What do polar bears, parent/teacher conferences, smoking in the library, and John Lennon's apartment all have in common? Absolutely nothing! Which makes the Sons of Liberty improvisational comedy troupe that much more delightful.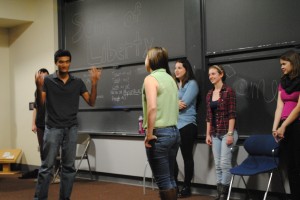 Saturday night the Sons (and a few daughters) held two back-to-back improv shows in the basement of CAS for Parents Weekend. Performing for a nearly packed house, the group put on a show that was equal parts cringe-worthy and hilarious. For those unfamiliar with the technique of improv, it is exactly what it appears to be: a bunch of students performing funny scenes that they make up on the spot. No notes, no preparation, just spontaneous creation of hysterical moments.
As expected, some scenes really worked and had the audience in stitches while other bits kind of crashed and burned. This is the beauty of improv comedy. You get the good, the bad, and the ugly, and are guaranteed to leave laughing.
Along with the regular roster of performers, the team welcomed four new members: Natalie Armacost,  Lisa Gluzman, Marissa Mallee, and Kailey Daniels. While each of the women contributed great moments, it was Gluzman who really shined in the 7 p.m. show. Kicking off the night with a monologue about polar bears which had the crowd roaring, Gluzman was definitely the MVP of the night.
So for anyone looking for a great way to spend an evening, I highly recommend checking out the Sons of Liberty or any of the other improv teams at BU, for that matter. The shows are free, the laughs are plentiful, and everything is completely made up.
For more info about the Sons of Liberty, check out their Facebook page. For info about improv comedy at BU, click here.