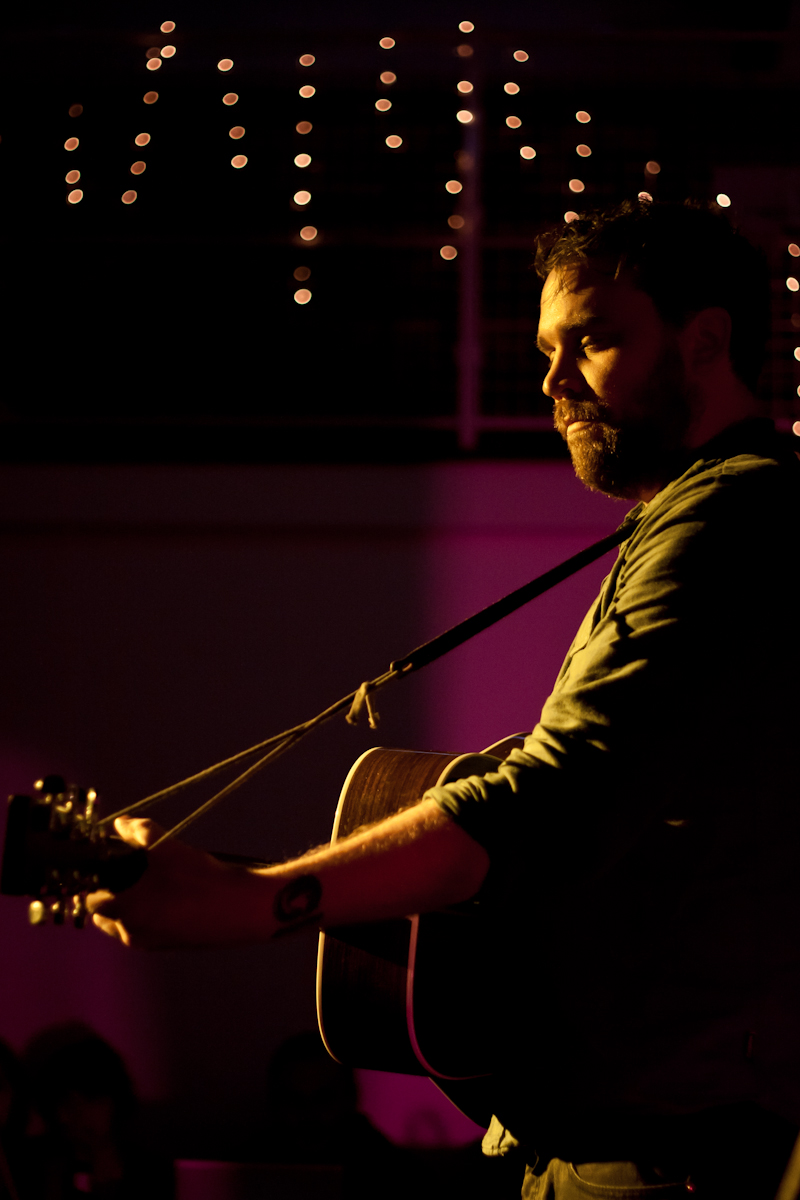 "You twist and whisper the wrong name/ I don't care nor do my ears/ Twist yourself around me/ I need company, I need human heat/ I need human heat"
 – "The Twist" by Frightened Rabbit
 Scottish indie rocker and lead singer and guitarist for Frightened Rabbit, Scott Hutchison, recently took the time to sit down and talk to me, calling from a venue in Canada. We chatted about the band's current international tour, exciting future prospects, and how rad it is to be a professional musician. Frightened Rabbit has climbed indie charts and broken hearts (indie and otherwise) with the help of Hutchison's sexy Scottish brogue and poignant storytelling lyrics.
The band, which formed in Scotland in 2003, started as Hutchison's solo project and then became a collaboration with his brother, Grant. Frightened Rabbit slowly picked up more members before becoming a four-piece up-and-comer that was signed to Atlantic Records in 2010. The band released three studio albums prior to signing with Atlantic, and has since put out two EPs, A Frightened Rabbit EP and State Hospital, and a fourth studio album, Pedestrian Verse, which was released earlier this year. Frightened Rabbit has received international critical acclaim, and has played at festivals such as the prestigious South by Southwest (SXSW) in Austin, Texas and Pitchfork Music Festival in Chicago, Illinois.
Frightened Rabbit does something for us that we often forget music is supposed to do: it makes us feel along and say, "Yeah, I know that experience." The band's full sound mixed with the beautifully disturbing relatability of Hutchison's words is poetically lethal to the soul. Frightened Rabbit is a band to follow, to listen to, to emote with, and to see when they blow through Boston. The band will play two shows at the Paradise Rock Club on October 21 and 22. (Fun fact: Hutchison confided that the PRC is one of his favorite venues in the world.)
—
Quad: How did you get into music?
Scott Hutchison: It started back in high school when I started learning guitar, and I only really felt like I was ever going to be a guitar player. I didn't sing. I tried out for a part in a school production and I didn't get any. They said I couldn't sing. So I just steered clear of it completely, until I was about 19 or 20. I started writing songs privately and I sang those. That was very private. I was still at art college and music was still a hobby. But slowly over the four years after that, the music became what I wanted to do as my profession and art became more of a hobby, so it was like there was a shift. It happened throughout my 20s. It was a slow kind of progress. I never really started guitar and thought, "Oh, that's it. I'm gonna be in a band." I was doing things very privately.
Q: What was your medium while in art school?
SH: I was doing illustration at the art school in Glasgow. It was very broad illustration it wasn't cartoons and stuff like that. I was doing all sorts of weird projects with chairs and making strange children's toys. It was really interesting and I appreciate it, and it has a special place for me. It just felt sometimes like a phony way of representing myself and music was the actual real me, I guess. That sounds a bit cheesy. Music was the most direct means of expression I had. It felt more honest than art, to me.
Q: Right now you're on tour and you guys put out Pedestrian Verse this year. What are you thinking about for the future?
SH: We've got a bunch more touring before the end of the year. We tour right up until the middle of December. Then we have a bit of time off in which I'm hoping to begin writing a solo record. I want to do something outside of Frightened Rabbit. Frightened Rabbit's been a constant thing in my life for years now. I think it's really important to get away from that before we start into the next record. Almost like this solo record will inform what the next record becomes. It's important to get a break so everyone's heads are refreshed and ready for making the next Frightened Rabbit record.
Q: Who are your musical inspirations, personally, as you head into a solo album?
SH: Recently I've been listening to a lot of one record in particular. The Atoms for Peace project with Thom Yorke and Nigel Godrich has been on repeat. I'm not saying I'm going to make an electrical record, but there's something about it that's very cold, but it's also got sort of melodic interest and warmth in it. I want to make a record that doesn't just sound like a version of a Frightened Rabbit record. I want to make something completely different and make a turn with it so it's a completely new experience. I'm going to make it with Andy [Monoghan] from the band who is really into electronic music and really handy with musical software. He and I are going to disappear and see what we come up with.
Q: For you, what is your songwriting process? What kind of song is the hardest to write?
SH: The hardest ones recently were ones that were…well, it's very easy for me to write about myself. To write about various emotional [experiences]. I think what I tried to do with this new record was to move away from that. There were songs that took a long time because I was fictionalizing. I was making up a character and I wanted to get the same level of detail into those songs that I do into songs about me. I think it was trying to get that detail. So those are the hardest songs for me, but they're the most rewarding. It's not the way I'm used to writing. I got really comfortable writing about my own emotions, I guess. I think I've become bored of that. I think I want to continue seeking out stories of others to write about and become better at that.
Q: Do you have a favorite music-related memory that reminds you why you're doing this?
SH: It's funny because just this morning I was reminded of the first guy who promised to sign us and then didn't. And that happened a couple of times. I think that one of the things that drives me, and I think it's a very Scottish trait, is an "I'll show you" sort of thing. That is a lot of the drive. We still feel like we've got a lot to prove. We still feel like we're a small band from a small country and have a lot of work yet to do. That's one of the drives of this. Creatively, I guess you live for those little magical moments where you surprise yourself and something really unexpected happens. I continue to follow this because I want those moments. They're like little drug experiences. It's fucking…it's amazing. So I think that's what I'm hoping to have and create more of next year.