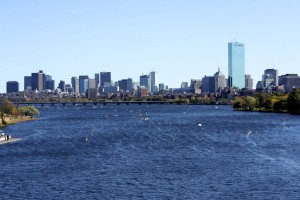 This past weekend sort of felt like a quintessential New England autumn, didn't it? We saw hoards of adorable moms and dads stroll down Commonwealth Avenue for Parents Weekend, our Instagram feeds overflowed with apple picking and pumpkin carving selfies, our favorite baseball team officially cemented its place in the World Series, and we finally found our answer to the daily "jacket or no jacket?" dilemma. (Hint: yes, jacket… for the next five months.)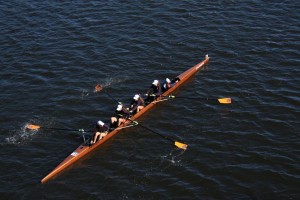 However, one Bostonian autumnal event in particular was hard to miss this weekend: the 49th Annual Head of the Charles Regatta. Each year, thousands of athletes come to the Charles River for a spectacular two-day rowing event seemingly straight out of The Social Network.
Saturday, the first day of this year's HOTC, was highlighted by a second place finish for the BU Men's Rowing team in the "Club Eight" race and a third place finish for the BU Women's Crew team in the "Club Four," according to the BU men's rowing website.
On Sunday, BU Women's Crew came in 17th place in the "Championship Fours Women" race and 22nd place in the "Championship Eights Women" race. BU Men's Crew came in 16th and 17th places in the "Championship Eights Men" race.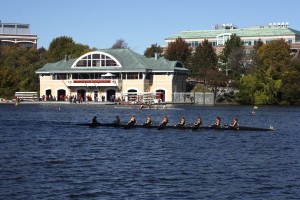 The Esplanade was dotted with all kinds of spectators: groups of students and their parents huddled together on the grass, families with young children taking pictures with the rowers passing by, bicyclists and runners who had pulled over to watch the event.
Victoria Perez (SED '15), sitting on the Esplanade with a homemade "GO BU" sign, said on Sunday that she was rooting for several friends on the BU men's and women's crew teams.
"I've been here since 2:30 p.m., since my friends told me they were racing at 2:39 p.m.," she said, "and then I'm going to stay until 5:00 p.m. because they're racing until 4:49 p.m."
Perez said she likes how, "BU is in such a great location for sports," and appreciates being able to get so close to the action.
"With hockey and baseball and rowing and and all that, it's so cool because [Boston] is such a hub for it," she said. "Teams come from all over the world and all over the country to row here, and that's so amazing. To just be able to look out your window and see all these boats really shows people's dedication."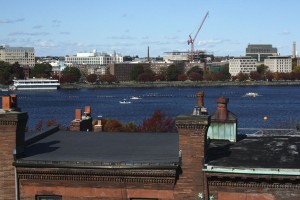 Some students weren't able to make it down for the race–it is midterm season, after all–but were still able to enjoy the race from their aptly placed dorm room windows.
Rachel Eides (COM '15) said she watched the Head of the Charles from the top floor of StuVi 1 this weekend while studying for three midterm exams and said she felt lucky to be in the middle of the action.
"This weekend in particular made me really appreciate how fortunate I am to go to college in Boston," she said. "One of my favorite parts of going to BU is being able to experience everything that Boston has to offer, and from my apartment window I get reminded every day of how much I love my school and city."