Do you hold a special love for books? Does the prospect of exploring a new bookshop make you feel adventurous? Do you often find yourself smelling the pages of your novel before it loses that new-book smell? If you answered yes to any of those, then chances are you were at the Boston Book Festival this weekend: Boston's biggest annual event for all things literary.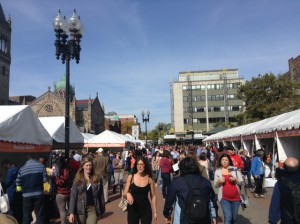 Centered in Copley Plaza, the festival featured booths that would make any friend of literature drool. Newspapers, literary magazines, publishers, and illustrators all pitched their tents this past Saturday. Brattle Book Shop brought the shop to Copley, letting people pick up everything from Twilight to a fifty-year-old copy of The Grapes of Wrath for five dollars per copy. The Folio Society showed off their special line of reprinted books, featuring illustrations for classics like The Hitchhikers Guide to the Galaxy and The Great Gatsby that were so beautiful that you could practically hear your wallet cry.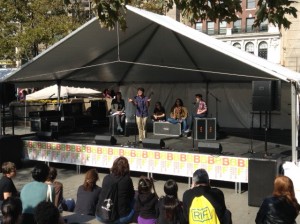 Throughout the day panels were running as well, featuring authors and critics alike talking about any and all things books. There was everything from a panel on The Great Gatsby, featuring the illustrator from Folio's new copy, to a panel featuring journalists who covered the Boston Marathon bombing. I was able to check out a panel on heroes and antiheroes, where Harvard professor Gregory Nagy, pop culture critic Chuck Klosterman, and author Claire Messud all weighed in on how we think of heroes and villains. The three discussed heroes in all of their forms, from Greek demigods to Cambridge school teachers. Klosterman was especially intriguing with his discussion on why we are so often enamored with the bad guy, saying, "I can see the vulnerability of their motive and I can see it in myself."  The panel was an excellent taste of all of the literary goodness that was abound at the festival, and it left me hungry for more.
Whether discussing publishing with The New Yorker or listening to spoken word poetry, every nook and cranny of Copley was buzzing with a passion for books, reading, and writing. Kids excitedly checked out stacks of picture books, and scholars came to together in the shared communion of hot coffee and a new read. As a self-proclaimed bibliophile, sights like these fill me with excitement and creativity. There is a sprawling community of writers and book lovers in Boston. Events like these show that all you have to do is dig a little. Check out some of the hole-in-the-wall bookstores in Cambridge, have coffee, and enjoy some private time with that novel that's been gathering dust beneath your textbooks; hell, attend a poetry slam. Give it a shot and you just might find something to love.
To learn more about the festival and the presenters there, go to http://www.bostonbookfest.org/.