This fall, television season has given us some class A duds (FOX's Dads is the television equivalent of a racist uncle–if you're laughing at his jokes it says more about you than it says about him), but there's some light even in network comedy. FOX has recently given a full season order to first-year workplace comedy Brooklyn Nine-Nine, which has quickly established itself as the strongest new comedy on network TV.
Brooklyn Nine-Nine has a lot going for it this early in the game. First off, a staff with a great TV pedigree. Series creators and showrunners Mike Schur and Dan Goor hail from Parks and Recreation and The Office (Schur created Parks and Rec and both were producers/writers on The Office). The show's characters and dialogue are remarkably assured in tone for the show being so new, and the jokes almost always hit; since most sitcoms only grow from where they started (Parks and Recreation's underwhelming first season comes to mind), it's exciting to think about how good this show could be a year from now.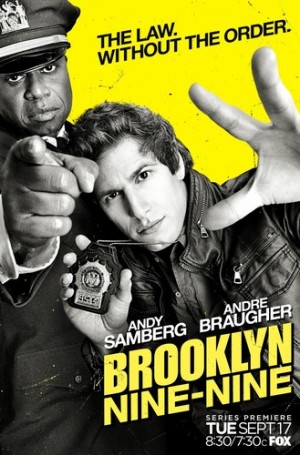 Aside from the writing and producing, Brooklyn Nine-Nine features the strongest new comedic ensemble on TV. Heading the cast is a pleasingly subdued Andy Samberg, whose high-energy weirdo schtick on SNL wouldn't work in a single camera show. Luckily, Samberg's performance is grounded and believable as the cocky Brooklyn detective Peralta. Butting heads with Peralta is Captain Holt, played by the always strong Andre Braugher. Braugher's largely made a name for himself in dramatic roles (last year he was the best part of the mediocre Last Resort), but his comedic chops are on full display here as the deadpan captain. His energy anchors an ensemble of much wackier actors and the show is much better for it.
Rounding out the cast are veteran character actors Joe LoTruglio and Terry Crews (both uniquely hilarious), writer/comedian Chelsea Peretti (stealing nearly every scene she's in), Stephanie Beatriz, and Melissa Fumero. The cast has great zippy workplace banter without leaning too far into a cynical tone a la early US Office, but not quite into the warm, genial goofiness of Parks and Recreation.
There's plenty of ammo for comedy from the standpoint of parodying cop procedurals, but if the show were to hit that beat over and over, it would make the show an empty exercise in homage, and creators Schur and Goor have done a great job of establishing a well-rounded ensemble with possibilities for different character pairings. Rather than making this a cop comedy, they've made sure to lay the groundwork for the show as a more standard workplace comedy with the backdrop of a city police precinct. Though it's currently struggling in the ratings, FOX is showing support by giving Brooklyn Nine-Nine the order for a full season. BNN is very strong out of the gate, and with adequate fan support and time to develop, it could easily become a contender for the top network comedy.