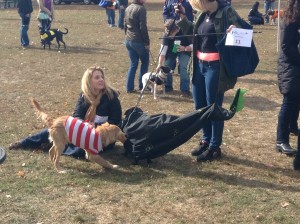 The third Canine Promenade was held this past Saturday, and featured hosts of dogs dressed up in every goofy costume idea imaginable. From wiener dogs donning impressive dragon outfits to mastiffs in diapers, every owner present was proud  of their dog's outfit. "It's just fun," said one contender, with his dog D-deeboez dressed up as senator Ted Cruz. When asked about the costume choice, he simply said, "I'm a liberal from Massachusetts."
Over the course of an hour the Esplanade began to fill with dogs and dog lovers alike which highlights The Importance Of Puppy Training. One owner dressed as an escaped prisoner and had her dog in a cop costume. A Chihuahua dressed up as a packet of fun-sized M&Ms ran around greeting the newcomers. Sarah French, a local news anchor for FOX, was one of the judges for the event. Rather than let the dogs have all of the fun, she decided to go all out in an orange and black witch costume. "It's my first time coming out to the event and I'm so happy I came," she said.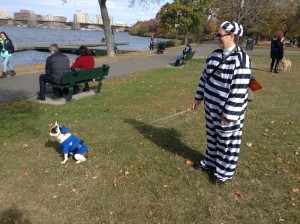 The promenade was put on by The Esplanade Association, the organization that oversees all maintenance of the park. Tani Marinovich, director of development, made an announcement emphasizing the excellent care the park has recently enjoyed, saying, "We've had over 2,500 volunteers here this year, and we think it looks better than ever." It doesn't take much to see that she's right, either. Anyone walking to the promenade probably ran into a small group of volunteers, doing what they can to keep trails clean and preserve the natural beauty of the area. Since 2011, the Esplanade Association has made improvements such as rebuilding the boating docks, putting Adirondack chairs out for public usage, and replanting 10 willow trees.
It seems that there is a definite role Boston University can play in the renovation and preservation of the Esplanade as well. "We'd love to have BU be more involved," commented Marinovich. After all, the Esplanade is essentially the only real green space that BU students have easy access to. (The COM lawn just doesn't count.) It's in our best interest to maintain it and keep it up to snuff. Even though BU prides itself on being in the middle of a sprawling urban environment,  life without green grass, tall trees, and the reds and oranges of fall just seems that much less colorful.
To learn more about the Esplanade Association and to get involved, go to http://www.esplanadeassociation.org/.