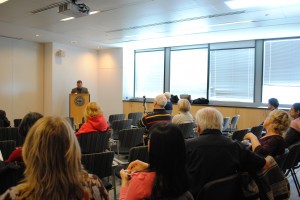 With discussion about John Ford's Western films to eighteenth century Persian travel logs, Boston University students, faculty, and alumni enjoyed short readings by, and causal conversation with, a variety of published BU authors on Saturday afternoon.
The event was hosted by the BU Arts Initiative, which aims to bring art to the lives of all students, regardless of their academic major, in collaboration with Barnes and Noble at BU. The event not only celebrated the published authors, it also welcomed alumni back to their alma mater as part of this year's Alumni Weekend.
"I loved it. I would have listened to [the authors] read [all day]. I'm someone who thinks about writing, [and] reading things I feel like I should write about, so to hear them read in different styles of writing, I thought it was fantastic," said Managing Director of the BU Arts Initiative, Ty Furman.
Authors who were featured included: Graduate School of Public Health Professor Christine Hartmann, So Far Away: A Daughter's Memoir of Life, Loss, and Love; College of Communications Journalism Professor Bill McKeen, Mile Marker Zero: The Moveable Feast of Key West; College of General Studies Humanities Professor Kevin Stoehr, Ride, Boldly Ride: The Evolution of the American Western; College of Arts and Sciences Professor of Persianate and Comparative Literature Sharma Sunil, On the Wonders of Land & Sea: Persianate Travel Writing; and College of Fine Arts Professor of Music, Composition, and Theory Deborah Burton, Recondite Harmony: Essays on Puccini's Operas.
For many members of the audience, it seemed passages from Professor Hartmann's memoir were most relatable. Her passages explored the very poignant themes and experiences central to her memoir: developing a relationship with our parents, watching them age and die, and later uncovering elements of their lives we had not known beforehand.
"There was a connection with the things Christine Hartmann was reading because I had a grandmother pass away in the last couple of years and did a similar process with my mother with the boxes of stuff, and so there was a real personal connection to that story and having done that exact same thing, and learning about the person [she was] before she was the person I knew her to be," Furman said.
For Lois Scott, who came with her husband Jeff Celler, a 1969 BU alum, Professor Hartmann's descriptions of visiting her childhood home reminded her of a similar, recent experience of her own.
"[That's] the one I enjoyed the most, because I'm a nurse, and I enjoyed listening to [Christine Hartmann], who's in the health field and writing about her aging parents. And we just recently [were] on a trip actually coming from Florida to here, and we stopped in both of our hometowns. She was kind of describing the house where her parents were, so it brought back memories," said Scott.
Others found Professor Burton's passages interesting, as they were about the debates around Giacomo Puccini—deemed the greatest Italian composer after Verdi. Some especially enjoyed passages from Professor McKeen's book, which discussed the lives of Jimmy Buffett, Tom McGuane, and Hunter S. Thompson who, in a sense, discovered themselves in Key West, Florida. Many expressed that they liked the adventure in Professor Sunil's passages from travel writers in the Islamic world, and the history of Western films in Professor Stoehr's work.
"I liked a little bit of all of them. It was a good mix of different types of books, so I enjoyed it all," said Celler.