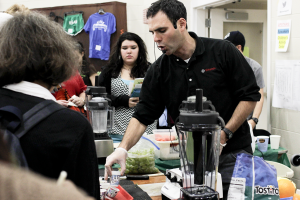 This past weekend, the Boston Vegetarian Society hosted the 18th annual Boston Vegetarian Food Festival at the Reggie Lewis Athletic Center.
For two days, around 20,000 attendees were exposed to a celebration of all things vegetarian and vegan; over 100 exhibitors came to offer food samples, sell their products, and share information about the vegetarian lifestyle.
"Everything here is egg and dairy-free," said BVS president Evelyn Kimber. "There's a vegan version of everything these days, we're just trying to show people how much is out there and how easy it is to eat vegetarian and vegan."
With everything from vegan cupcakes to meatless bacon, the festival certainly proved that anything can be made without animal products. Some crowd favorites were hummus from Eat Well-Enjoy Life (the Yellow Lentil flavor was delicious!), ice cream from Coop's MicroCreamery, and chocolate bars from Raaka Chocolate.
Festival sponsor Qdoba Mexican Grill was also popular; workers stayed busy giving out hearty bean and rice dishes.
However, not everything at the festival was food-related.
Companies like Herbivore Clothing sold trendy, "cruelty-free" apparel to attendees. With in-your-face slogans like "Wings are for flying, not frying," the company encouraged people to use compassion in their diets and to not eat or use animal products. Organizations like the Massachusetts Animal Coalition and The Human League were also there to educate people about animal rights and the ethical reasons behind becoming vegan and vegetarian.
The festival also had guest speakers and cooking demos to talk about easy ways to go vegetarian. One guest chef even made Kimber's favorite fall recipe, Creamy Kale Miso Soup.
"There's just such a wonderful feeling here," Kimber said on Saturday. "People see what we have to offer and how easy it is to have a healthy vegetarian lifestyle, and they all leave happy." Speaking on behalf of the festival's volunteers, she said, "We're just here to help."
The Boston Vegetarian Society hosts events and gatherings every month! For more information, please email info@bostonveg.org.