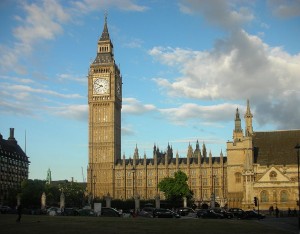 When you received an email confirming your acceptance into a Spring 2014 study abroad program, you were probably super excited about it for several days. You called your parents, group-texted your best friends, set a Facebook status (and sat back and watched the "likes" pour in)—the works. By now, though, that excitement has probably faded a bit in the wake of the hundreds of stressful, abroad-related things you definitely should have taken care of, like, five days ago. Between visa application drama, roommate selection drama, group flight drama, internship placement drama, blogging URL drama ("GraceInLondon.tumblr.com" is already taken… what am I supposed to do now!?) and the like, it's easy to lose sight of the reasons you wanted to go abroad in the first place. Allow us to guide you back into your state of euphoria via a compilation of videos, songs, fun facts, and student testimonies about the popular BU study abroad cities.
Madrid, Spain
First, "MAM" gives some step-by-step instructions on how to seduce a Spanish lover while you're abroad and how to rock the tricky black glove/green tank top/elbow pad trend.
"Dirás Que Estoy Loco"—Miguel Angel Muñoz (2006)
Shakira also gives a seduction lesson—on a sexier, dirtier, and more tomatoey level—but don't necessarily expect "The Worm" to work as well for you as it did for her.
"La Tortura"—Shakira (2005)
Hat tip to probably every high school Spanish teacher in America for bringing this gem to this side of the Atlantic. This song/music video is guaranteed to put a smile on your face and give you the extra push you need to finally pay your visa application fee.
"Ave María"—David Bisbal (2002)
Madrid's Fun Fact (dato curioso): Madrid has more cloudless days than almost any other city in Europe.
Veronica Bohorquez (SED '13) studied in Madrid in the Spring of 2012 and said it was one of the best experiences of her life.
"The home-stay experience provides a deep and intimate relationship with Madrid as a whole, with family dinners, celebrations, and having an 'inside' look on how to truly experience the city," she said. Bohorquez also added that "the nightlife in Madrid makes New York City looks like it has a bedtime."
Jenna Kluger (CAS '15) will be going to Spain in Spring 2014 through BU and said that she had no doubt in her mind on where she wanted to go abroad.
"As a Spanish major, I'm so excited to be able to study in a place where I'll be surrounded by Spanish language, culture, food, history, and people," Kluger said. "Madrid is such a central location in Europe and has so much to offer for someone looking for a true cultural experience." For those interested to learn Spanish, you can take clases de español.
Sydney, Australia
First of all, if you didn't dance to this '80s hit in your underwear in your dorm room as soon as you got accepted into the Sydney program, you need to reevaluate your life choices.
"Down Under"—Men at Work (1981)
http://www.youtube.com/watch?v=mD40Dr-gF_U
This Australian hit is a great song to listen to while you're perfecting your Sydney beach bod on the elliptical at FitRec.
"Can't Get You Out of My Head"—Kylie Minogue (2001)
http://www.youtube.com/watch?v=IFx3WX4DES0
When you're in Sydney, you might also have the opportunity to breathe a breath of air that Australian comedienne Rebel Wilson herself once breathed, and that alone is reason enough to be excited about that 21-hour flight.
Rebel Wilson as Jennifer Lawrence's Sister
Sydney's Fun Fact (fun fact, mate): The cost of building the Sydney Opera House ended up at $102 million AUD instead of the original estimate of $7 million AUD.
Emily Siu (SHA '15) is currently enrolled in the Sydney Internship Program and said she loves having so many options of things to do there.
"The BU study abroad program is located just outside the CBD (Central Business District) and next to a major train station," she said. "One day you can take a bus to Circular Quay to see the Sydney Opera House, and the next you can take a train out to hike the Blue Mountains."
Paris, France
If you're a girl, here's a glimpse into what your everyday life will probably be like in France.
"Moi Je Joue"—Miss Dior Cherie
And if you're a guy, Bret and Germaine provide an accurate example of what you and your roommate will look like trying to impress Parisian women.
"Foux Du Fafa"—Flight of the Conchords (2007)
Also, if you're curious about how French people selfie-dance so you can practice your moves before you get there, this music video answers that question nicely.
"Toi + Moi"—Grégorie (2008)
Paris' Fun Fact (fait amusant): Despite its name, Pont Neuf (New Bridge) is the oldest of the Paris bridges, and was the first road in Paris to benefit from pavements separating pedestrians and traffic.
Jasmine Elbarbary (CAS '15) is currently participating in the Paris Internship Program and said she has never been happier.
"Every day is such an adventure and everything is so beautiful," Elbarbary said. "School is five minutes away from the Eiffel Tower, so every day we've been having a picnic there on the Champ de Mars, and every day I've been eating bread and cheese and drinking wine, and of course delicious croissants and crepes."
London, England
This first song is just so British and upbeat, and frankly beats out Sydney's "Down Under" by a mile for 2013's "Best Underwear Dancing Song" award.
"Let's Dance to Joy Division"—The Wombats (2007)
Hopefully you won't meet anyone in London that merits an illegal revenge break-up rampage, but just in case, Lily Allen is here to show you how it's done.
"Smile"—Lily Allen (2006)
Since there are so many British songs we could have chosen for this third video, the decision to give Fergie a coveted spot in this compilation is questionable to say the least. But what's done is done.
"London Bridge"—Fergie (2006)
http://www.youtube.com/watch?v=3iCJ_cIZZBU
London's Fun Fact (bloody fun fact): London is the city with the most multi-millionaires in the world.
Lindsay Nicastro (CAS '15) studied in London as part of the CGS program in Fall 2012 and said it was a fantastic experience.
"London is great because it's an English speaking city that is diverse enough to give students a feeling of being abroad, but has an ease for American students when transitioning to a European lifestyle," she said.
Jennifer Gregorio (COM '15) also went to London, at the same time as Lindsay, and called it "the best experience I could have asked for."
"[T]hrough the BU program…you get placed in the best part of the city and get an awesome internship opportunity," Gregorio said. "You are able to travel all over Europe and meet some of the greatest people."
Shanghai, China
Trust me, this is the most charming version of "Friday" you'll ever hear. Bonus: It uses simple vocabulary so LC211 students can feel smart and go "Oh! I what that means!!", which is a huge deal.
"Friday"—DaWen (Rebecca Black cover)
I'm not going to pretend to know what's going on in this song, but its catchy and the boy looks like the guy from Harold and the Purple Crayon, so this gets a point in my book. (Starts at 0:22)
"Tong Nian"
The chorus of this next song is great because it basically translates to: "Why, why, I don't know how to say…". Unless you're a native speaker, this is a phrase you should master before stepping foot in China, because you'll probably be saying it all the time.
"Confessions"—Elva Hsiao
Shanghai's Fun Fact (youqù de shìshí): "Shanghainese" is a dialect of Wu, an ancient branch of Chinese that is a distinct language from Mandarin, and is only about 50 percent intelligible to Mandarin speakers.
Valerie Koh (SMG '15), an international student originally from Shanghai, said that everyone who is planning to study abroad in her hometown is in for a great time.
"[Shanghai] is an amazing community that will follow you back to BU," Koh said. "When you say you're from Shanghai or you've lived in Shanghai, you'll instantly click with other people."
Dublin, Ireland
Let's venture back to a simpler time when Irish singer Sinéad O'Connor was known not for her "open letters" to Miley Cyrus, but rather for her Prince cover, her iconic music video, and her SNL controversy.
"Nothing Compares 2U"—Sinéad O'Connor (1990)
http://www.youtube.com/watch?v=iUiTQvT0W_0
Time for a history lesson with Professor Bono: "Bloody Sunday" was a 1972 incident in Northern Ireland in which 26 unarmed civil-rights protesters and bystanders were shot by soldiers of the British Army. Study up!
"Sunday Bloody Sunday"—U2 (1983)
If we can just ignore the fact that the Dropkick Murphys are actually from Quincy, Mass., not Ireland, and change the song lyrics to either "shipping away from Boston" or "shipping up to Dublin," this song is perfect.
"I'm Shipping Up to Boston"—Dropkick Murphys (2005)
Dublin's Fun Fact (quare fact): Surprisingly, Dublin has fewer pubs per head than any other European capital.  The oldest pub in Ireland is called the Brazen Head and it was built in 1198.
Courtney Bayruns (CAS/SAR '15) is currently studying in BU's Dublin Internship Program on the Health Science track and said that others coming to Ireland can and should look forward to interacting with locals.
"The people in Dublin are so nice that even if you look the slightest bit lost, you'll have 10 people asking you if you need help," she said. "You can strike up some very interesting conversations at the bar and meet cool locals."
Stephen Moulton (SMG '15), who will be studying in Dublin this coming spring, said he is excited to experience Ireland's rich culture and long history.
"Stepping outside of what you know into a land with such life is an experience that will change everyone involved," he said. "It's all about finding your inner Irish and absorbing all you can, because then you will have a spectacular time and grow tremendously."
So, are you excited yet?