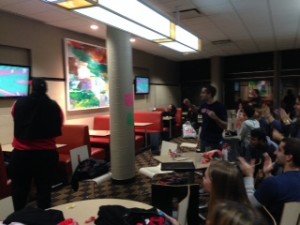 You may or may not have heard that the Red Sox won the World Series Wednesday night. If you live within a ten mile radius of Fenway, I'm guessing you heard about it until the wee hours of the morning.
While I spent the other games of the series in my dorm watching with my roommates, the potential clincher required a bit more fanfare (pardon the pun). The Back Court of the GSU, along with various residence halls across campus, hosted World Series Viewing Parties complete with Halloween candy, baseball trivia, and of course, eager fans.
Now, it's no secret that a majority of BU's students aren't actually from the Boston area (if you don't know about students' various sports allegiances, you can learn all about them here). That being said, there were no Yankee fans to rain hate on the Red Sox parade Wednesday night. Students from every region of the U.S. (although I didn't see many from St. Louis) came together to cheer on their newfound home team.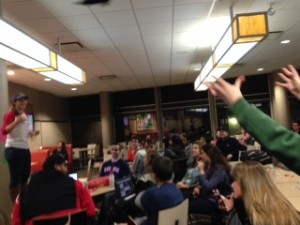 Hawaii-native, Malina Franquez (COM '15) came out to the GSU to watch the game with her fellow Terriers "to be around other people who were just as excited" about Boston as she is. "Boston is such an amazing city, and I am so glad to be able to go to school here and experience a night like [Wednesday] night," Franquez said. She also gave a shout-out to her fellow Hawaiian and hero of the night, Shane Victorino.
Even Yankee fan, Mariana Angulo-Pizarro (COM '15), cheered on the Sox during and after the big game. Despite her years of criticism from Bostonians, Angulo-Pizarro admits, "When the possibility of the sox going to the world series was becoming a reality, I was excited." She especially enjoyed what the win did for the city, saying, "to be able to see the city last night, it was a great experience. I wasn't hating on the Sox winning because Boston needs this." She did, however, draw the line at the crowd's frequent and obligatory "Yankees suck" cheers.
With the number of people celebrating along Commonwealth Avenue at the close of the game, something tells me they weren't all from New England. When it comes down to it, I just don't think we could miss a chance to celebrate our wicked awesome city. Franquez put it best by saying, "There's something about Boston that really makes people want to come together and celebrate a big night like this one as a community".
Head of Sports Marketing for BUTV10, Leah Mackstutis, helped plan the event and organize the twitter-run trivia that occurred between innings. According to Mackstutis, she and her team "wanted to bring BU sports fans together to watch the game in a fun and safe environment," adding that it's "more fun when you're just a few blocks away from where the game's happening!" The event was sponsored by BUTV10's Terrier Nation and Offsides, BU's leading resources for sports news.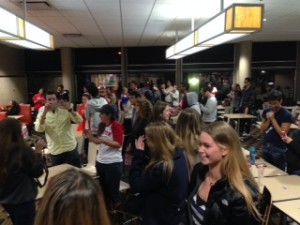 Whether you watched the game at the GSU, on your couch, in a bar, or didn't even watch the game at all (watch the highlights and tell people you watched it), Wednesday night was an epic night to be in Boston.
If you missed the viewing party, be sure to watch the parade this Saturday at 10A.M. And don't miss Terrier Nation and Offsides on BUTV10!