It's a sad existence when you're saying "Happy Finals Week!" more often than "Happy Holidays!" But such is the cruel case for most college students as we wind down the semester and desperately prove our academic worth through cumulative exams and fifteen-page papers.
Yet expunging any festive cheer from our lives for the sake of acing our exams, especially when 50 percent of the time we spend "studying" requires Netflix and Facebook (don't even deny it), seems very bah humbug. Don't be Ebenezer Scrooge. Instead, make your designated study breaks and calms-between-the-exam-storms worth your while with these festive events in and around Boston: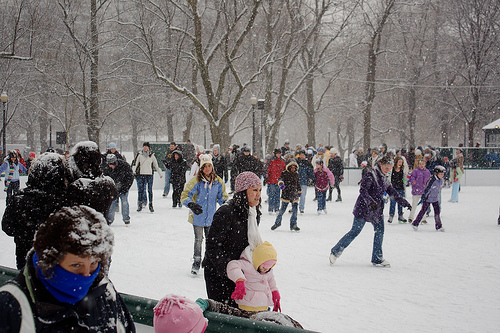 It's typical to assume that once winter arrives, the Boston Common clears out. What's the fun if you can't picnic and Frisbee in warmer weather, or stroll through the rows of autumn foliage, pumpkin spice latte in hand? Well, my friend, all of your assumptions are false, because come December the Frog Pond, Boston's favorite outdoor skating rink, opens up. Boston is also generous with it's 125,000 student residents—that's why on Tuesday nights between 6 and 9 p.m. the Frog Pond is discounted at a $2 entry fee with a student ID. Granted, skate rentals are an additional $9, but the wintery ambiance is worth the fee.
Fort Point, best known as the Seaport District, is the neighborhood that divides the financial district and South Boston. Venture out to this artsy area this Friday, Dec. 13 for the annual holiday stroll hosted by the Friends of Fort Point Channel. If you're not crazy about the T, Hailo is also offering $10 towards your cab fare to the neighborhood until midnight with the code FPSTROLL. Dine on complimentary clam chowder and $1 oysters. Enjoy free coffee and hot chocolate from Au Bon Pain and Barrington Coffee, check out some crazy awesome art exhibits, and receive discounts at local businesses. Get some Christmas shopping done with 20 percent off house-made chocolates at Bee's Knees Supply Company, or at the Atlantic Wharf Holiday Pop-Up right on the Fort Point Channel. Seriously, with all of these offers, why would you not go? Check out the entire list of events around the neighborhood here. Get there anytime between 4 and 8 p.m.
Closest T-Stop: South Station (Head down Summer Street and across the Fort Point Channel)
3. How The Grinch Stole Christmas | FREE Monday Night Film Screening at the Boston Public Library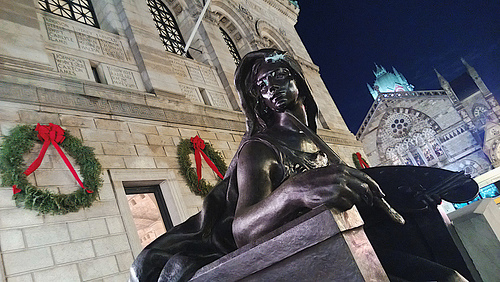 You're going to be watching Christmas movies on Netflix anyway—why don't you shake it up a bit and head down to Copley Square? Shop your way through Newbury and swing by the library at 6 p.m. for this free film screening with Jim Carey made up like the notoriously green antagonist-mutant-thing who steals all the presents in Whoville because of bad childhood memories. Also, you can finally register for a Boston Public Library card that does a lot more than allow you to borrow books.
700 Boylston Street | Closest T-Stop: Copley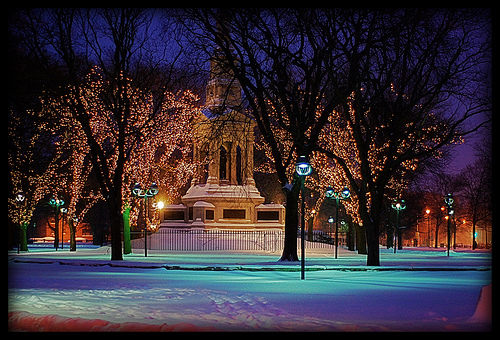 Save yourself the craft-fail embarrassment and make the trip across the river for the annual Harvard Square Holiday Craft Fair. Explore the works of over 50 vendors offering items ranging in all art mediums like pottery, jewelry, photography, and clothing. Don't miss one of the "oldest and most popular craft fairs in Boston," set against a cheery Harvard Square backdrop. Unlike the wreath-less and sans-bow Charles River Campus, Harvard Square goes all-out during the holidays. If you haven't gotten into the Christmas mood already, this is a good place to start between Dec. 13-15 and 18-23.
First Parish Unitarian Church, Corner of Church St./Massachusetts Ave., Cambridge | Closest T-Stop: Harvard Square
5. Discounted Dining, Courtesy of Mayor Thomas M. Menino
Who actually uses their dining points and meals wisely? Save yourself the agony of late-semester dining blues (as well as your money!) by getting $10 off when you spend $40 at designated restaurants this holiday season as part of the Mayor's 10th annual Holiday Spectacular. Eateries range from the casual to high-end: Dick's Last Resort, Henrietta's Table,  the North End's Tresca, and The Chart House on the wharf are just a few of the many where your voucher is valid until Jan. 15. Gentlemen take note—not only will your wallet thank you, but you'll score some major points with your lady friend. Somewhere in City Hall, Menino shouts "You're welcome!" as he accepts the award for Wingman of the Year.
Check out the full list of restaurants and access your voucher here.
Cheers to the most wonderful time of the year! Have any more ideas for festive study breaks? Post 'em below in the comments! Happy Finals!