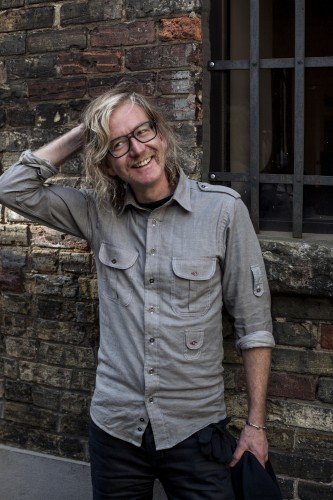 The only thing more depressing than the end of a weekend is the end of a long weekend. And on this past Monday night that's exactly where we found ourselves, the reluctance to face the imminent week reflected in the empty streets and Arctic wind-chill.
Stepping into Great Scott it became evident that some of the melancholy had slipped in with the crowd. People milled around with their pints, trying to stay warm and to dispel some of the general sense of lethargy.
It turns out that the breezily beautiful sounds of Brendan Canning's appropriately named solo LP "You Gots 2 Chill" was the perfect patchwork quilt of sound to cure any and all Monday blues.
Brendan Canning, known for being one of the founding members of the indie rock group Broken Social Scene, stopped in Allston, MA as part of the American leg of his "You Gots 2 Tour." Accompanied by a supporting band of a keyboard, drums, bass, and three guitars (his included), he drew the crowd in with songs from his new LP.
The intimate venue only enhanced the inherently calming nature of Canning's music. Tracks like "However Long" and "Never Go To The Races" exemplified the ethereal interplay of guitars that is present throughout the album and gives the LP its earthy, unpretentious grace. These were broken up by well-placed musical interludes that, beyond lush instrumentals, gave the audience a look at a group of musicians who loved what they were doing, judging by the blissful expressions on several faces onstage.
"You Gots 2 Chill," it very quickly became clear, in its laid-back but dazzling complexity, was a reflection of Canning himself, as he made the stage and the space around it a place of unpretentiously good vibes. "Let's not get ahead of ourselves now. It's Monday night," he joked after the band came out of one of the relatively more upbeat tracks on the album.
It's safe to say that Monday night was a much better place leaving Great Scott than it had been when we entered.
Check out Brendan Canning's music here.