Last Thursday night BU Central hosted its first open mic night of the semester called BU for Show.
Open mic-nights are a regular fixture of the lineup at BU Central. Every third Thursday of the month, it  hosts a crowd of students to entertain their peers through music, stand-up, slam poetry and other various talents.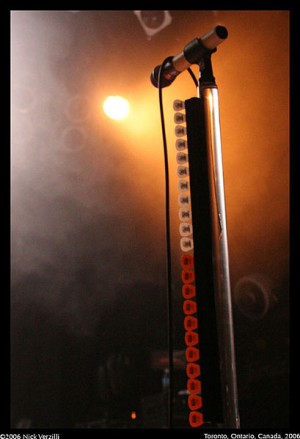 This month, BU Central decided to team-up with the Community Service Center (CSC). The CSC's After School program coordinator, Meagan Bernatchez, served as the show's exuberant host.
"Collaboration is something we're trying to do more often," said one BU Central worker. "It's a win-win for everybody. We get more attendees and the clubs gain good exposure."
Because the CSC is such an active organization on campus, Thursday's open mic night had a great turnout. About seventy-five people got to learn about the CSC's amazing programs and listen to an eclectic group of musicians and comedians.
The sign up sheet for acts went up at 8:30, so performers were already mingling by then, snacking on tortilla chips and salsa. By 9 o'clock, the tables had been filled, the lights had dimmed and performances began.
The acts were split about 40/60 between comedy and music. Musical acts spanned a ranged of genres. Many performers chose folksy tunes including a Mumford and Son's inspired singer and guitar player, a rendition of Ed Sheeran's  "Give Me Love," and a cover of Johnny Cash's "Ring of Fire" by the talented open-mic regular Sarah Berns.
Many also decided to cover more quirky tunes. One hilarious performer chose to sing LMFAO's "I'm Sexy and I Know It," while another did Flight of the Concord's "The Most Beautiful Girl in the Room."  A beat-boxer killed it with his mad skills and an impressive band–replete with a flutist, guitar player, cellist, upright bassist, drummer and singer–showcased an original tune.
Interspersed between musical acts was the occasional comic, including the witty and dry Ian Barten who joked about life, girls and his dream to be either "a 40 year old man, and stable" or to have "the reverence of an 18 year old just starting college, excited to be eating sushi for the first time in a big city."
Throughout all of the acts the audience remained respectful, and a strong sense of community pervaded. People came up to performers they had never met and praised them. Groups of friends mingled and laughed with one another.
"I come every month. So do a lot of other people," said senior Aaron Kaufman, as he went around to shake the hands of other regulars who congratulated him on his rendition of Iron and Wine's "Naked as We Came."
The atmosphere was relaxed and friendly; the audience jolly. The open-mic night seemed like a perfect way to de-stress on a Thursday night, meet a cool crowd of performers and see what sort of talent BU has to offer.
If only, Barten joked, BU Central had "an open bar and a cigar lounge."
Want more information about BU Central events? Care to join some of CSC's programs?