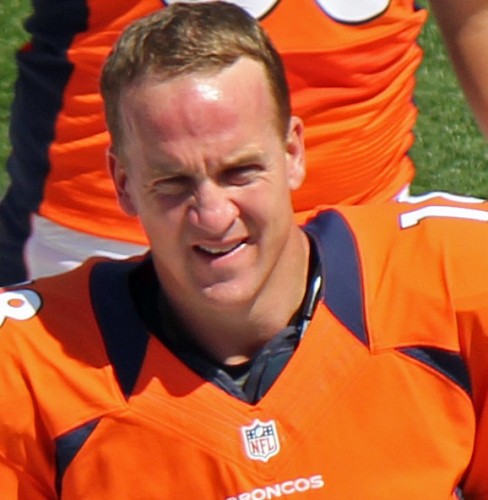 That's it folks. Seattle Seahawks 43, Denver Broncos, 8. For the first time, the Seahawks have won a Super Bowl. Thanks for reading. I hope you learned something. If not, drop us a line and we'll try harder next year.
Just seven months until it starts all over again.Until then, enjoy whatever other sports and loved ones keep you going until football comes back. I'll do my best to do the same.
Again, now is as good a time as any for this…
9:52 PM
Although he hasn't been sacked, Manning has not gone without pressure at the line of scrimmage. He's had two balls tipped  (at least one for an interception) and the one knocked out that lead to the current Seahawks possession.
9:48 PM
One of the commentators just made the point that Seattle is a team with lots of young players. That means they could keep this kind of play up for a while. Good news for Seattle, bad news for the rest of the NFL. When you take into account the Seahawks' seeming knack for finding gems in the draft (Russell Wilson in the 3rd round, Richard Sherman in the 5th, Malcolm Smith), their future looks even brighter.
9:40 PM
Sherman's out with a bad ankle.
9:36 PM
Looks like Richard Sherman's out of the game. As much as that's bad news for the Seahawks, now is probably the best time for them to take that hit. They'll just have to hope it's nothing serious enough to keep him from being healthy in time for next year.
9:24 PM
Score update: Russell Wilson to Doug Baldwin brings the score to 43-8. Sigh.
9:15 PM
Demaryius Thomas with the touchdown! And Wes Welker for two! Phew. Thank God for that. I regret to admit I'd already looked up if any Super Bowls have ended in shutouts (none have).
It goes without saying the Broncos need a series of miracles to win this, but at least they'll walk away with points on the board.
9:02 PM
Once again, the Seahawks are using the ball to tackle. This time it paid off. For Seahawks fans, there's got to be just about nothing sweeter than a strip like that. For the Broncos, it probably starting to feel like they're adding insult to injury.
The Seahawks are playing an incredible game right now, really making it clear they deserve to be in this game. Both the defense and the offense are exemplary on all fronts.
8:54 PM
Morpheus is singing opera. That is the most noteworthy thing happening on Super Bowl TV right now. Don't worry about the game. The Seahawks are winning 29-0, but we don't need to talk about that. The fact it's happening is rough enough. Talking about it would only make it worse and nobody needs that right now.
8:34 PM
I think now's as good a time as any for https://www.youtube.com/watch?v=iPT1jny2eN0
8:32 PM
I'm going to go ahead and stop telling myself it can get any worse.
8:18 PM
Scary things are happening with Bruno Mars' feet
8:18 PM
(The famous drummer)
8:13 PM
#brutalmars
8:01 PM
Let me add a footnote to that last post: the pass was tipped. It light of that, it's worth noting Manning has not had an easy time against the defensive line. He would really benefit from some more help from his offensive line.
7:59 PM
As much as that comes across as an argument against going for it on 4th down, in a situation like that, you have to count on your defense's ability to back you up in the worst case scenario and take the risk in hopes you can get some real points on the board. I'm with John Fox on that one.
That being said, ouch. Not an easy pass for Peyton Manning, but he's lucky that wasn't his 3rd interception.
7:57 PM
This will be an interesting play. Whether the Broncos for this first down could have serious implications for the rest of the game.
7:49 PM
Looking at the replay on that kick-off-return-almost-turned-fumble, you can see the kind of attention to detail that make the Seahawks such good defenders. That defender used the ball as a gripping point to tackle the returner. It takes a steal hold on the ball to keep that from turning into a fumble. Or, in this case, it takes going down before the ball comes out.
All the same, if your guys can tackle like that in the madness of a football return, you make it to the Super Bowl.
7:45 PM
Just when the Broncos were gaining some momentum and it looked like they would score…
7:31 PM
Here's a link to Kam Chancellor's (the Seahawks player who just got walked off the field wit an injury) stats for the season.
7:29 PM
Very good review of the 2013 in the NFL via The Onion. Please do check it out.
7:27 PM
Inspired by the talented Ashley Hansberry, I've changed the name. Don't be scared.
For those of you who see this game as good (Peyton Manning and the Broncos) against evil (the Seahawks), things are looking rough. That's the first time the Broncos have let the Seahawks into the end zone in this game.
For the curious among you, the Seahawks are 11th in the regular season at points scored in the red zone per attempts.
7:15 PM
Ooo. And there's an interception. An uncharacteristically imperfect pass from Peyton Manning, who only had 10 in the regular season.
7:04 PM
And another huge pass! It will interesting to see if the Seahawks lay the passing on thick to mix things up because you know the Broncos have been getting ready for all kinds of running. It's a lot of fun to see teams like this with such diverse offensive skills. It allows for some really creative play calling and even better games.
6:55 PM
Other things to look for (in the most general terms), the Seahawks secondary defense–meaning the safeties and corner backs who defend against passes–are probably the best in the game. That Hall of Fame football writer Ray Didinger called Richard Sherman, who's a corner back for the Seahawks, the best corner back in the league right now. He made the game winning save against the 49ers that sent the Seahawks to the Super Bowl two weeks ago. He's also a real trash talker, and got a lot of attention for his comments after that game with the 49ers.
But, as Didinger says, he backs up that talk with incredible talent. If you want to read more about him, the New York Times ran a great profile of him this week.
6:48 PM
Russell Wilson (the Seattle Seahawks quarterback who was a rookie last season) is known for his ability to run effectively, but those last few plays were some of the first in a while where he'd ran the ball. When combined with a (THE) running back like Marshawn Lynch, it makes for an incredible play action game, so keep an eye out for that.
6:44 PM
If you want a good little introduction to the football as a game and these teams, check out this interview with Hall of Fame football writer Ray Didinger on Fresh Air from this Thursday
6:39 PM
A safety! Whoo! You don't see those every day. But then, this isn't just another day. Still, what a bummer way to start things off for the big dude (Peyton Manning) and company.
Welcome welcome to this mouthful of a live blog!
I'm Jake. I like football. A lot. I know about football. A little. I'll be your guide and host for the evening.
I'd attempt an introduction, but I really can't see how I could give a better introduction than Joe Namath in that giant fur coat almost not getting to do the coin toss (that's what just happened at the Superbowl, in case you weren't watching).
And with that, here we footbaaaaaaaaaaal!!!