Do you happen to remember watching The Proud Family when you were growing up? Maybe you even caught a glimpse of That's So Raven? I know when both shows came on, I was glued to my television screen. Back when I was a kid, I grew up with lead characters on television that looked just like me, a young black woman. As I got older, main characters like me started to disappear. Instead of the Ravens, we now have the Barney Stinsons (How I Met Your Mother) or the Walter Whites (Breaking Bad). I must have taken the amount of minorities on television for granted, because after my childhood, minorities never seemed to lead shows.
When looking at a report from SAG-AFTRA about the amount of minorities in all roles (including television and theater), the amount of minorities rose from 26.4% to 27.6% from 2002-2008, and the amount of Caucasians in these roles dropped almost 10%. However, considering that, as of 2008, Caucasian actors played 72.5% of all television or theatrical roles, there's still a huge issue at hand. [1]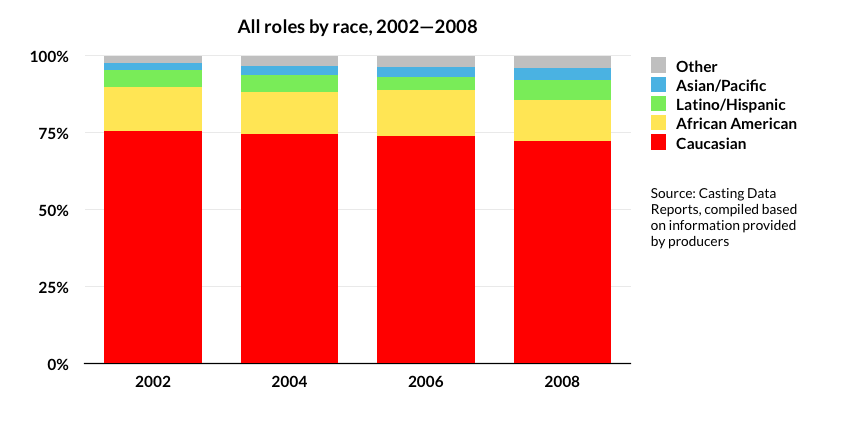 What's important to note is not how overwhelming the white roles are on television, but the incredible lack of diverse roles. What the report from SAG-AFTRA represents is the slight rise from 2002-2008 of Asian and Latino Roles. This is on par with the 2010 census report, where it states that the Hispanic and Asian population has grown  in the past ten years. Both the Asian and Hispanic populations in the United States grew a considerable amount, about 43% over the past 10 years. As of 2010, the Asian population was about 5% of the United States, while the Hispanic population was about 16%. However, representation on television of this drastic change has been slim to none, with Asians representing around 3.8% of all roles on television and in films, and Hispanics representing about 6.4%. [2]
Since Hollywood's inception, media has mostly been about white (and male) stars. Although the change in diversity in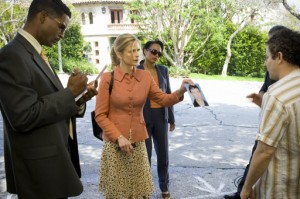 the United States has been fairly drastic over the past ten years, is there any reason to change what is seen on television? If changes did occur, would they only be a result of trying to include more diversity, instead of focusing on ratings?
The answers to these and other such questions were sought in a recent study UCLA's Ralph J. Bunche Center for African American Studies performed last fall. In this study, they "analyz[ed] more than 1,000 television shows that aired on 67 cable and broadcast networks during the 2011-2012 season," and researchers were able to discover that "viewers were more drawn to shows with ethnically diverse lead cast members." [3] On the other hand, shows with casts that were not diverse suffered the opposite fate, reflecting much smaller audiences and ratings. The researchers discovered that the highest ratings went to broadcast shows that featured 41-50% minority, while shows that had casts that had minority counts of 10% or less had much lower ratings.[3]
Although this research is an important step in the direction of having more people of color on television shows, does it make as much of a difference when the the majority of diversity is not in the lead roles? Professor Deborah Jaramillo, Assistant Professor of Film & Television at Boston University, states: "When I think of dramas and minorities, I tend to think of ensembles. Minorities in different roles, [but] not as leads. You have amazing roles, amazing characters being inhabited by people of color. [But] they're not leading the dramas."
Professor Jaramillo instead mentions the reaction that comes with having multiple people of color in one show – essentially, with a minority leading a show and similar minorities as secondary characters, the show somehow becomes wrapped up in those characters' races. For a great example of this, look at the basic plot of this sitcom: a group of friends share personal and professional experiences while living in New York.
Did you immediately think of Friends (1994), the show starring Jennifer Aniston and Courtney Cox? That's funny, because that exact plot describes another show that aired on Fox a year before Friends ever came on television, Living Single (1993). The only difference between these two shows is that the entire cast of Living Single is black, while the main cast of Friends is all white. By having multiple African-Americans in the cast, Living Single was not regarded as highly by critics as Friends, and was considered a black show. Or, as Professor Jaramillo puts it, "There's this understanding, I'm not saying it's valid, but there's this understanding that everyone will watch a show with white characters but not everyone will watch a show about black characters."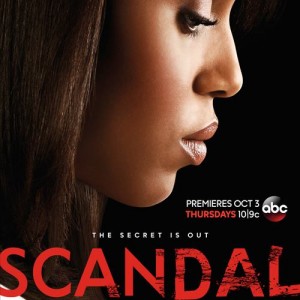 That has changed recently with the premiere of Scandal in 2012. Scandal stars Kerry Washington as Olivia Pope, has many minorities in the cast, and yet is one of the most popular shows on ABC. Created by Shonda Rhimes of Grey's Anatomy, this show gives viewers a chance to watch one of the best political fixers in Washington DC, who happens to be a black woman, work to make sure her clients are able to get out of their problems. Although Scandal was obviously not the first show lead by a minority woman (that would be Beulah (1950), which was quickly canceled), it has been one of the most talked about and, as a result, one of the most important.
Scandal has opened doors for other minority actresses to be able to star on network primetime shows. Instead of arguing that a minority or a woman cannot successfully command a show, there's finally the counterargument in the form of an incredibly popular show led by an African American woman, with other minorities in the cast, that can branch off from the niche of being considered a black show.
The success of Scandal brings other important aspects. One is obviously the lack of women of color on television. While Scandal's success is amazing, there's always the fear that because a show led by an African-American woman is already on, there's no need for any more shows like it. On the bright side, there's another school of thought: bringing in more diversity on television, such as what FOX is doing.
Back in the early 90s, FOX created black sitcoms in order to reach an audience not being served by ABC, NBC, and CBS. It seemed in the late 2000's, FOX tried taking this approach once again by airing shows such as the sitcom The Mindy Project. However, after last fall, it seemed as though they found a connection. The new fall show, Sleepy Hollow, starring Nicole Beharie as Abbie Mills and Tom Mison as Ichabod Crane, had such a positive and quick fan reaction that the show was renewed for a second season less than a month after it started airing. What makes Sleepy Hollow so unique? While one could argue that there's a fun plot of supernatural mystery (which is true), there's also an incredible cast of characters, most of whom are minorities.
FOX has taken the diversity approach to heart. At an invite only confab led by Fox executives titled "Seizing Opportunities," executives mentioned to the company the importance of diversity within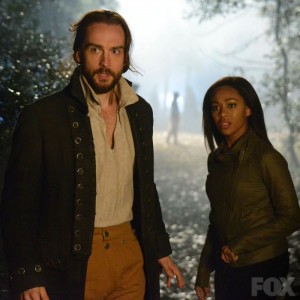 shows. Joe Early, the Fox Broadcasting COO, mentioned the importance of diversity as a business model because, "Not only are you going to have more chances of a show being made here, more chances of a show being a success on TV, more chances of making it into syndication, more chances of a show selling globally and making you millions of dollars, but you are going to bring more viewers to our air and keep us in business." [4]
Is this is a step in the right direction? Yes. While it has taken far too long, it's important that networks are attempting to change. Though what is interesting is what could have caused this. Although the broadcast channels brought about FOX's previous push for diversity, the new response may be from another direction. Professor Jaramillo argues, "Maybe FOX is seeing that cable, with all these amazing shows, is not embracing [the diverse] audience. So maybe they were responding to ABC, NBC, and CBS [before], maybe now they're responding to how white cable is and trying to bring viewers back that way. Either way, it's a conclusion they should have reached a long time ago."
But does having that diversity on a genre show make the change not as powerful? In certain types of shows, there is the dilemma of having aspects that are so dissimilar to our current reality, that it can essentially erase race. So while putting minority women as leads on a show is a step forward, it is almost as though the step does not matter as much as it would in other shows. Due to the sci-fi/supernatural elements of the show, Professor Jaramillo says that "it's not importing the same racial politics that we're accustomed to being [worked] out that other shows work through."
Essentially, because supernatural elements are already happening in the show, having people of color being very prevalent would not be anything out of the ordinary. On the other hand, a show that focuses on the characters' lifestyles would be a true step in the right direction. However, while Sleepy Hollow's supernatural elements may allow the diversity on the show to be not as groundbreaking as it could be on other shows, the representation of finally having minority leads is still incredibly important.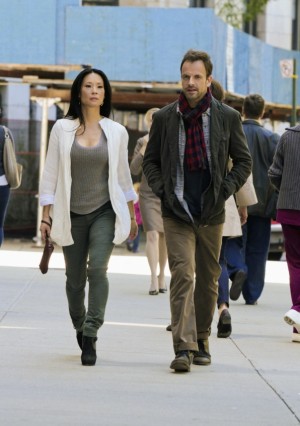 If the supernatural/sci-fi genre has the ability to supersede race, then what is one type of show that would essentially allow race to become front and center? That is, what is one of the most popular types of shows? If you thought cop shows, you thought right. Police television dramas are one of the most popular, prevalent shows on television, such as NCIS (2003), Bones (2005), and White Collar (2009). What better type of cop show is there than a rendition of Sherlock Holmes, as seen in CBS's Elementary, with Johnny Lee Miller as Sherlock and, in a unique change, Lucy Liu as Joan (John) Watson.
Although there were criticism for having John Watson go from being a white British male to an Asian woman, it's necessary to realize the importance of being able to relate to the leads on television. Professor Jaramillo reasons that with many of the shows on television, "We've all been encouraged to identify with straight white men who make a lot of money. And that's so far outside of our own interests as individuals – we are not all straight white men who make a lot of money."
Fixing this problem is not as simple as just adding more people of color or women into these shows. As Professor Jaramillo asks, "Should we be clamoring for more representation or for better representation?" It is simply not enough to have a quota filled for the amount of people of color or women to be on a television show. It's important for people, from young to old, to have someone on television that they can identify with. By having stock, one-dimensional minority characters, it forces viewers to either relate with them, or to, once again, be forced to connect with a well-written character with whom they have nothing common.
It is also important to consider that these shows are on broadcast networks (as in ABC, CBS, NBC, or FOX) instead of a cable channel. Even though shows on cable, such as Breaking Bad, are considered great television, its viewers are a small market. That is to say, not as many people watch shows on AMC (such as the aforementioned Breaking Bad, with its highest views at around 10 million [5]) as they do shows on CBS (such as NCIS, with views around 19 million normally). [6] Having shows that are able to reach so many viewers, and emphasizing the importance of leads that are both women and people of color, has the potential to have an incredibly strong impact on the future of television.
Considering how broad the television landscape has become, with the variety of shows on now, it's necessary to try and create characters that many people can identify with, as well as seeing the benefit of those characters leading their own shows. Although it has been a long time coming, it is definitely a step in the right direction for shows such as Scandal, Sleepy Hollow, and Elementary to air.
But it's 2014. Television has been around for almost 70 years, and these slow, subtle steps are almost more infuriating than completely shutting minorities out. These changes need to happen much faster than they have been. The importance of representation on television is not just because it's fair or because it's long overdue, but as Professor Jaramillo states, "because television is such a huge part of our culture, not just popular culture but culture in general. It's worth it as a medium making money off of viewers to show those viewers something that they perhaps can identify with."
---
1. SagAftra: http://www.sagaftra.org/files/sag/documents/2007-2008_CastingDataReports.pdf
2. http://www.census.gov/newsroom/releases/archives/2010_census/cb11-cn125.html
3. Lee, Cyntha. "Study Finds TV Shows with Ethnicially Diverse Casts, Writers have higher ratings." 8. Oct. 2013. <newsroom.ucla.edu/portal/ucla/study-finds-that-tv-shows-with-248757.aspx>
4. Patten, Dominic. "Fox Pushes Diversity As Business Model at Invite-Only Confab." 24 Oct 2013. www.deadline.com/2013/10/fox-pushes-diversity-as-business-model-at-invite-only-confab/>
5. Biel, Sara. "Sunday Cable Ratings: 'Breaking Bad' Wins Big, 'Talking Bad', 'Homeland', 'Boardwalk Empire', 'Masters of Sex' & More." 1 Oct 2013. <tvbythenumbers.zap2it.com/2013/10/01/sunday-cable-ratingsbreaking-bad-wins-big-talking-bad-homeland-boardwalk-empiremasters-of-sex-more/205986/
6. Biel, Sara. "Tuesday Final Ratings: 'Marvel's Agents of S.H.I.E.L.D.', 'NCIS' & Chicago Fire' Adjusted Up; 'Trophy Wife' Adjusted Down." 8 Jan 2014. < tvbythenumbers.zap2it.com/2014/01/08/tuesday-final-ratings-marvels-agents-of-s-h-i-e-l-d-ncis-trophy-wife-adjusted-down/227699/