The Boston Ballet visited Boston University's Tsai Performance Center to give students the first sneak preview of their latest show "Close to Chuck" Monday night—an event marked by contemporary dance, discussion of contemporary versus classical ballet and a celebration of what is the Ballet's 50th year.
"We wanted to do something really special for BU students," said Assistant Artistic Director of the Ballet Russell Kaiser.
"Close to Chuck," which was finalized just last week, will officially premier on February 20th at the Boston Opera House. It is a trio of works featuring ballets from some of today's most visionary choreographers. It features a return of Jiri Kylian's Bella Figura, a ballet focused on various kinds of love relationships; the company premier of resident choreographer Jorma Elo's C. to. C (Close to Chuck), which features music by the influential Phillip Glass, artwork by the iconic Chuck Close, and focuses on "overcoming limitations in life;" and the world premier of Resonance, choreographed by artistic director of the Spanish National Ballet, Jose Martinez, which focuses on changing in life as an individual, reads the company's website.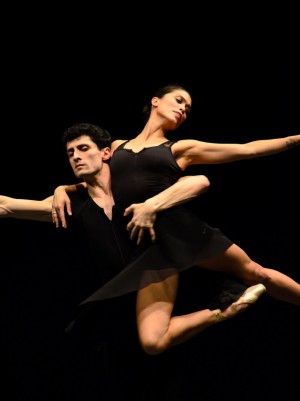 The choreography and costume in each ballet held true to the ballets' suggested connotations. Close to Chuck, for example, features an especially edgy routine with both men and women in long, black gowns with, on the inner flaps, prints of one of Close's perhaps most recognizable self-portraits. This "edginess" is a distinguishing characteristic of contemporary as opposed to classical ballet—classical is often geared towards perfection, fluency and beauty—as explained by the dancers in a discussion following the show.
Students said seeing contemporary dance was something different than what they were accustomed to.
"I thought it was very interesting," said Emilia Maceda (COM '15). "All the pieces were very different than the classical ballet I have been used to."
Alexandra Yanes (CAS '14) could relate:
Some of the performers that were here also do the Nutcracker which has a very different style. The Nutcracker is, first of all, catered to kids, and everyone coming together, so it's very emotional and it's very soft—the music, the choreography and the movements," she said. ["Close to Chuck"] was more contemporary of course, and I hadn't actually had this experience with the same dancers. It's interesting to see how their personalities switch and how it's more rough and in the moment, even though it's more technical. It speaks to how everyday life is.
Following the show, when the female dancers were posed with the question of which they preferred more—contemporary or classical ballet—they all responded with contemporary.
"For me personally," said dancer Dusty Button, "I grew up doing contemporary before I started doing ballet, so I have a very strong personality before anything else on stage. I prefer those roles: being strong. So for me, I think it's more difficult being saved because I just want to do everything myself."
Dancer Whitney Jensen expressed feelings similar to Dusty's:
I grew up doing a lot of jazz and contemporary. So I find that to be second nature. Kylian's work is so human: he likes to show emotions as just raw, and he doesn't want anything pre-thought out: it should be as though everything happens right then. I think sometimes in classical ballet, the goal is to be this beautiful ballerina with these amazing lines and have no technical faults, so it adds a little bit of pressure to that specific role.
Other students, such as Olivia Sequin (SHA '17), expressed they simply enjoyed the "beauty of the ballet" as whole, whether it be contemporary or classical, and were happy to see the company perform live here at BU.