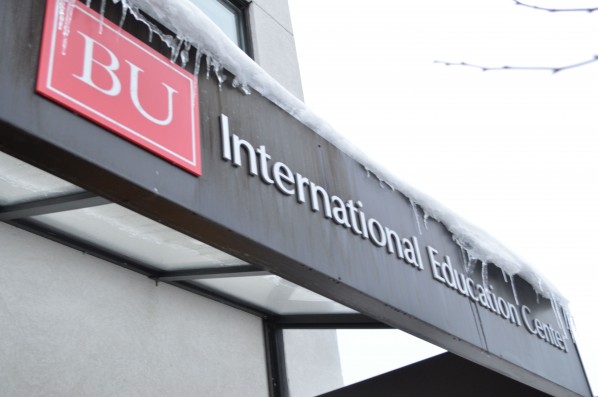 Kento Okamoto lived in Tokyo for his whole life before college, but he isn't very Japanese.
He didn't want where he would go to college—and therefore where he could get a job afterwards—to be decided by the high-stakes exams all Japanese students take at the end of high school. Not because he worried he wouldn't do well, but because he didn't want the work to stop there.
Okamoto liked the American higher education experience, where he could push himself in another language, study what he wanted, do extracurriculars, and pave his own way.
"I like that sense of individualism where you're responsible for your own success and your failures," the senior finance and economics major at Boston University said about studying in the US. "In Japan that's not really as emphasized."
Okamoto is one of 7081 international undergraduate and graduate students at BU as of fall 2013. Each of those students have their own story, but many of them were driven to study in the US by the same kind of freedom as Okamoto was.

Andrea Popa, the Associate Director for Student Services at BU's International Students and Scholars Office (ISSO), said one big draw for some international students is how multi-faceted university education is in the US. It allows them to explore interests and make connections.
"US higher education is more than just education," she said. "It has the liberal arts premise, it has the specialty major, it has the residential experience."
Okamoto has taken advantage of that fact, doubling up on majors and bolstering his experience by taking part in BU's finance club, of which he's now the vice president. That kind of thing is rare in Japan, if it exists at all, he said.
Going to college in the US is also uniquely experimental, which a lot of college-aged students–international and American–need.
Junior marketing major Tuaha Mubarak definitely did. Originally from Lahore, Pakistan, he spent high school thinking he wanted to be a dentist. By the time he got to BU, he was looking for something else to which he could devote his life. He dabbled in economics, neuroscience, international relations, biomedical engineering, and education before deciding what he wanted to do.
"My parents were like, 'What are you doing?' And I was like, ' Trust me. I got this.' But I didn't for the longest time," he said.
It took his two older brothers calling him at 3 a.m., refusing to let him go back to sleep until he decided what to study, for Mubarak to figure it out. During that phone call, he realized all his extracurriculars involved public speaking, and his brother suggested he'd do well in management. One class later, Mubarak finally made his decision.
No other country offers the exhaustive range of majors represented at US schools. Combined with the wealth of extracurricular clubs and organizations, studying in the US is an opportunity for students to dip their toes into just about anything before they make a decision. It's common, even assumed, for American youth to use college as a time of exploration and self-discovery, but in most other higher educations systems, there's not as much room for that.
Mubarack said the Pakistani university system is a lot like the British one, where experimentation is hindered by a three-year degree system that locks students into a field of study from the beginning.
The Quad's own Vijayta Narang seriously considered going to college in England. As she pointed out, the structure and coherency of a system like the English one has real advantages, but she said she needed the freedom to play around with her interests that American colleges provide almost uniquely.
A native of Bangalore, India, it took time, she said, and some experimenting before she settled into a film major and English minor. During that period of indecision, Narang was trying to figure out what she wanted to do with her life.
"I wouldn't say I'm the person who was born knowing what they wanted to do," she said. Looking back on her time in the US, she sees it as all-important. "I needed these four years to even remotely figure out my life."
Beyond being academically flexible, the US higher education system, and BU in particular, has the advantage of being globally renown. That distinction has already proved itself for Okamoto, the Japanese finance major.
He landed an investment-banking job back in Japan, and talking to his colleagues, he said he could already see the gap between what they learned at Japanese universities and what he gained from his time in the US.
"The advantage I could get out of coming to BU was significantly higher than what I could've gotten going to school in Japan," he said.
The reputation of a college degree was high in the mind of Mubarak, the Pakistani marketing major.
"A US college degree is valued a lot in the world, wherever you go," said Mubarak.
To some degree, the value of studying in a different country is not entirely reserved for American universities. US students who study abroad for even just a semester get constantly reminded of the bright spot it will leave on their resumés.
Andrea Popa of the ISSO said these days, studying in another country is beneficial wherever you go.
"As the world becomes a more global place, studying in a different culture gives people an edge," she said.
Still, for all the boon of higher education in the US, it is by no means a faultless system.
Closest to home is the frightening cost of attending any American college or university. The International Comparative Higher Education and Finance Project, based out of the State University of New York at Buffalo, keeps track of the financial burden of higher education on students and families.
In the 2009-2010 school year, they figured the cost of higher education in the US for undergraduates was roughly between $30,000 and $55,000 a year. The lower end of that range includes the kind of tuition and fees an international student would pay at a public university.
For some international families, it's even more. Narang, the Indian film student, said her family has suffered from a floundering Rupee to Dollar exchange rate, in some cases paying as much as 50,000 extra Rupees (about $800), something schools don't usually have a system to account for.
Ineligible for federal financial aid, international students often need to take steps to find their own private funding or else shoulder the costs on their own.
"It's a pretty serious financial commitment to choose a school in the US. Just study in the US is pretty pricey," said Popa. "It's an issue of value and [students] really believe it's going get them to the next step professionally."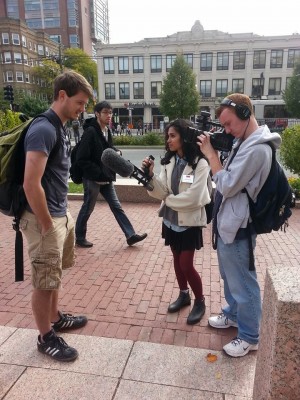 Beyond the cost, studying in a different country can be an enormous challenge for students who are not accustomed to the language and culture. Narang and Mubarak grew up and went to high school around English and got heavy doses of western culture.
Okamoto, on the other hand, didn't start learning English until his second year of high school. Despite his best efforts to practice the language and prepare himself, the transition into his first year of college was difficult.
"Freshman year was tough," he admitted with a laugh. "Very tough."
Okamoto's English was still on its way, and nobody said anything about the mandatory writing classes that would push his language skills to their limit. Professors didn't go easy on him either, grading him as a student like any other, though English was a second language. In every class, comprehension was slow going.
"It literally took me three times as long to study a subject and retain the same amount of information as other people," he said.
These days, you'd hardly know he was ever anything but a native English speaker. Or, for that matter, an American.
He strode into the coffee shop on the phone, plugged into a pair of cellphone ear buds to keep his hands free. When he finished up the call, he sat down and apologized earnestly; he is vice president of the finance club, he explained, and was just talking to someone about a meeting.
The scene was comically stereotypical of an American businessman, going from one meeting to another with phone calls in between.
Except, in this case, the American businessman was a Japanese international student.