A frustrated BU Student Government hosted a town hall meeting for student leaders Tuesday night spurred by concern that the administration is failing to adequately communicate with the student body. The town hall stemmed from unresolved charges during a Q&A session with President Brown at the annual Student Leader Meeting and Dinner last Thursday. Student Government president Dexter McCoy (COM '15) led the discussion and first took issue with Brown's earlier remarks that Student Government lacked efficiency and effectiveness.
"There, for quite some time, have been a number of administrative roadblocks placed in the way…of many student organizations and many student leaders on campus and that really hinders us from getting done what we want to get done," McCoy said.
McCoy explained that the meeting was meant to address how to respond to these problems and to determine "how we're going to work together to build and strengthen our bonds as student leaders on campus."
Addressing what he called a "divide and conquer" strategy of administration, McCoy argued that the diminishment of student power over funds from undergraduate fees had "segmented" and delegitimized Student Government. He emphasized a need to "mend relations" with administrators and to "find a way to come back together as a unified student body…to develop some sort of network… so that we have the mandate of the student body."
After he finished his introduction, McCoy opened up the Town Hall to a discussion of students' issues with the meeting last week. At this point, many students expressed frustration with incomplete answers to their questions and with a general lack of concern they saw in the administration. In particular, a number of students didn't feel their voices were being heard.
Laura Kakalecz (CAS '15), a member of BU's Real Food Challenge, spoke up during the meeting, saying, "I notice a huge emphasis on the lack of transparency in general… I'm just really disheartened by…the disenfranchisement of student voice."
Garrett Moore (ENG '15), on the other hand, didn't believe President Brown was entirely to blame. Moore focused on the importance of "open and frank conversation" with the administration, and reminded the audience that President Brown "did acknowledge the importance of going back and forth."
Rather, Moore addressed the problem of communication by shifting the focus to the responsibilities of Student Government: "You have a lot of students saying, 'Our voices need to be heard.' If we can make sure that we're all speaking through the one voice of Student Government… we can have a lot of power in that voice."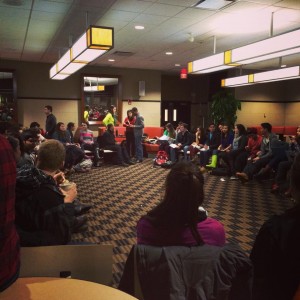 The problem Student Government then raised was that the administration had, in a sense, blocked their attempts to be the student body's voice.
"Dean Elmore was invited to several senate meetings…and he denied those requests because he didn't feel that was an appropriate venue," said McCoy.
Further, McCoy explained, Student Government has experienced issues reaching out to the student body. He said Student Government has spent months attempting to send a newsletter to students and has not been allowed to access the email addresses of student groups. In his words, "A lot of issues we run into have to do with…man power and support."
The communication problem between Student Government and the student body became a major point of discussion, as a debate arose about how legitimate Student Government actually was. Courtney Bold (SMG '16), an SMG Student Government Senator, said, "Maybe President Brown's right. Maybe Student Government isn't being effective enough."
Noor Toraif (CAS '16), an Associate Director of Student Government's Department of Social Affairs, said, "I recognize there is a problem with communication," and identified this as the reason students didn't see Student Government as legitimate.
Alexis Redman (SMG '14) also raised the issue of Student Government legitimacy, saying, "Other students don't feel connected. How do we know what's going on with Student Government?"
Dean Elmore will be holding small meetings of student leaders, which, while intended to address student concerns, caused greater frustration in Student Government. Multiple Student Government members emphasized that Student Government was meant to be the voice of students on campus, and that they should be the ones bringing those concerns to the administration.
"The biggest thing that we can do is join together and raise our voices collectively," said McCoy. He suggested that students emphasize to the administration that, "Student Government is my student voice. I'm going to talk to them and you need to listen to them."
How exactly to achieve that is still up in the air. Students suggested a regular forum of student leaders could network with each other and better connect the student body. Most students agreed that more networking was necessary to improve communication. As a first step, Student Government collected the emails of everyone at the meeting to begin a student body mailing list.
Where will this mailing list lead? We'll all have to wait and see.