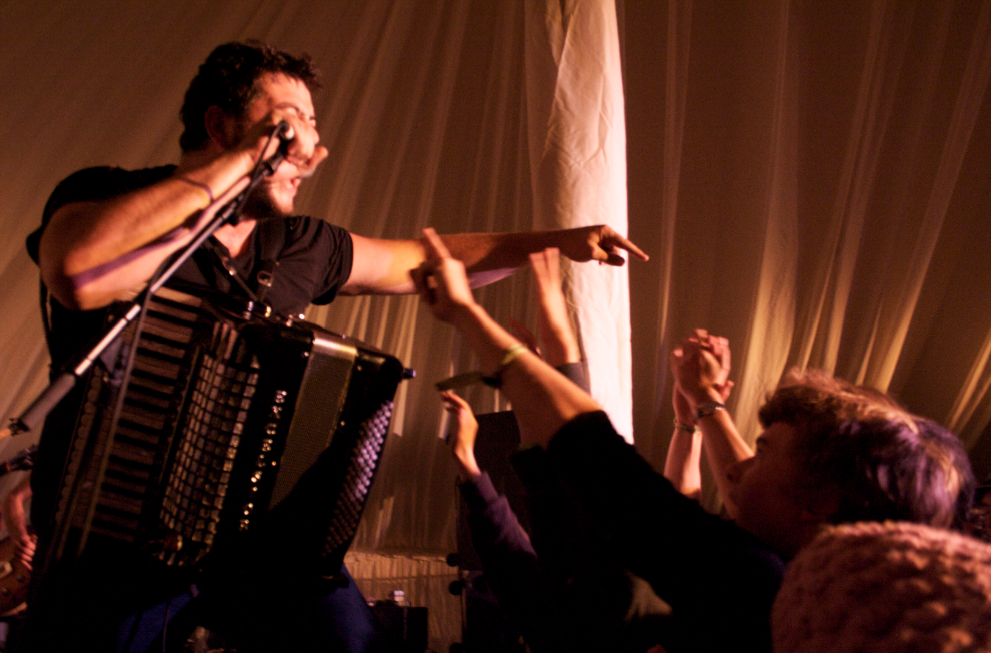 The relationship between musicians and humble beginnings is one we hear about fairly often. We see how this marriage of images is adapted into movies and, of course, used as a "shtick" for countless comers and goers in the music world. For bold five-piece, The Felice Brothers, there's nothing affected or considered about their background's influence on their music. The band hails from the Catskills in upstate New York. Rather than using their rural, (literal) mountain man roots as a fashion accessory, The Felice Brothers have used their individual backgrounds to create a world that one might describe as an edgy, modern-day hootenanny — complete with bitchin', raw instrumentation, gravelly vocals, and, of course, whiskey.
The Felice Brothers, founded officially in 2006, have released eight studio albums, keeping consistent with a roots foundation to their music. On their latest album, Celebration, Florida, (2011), The Felice Brothers played around with a departure from familiar sounds, and dipped their toes into the world of more synth-based and electric sounding music. The band is also known for its quirks, ranging from recording albums in unexpected locations, such as high schools and chicken coops, to the disturbingly beautiful, and equally nonsensical, music video for 2011's "Fire at the Pageant."
I recently caught up with The Felice Brothers' resident accordion, organ, and piano player, as well as vocalist, James Felice. After catching up and comparing notes on how each of us is handling winter and the snow, Felice and I chatted about the band's plans for SXSW 2014 in Austin, Texas, the storytelling component of folk music, and singing to Bob Dylan in the kitchen.
 —
The Quad: You guys all grew up together, what's the story with forming the band?
James Felice: The story is my brothers and I were just poor losers, sorta bummin' around. None of us went to college or had much to do, and we all loved music so we decided to start playing together. Basically, that's our story. We all always loved playing music together, but we never thought it would become anything. We sorta realized that people actually liked hearing us play, so we just started doing it more and more, and eventually we realized that we could do this for the rest of our lives.
Q: So I hear you guys like to record your music in some pretty unconventional places. Can you talk a bit about that? What's the weirdest place that you've recorded?
JF: We just made a record that's made in an actual studio, for the first time ever. So that's kinda cool. We've recorded under a bridge — under like a bridge of a highway. We recorded once in an abandoned train . . . high schools, chicken coops, in a field, in a van . . . everywhere.
Q: A lot of your music goes off in entirely different directions that perhaps don't have a genre. That being said, a lot of Internet press dubs you guys "indie folk." Would you agree with that label? Or do you have a different name for your style?
JF: I don't think so. I think when people first started calling us that we were really kinda shocked. We were like, "Really? We're folk?" You know, I don't think any band wants to be in a genre or be labeled. But I think that, for us . . . I guess we're folk. I don't think there's anything wrong with "folk." I think the definition of folk, though, is really different for us than what most people think it is. I think folk is more about telling stories, and having a tradition, but I don't think it necessarily has to reflect in the instrumentation or anything like that.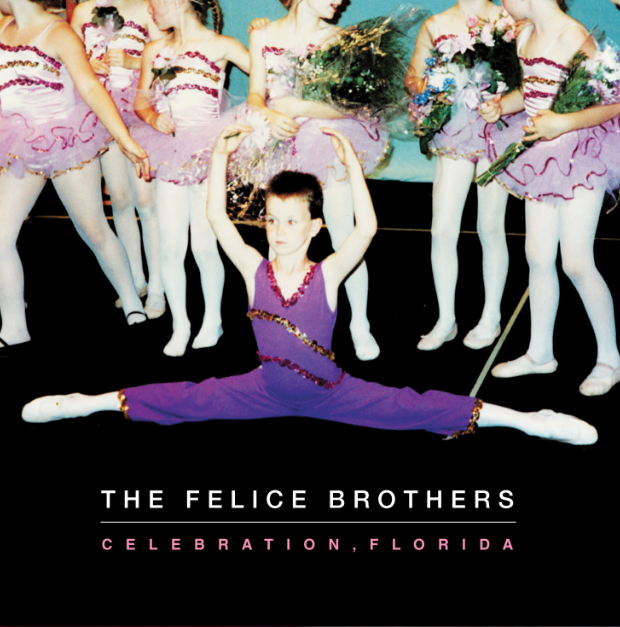 Q: So the stylistic choices of the music video for "Fire At The Pageant" are a big step creatively for you guys. What's up with that?
JF: I guess we figured you can still do folk music, and it doesn't matter what instruments you play. You can write a folk song with a synthesizer or a banjo. I think that was important to us. I think the songs that we had written best came to life through the odd. That video was made mostly by our bass player. He's a very creative, kind of strange dude, I guess. That whole thing is his brainchild. A lot of people were freaked out by it, but I think it's pretty cool. I haven't seen it in a couple of years, I'll be honest. I remember watching it, though, and being like, "Wow, this is really different." The aesthetic is crazy, but original and interesting.
Q: Who do you draw the most inspiration from? Musically or performance-wise.
JF: There's so much music. I think when we started it was all about the old, Mississippi Delta blues guys. I think that was sort of our style and our vibe, like Skip James. Neil Young was a huge influence on us, I think Dylan too, to a degree, and Leonard Cohen. We'll take anything these days, though. I've just been listening to The National. I think they're pretty awesome. I get inspired to their music.
Q: Do you think you have to be personally experiencing a mood to write a song in that same mood? Do you have to be sad to write a sad song? Do you have to be in love to write a love song?
JF: For me, maybe. For a real songwriter, like my brother for instance — he's excellent, he writes most of the songs — I think there's an element of professionality to what he does. It's like for a great actor. I don't think Daniel Day Lewis necessarily has to be in a sad mood to deliver a heart wrenching performance, because he's a professional. He's really good at his job. I think that's true for a lot of great songwriters. I think they don't have to be feeling a certain way. They can just sort of put themselves there. I think that's amazing.
Q: So as far as what's coming up in the future, you guys are playing SXSW in March. Anything else on the horizon?
 JF: We're putting out a record this summer — early summer. We're signing with a new label called Dualtone Records, which we're very excited about. We're doing a lot, this is gonna be a good year for us. . . . We're hitting the road for a few weeks in March and April. We're probably not doing a big tour until the record comes out, which will be July, then we'll be out most of the second half of the year, I'd say.
Q: Do you have a music-related memory that stands out for you that sort of reminds you why you keep doing this?
JF: I have to think about that for a second. There's so many. The earliest memory. . . I remember my dad brought home a tape of Slow Train Coming by Bob Dylan. I remember sitting in like a high chair or something at our old house. I guess I was like four, or something. I guess that's a little old to be in a high chair, but I feel like it was a high chair. I remember hearing "Man Gave Names to All the Animals." Actually, I think I was like six, so hopefully I was not in a high chair. I was in a regular chair. But I remember that tune, and hearing it for the first time. I thought it was so awesome and funny and cool. I remember the whole family was singing along in the kitchen. We had a kitchen that was in the basement of, like, a really old house. So the kitchen was in the basement. I remember it was cold down there and kinda dark, and smelled weird. But I remember that song on the boombox or tape machine. I'll never forget that. It was the first time I heard Dylan, or anything like that. I loved it.