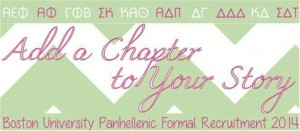 This year's sorority recruitment process began on Feb. 16 at the Copley Marriot hotel. Over 600 girls rushed Boston University's 10 sororities this semester, up significantly from last year's numbers. However, despite increasing participation, many wonder what Greek Life contributes to student life.
Greek Life comprises approximately 13% of BU's student body, with 10 sororities and 10 fraternities active on campus. Fraternities rush during both the fall and spring semesters while sororities conduct a formal rush process in the spring only.
Prospective sorority members attended all-day recruitment events over Presidents' Day weekend. On Saturday, the first day of recruitment, they met members of all 10 sororities. Each day, any number of sororities can choose to stop seeing, or "drop," a given person for a variety of reasons, including minimum GPA requirements or a perceived lack of personal connection. This process of elimination continues each day of recruitment until prospective members have ranked their top two choices and are formally invited to join one of those two. While this allows interested parties to get acquainted with Greek Life and meet current members, many feel that the process is superficial and does not give them a chance to form meaningful connections.
"I think the whole thing is really arbitrary," freshman Anna Stovitz said. "I don't feel like I really got to know anybody and they judged me based on things that don't reflect my whole personality."
Stovitz was dropped from a number of sororities for failing to meet academic requirements, which put her at a disadvantage overall.
"They can cut you for any reason, so being cut automatically from so many gave me much fewer options," Stovitz said.
While Greek Life is a statistical minority on campus, many feel that it is particularly prevalent. Many find that it makes establishing social connections easier. For those under 21 especially, Greek Life is a primary social outlet due to its frequent, large parties. Thus, many see advantages to going Greek.
"I want to make a big campus feel like a smaller community," freshman Jensen Miers said. "I'm a transfer student, so I wanted to make friends quickly and be part of something bigger than myself."
While many share Miers' point of view, others feel that Greek Life is inherently exclusive and thus decide to remain "independent."
"I didn't feel the need to be involved in Greek life because I was more interested in exploring different aspects of student life independently," freshman Oliver Schwartz said. "I didn't want to limit myself to just one branch of the college experience."
However, current members maintain that Greek Life is an enriching social experience and encourage new students to join.
"I don't think that idea of superficiality is true at all," sophomore Carley Mirvis, a member of Alpha Epsilon Phi (AEPhi), said. "Everyone is really nice and I've made some great friends through my sorority. It makes a big school smaller."
While Greek Life leaves its mark on campus socially, many question its legitimacy as an official on-campus organization. Students know about its frequent parties, but many are unaware of its philanthropic efforts. According to the BU Greek Life website, Greek Life collectively raised over $80,000 for philanthropic organizations during the 2010-2011 academic year. Each Greek organization is affiliated with a charitable cause, such as cancer research or anti-domestic violence organizations.
"I'm very interested in doing more community service, and the sororities do a lot of philanthropy," sophomore Miranda Chartoff said. "I think joining [a sorority] will only enhance my experience here at BU."
While some worry about picking the right house and making friends, they are eager to see what the future holds for them as members of Greek life.
"I already have a good group of friends, but I'm excited to meet new people and support causes I'm passionate about," Chartoff said.