Seven members of the BU community will run Boston's most-famous 26.2 miles today in honor of Lu Lingzi, the BU graduate student whose life was lost in last year's Boston Marathon bombings. The team is made up of Baiyun Yao (GRS '15), Ryan Shea (SAR'11), BU lecturer Andrew Duffy, Shuheng Lin (GRS '16), Yujue Wang (CAS'15, SMG'15), Dan Mercurio (COM'10), and Jennifer Carter-Battaglino (SED'03). None of the BU Lingzi team knew Lu Lingzi personally, but each was impacted by her story and the events at last year's marathon enough to dedicate hundreds of hours of training and many miles to her memory.
Lu was studying statistics at BU and was known by friends and family for her enthusiasm for life and dedication to her studies. Lu was an international student from China, who called her time in Boston her "New Beginning in BU" on her Facebook page. The loss of such a kind life is tragic and everyone who knew Lu ached at her passing.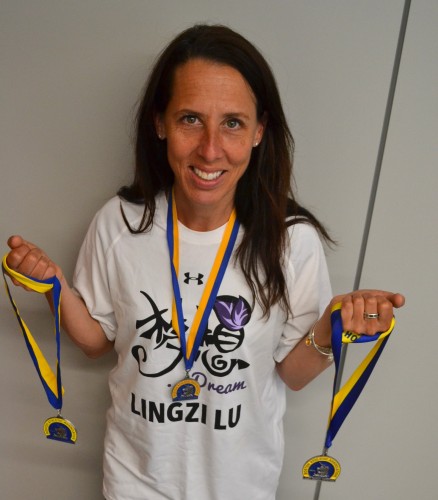 Team Lingzi reflects a passion for life that fits the namesake of their cause. From students to professors to faculty, veteran marathoners to first-timers, the BU portion of the team reflects the depth and varying strengths of the BU community. Jennifer Carter-Battaglino, one of the Team Lingzi runners and the team's coach, said that "Boston University, although a very large campus and spread out across Comm. Ave, is very connected. I think that when one of our own passes away or is affected by a tragedy that affected us all, like the Boston Marathon, it becomes very near and dear to our hearts. Even though we didn't know her personally, she was one of us. She was part of our community."
Seven-time marathoner and three-time Boston runner Carter-Battaglino thinks this race will be special. "All the races that I've done before have been for me," she explained. "This isn't for me. I did vow after the bombings last year, that day, that I would run in 2014. Maybe that bit is for me, but I think running for Lingzi and running for Lingzi's family is something I've never done before. Running with a team is something I've never done before. And we're all out there for a reason. We're all out there to stand strong and represent those who were more affected than all of us. To celebrate, remember, and be strong as a community."
These members of the sprawling, yet close-knit BU community will to raise money for the Lingzi Foundation, which "provides opportunities to those who share Lingzi's ambition and dreams to enrich their lives, open their minds and break down barriers by learning from her positive spirit, unparalleled work ethic, perseverance and humanism" (Lingzi Foundation website). The Lingzi Foundation funds the BU Lu Lingzi scholarship.
Keep an eye out for Team Lingzi today. They will be wearing white shirts that read "DREAM" in purple ink in Lingzi's two languages (Chinese and English). They will be representing a life lost too soon, they will endure, and they will finish for Lingzi.