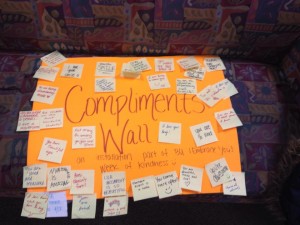 This past week was BU's "Week of Kindness," organized by "I Embrace You," an on-campus club dedicated to spreading kindness throughout the BU community. Each day of the week had a different, kindness-oriented theme. The week-long event culminated in "Free Hug Day," complete with a performance by Boston University's a cappella group In Achord in Marsh Plaza. Appropriately titled KIND bars were handed out throughout the week to promote the cause.
According to its Facebook page, I Embrace you is a "grass-roots, peace-building organization, spreading positivity and building community." The club spreads its message through its three branches: "Urban Smiles" (the community service branch), "Connective Kindness" (the random acts of kindness branch) and "Free Hug Fridays," in which club members stand in Marsh Plaza handing out free hugs. The club aims to promote kindness and spread positivity on campus.
"It began as a club called 'Hug Don't Hate' that sought to unite people in their differences, instead of seeking to end hate," sophomore Melanie Kirsh, current president, said. "The founders wanted to promote kindness, hence the name change to 'I Embrace You,' something more positive."
Each day had a different theme: Monday was dedicated to discussing what "kindness" truly means, with participants stating their views to club members, as well as a memorial service dedicated to Lingzi Lu, a BU student who was killed in the last year's marathon bombings; Tuesday, a "compliment wall" was posted for students to submit compliments to one another; Wednesday was the "Sit With Me" campaign, in which students were encouraged to sit with strangers throughout campus; Thursday was a continuation of Monday's discussion, with people taking pictures of themselves holding signs stating their definition of kindness; Friday, the final day of Week of Kindness, was Free Hug Day.
Students were receptive to Week of Kindness and felt that it sent a positive message.
"I think it's a nice thing to do," freshman Laura Feldman said. "It's easy to be self-centered and not think about other people, but events like this are a good reminder to be nice and considerate to the people in your life."
Feldman's sentiment is what motivates I Embrace You to organize events every semester. The club recognizes the importance of compassion, and Week of Kindness is just one of many ways they try to do so.
Now that you've finished reading this, go hug and compliment the person nearest you. The more kindness you spread, the more will come your way.
For more information on I Embrace You and its upcoming events, check them out on Facebook: https://www.facebook.com/pages/I-Embrace-You/128326433935446