They came with Pikachus. They came with Batarangs. They came with tails, oversized mallets, spandex, trench coats, and lots of double-stick tape. And they came by the thousands.
This past weekend, the Seaport World Trade Center held its annual Boston Comic Con, and fans of superheroes, aliens, the supernatural, and everything in between gathered to celebrate art, fandom, and fiction. The Quad was fortunate enough to talk with some of the talented architects of these much beloved fictional universes.
Part 1 of our coverage includes interviews with Gail Simone, Tim Seeley, and Cat Staggs.
Gail Simone
Gail Simone is the current writer behind DC Comics' Batgirl, Dark Horse's Tomb Raider, Dynamite Entertainment's Red Sonja, and an upcoming issue of DC Comics' Sensation Comics featuring Wonder Woman. Additional writing credits include Birds of Prey, Secret Six, Deadpool, and Wonder Woman.
The Quad: So, next week Sensation Comics #1 is coming out digitally.
Gail Simone: Oh my gosh, I am so excited. On Thursday I approved the color version, the whole version of it, it is freaking amazing, you guys.
What do readers have to look forward to?
GS: All I really need to say is: Ethan Van Sciver drawing Wonder Woman and the villains in Gotham. It just looks amazing and then Brian Miller from Hi-Fi Color did this extremely saturated color, and it makes you kind of feel like Wonder Woman brought the color to Gotham when she was there.
I'm so excited. It was so fun to write Wonder Woman again, and to have Ethan draw it was just a dream come true.
What are your thoughts on DC introducing a second Wonder Woman comic?
GS: It's great! I'm really excited. The one sadness I have is when the last page of art came in and I was like "Oh man, no more Wonder Woman with Ethan, this sucks." So we're trying to covertly figure out how we can do more together.
You've teased on Twitter that you have a "SECRET" project. Can you say if it involves characters you've written before, or if it's a mix of characters you have and haven't written before?
GS: It's a mix. And it's something I'm extremely, extremely excited to do. It is something I've been waiting to do for a few years now, and I finally get to do it with the dream team, so I'm excited. It's killing me that we can't announce it yet. But it's soon. I promise soon.
On the sooner end of soon?
GS: Yes, on the sooner end of soon [laughs]. It will be in 2014.
You're a huge proponent of diverse creators, diverse comics, and diverse characters; is there stuff that you'd like to recommend that you've seen at this convention?
GS: I just picked up a copy of Flutter [by Jennie Wood], which I haven't made it all the way through yet because I've been busy at the con, but I've read part of it and it's just freaking amazing. I love it, and I love seeing work like that. More of it is better. I'd recommend that right off the top of my head.
What is your favorite comic book sound effect that you've ever written or read?
GS: It probably would be something in The Simpsons comics [laughs]. Just because the sound effects are usually disgusting if they're in there. But I can't think of the exact one off of the top of my head. I do enjoy The Simpsons sound effects.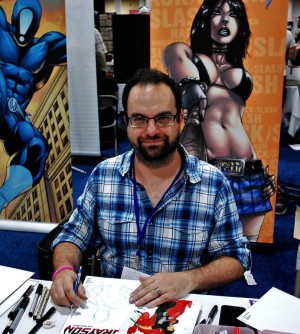 Tim Seeley
Tim Seeley is the current writer of DC Comics' Grayson and co-writer for Batman Eternal. Additional writing and art credits include Image Comics' Revival, Devil's Due Publishing and Image Comics' Hack/Slash, and various G.I. Joe properties.
The Quad: In working with the spy genre in Grayson, what do you do to both honor the genre but not let it get too caught up in the typical tropes?
Tim Seeley: Our approach is to say that it's a spy story set in the DC Universe. It shouldn't need to be realistic, because they have a country headed by, you know, Black Adam. It shouldn't have to be "real world."
"Real world" spies sit in a rented room and copy dot commands and it's not what we're presenting. We just want to make it fun and cool, so let's use the tropes we want to but still do crazy stuff set in the DC Universe.
Dick Grayson is one of those characters who has really large male and female audiences. With Mikel Janín's art and your scripting, it seems to embrace both of those audiences. Is that intentional?
TS: Oh yeah. When we started, one of my first pitch things was—the editor, Katie Kubert was totally behind this—that the comic should be sexy. Dick Grayson is a sexy character.
For motivation for that, we would just go on Tumblr and see all of the fan art of sexy Dick Grayson. Tom and I try to write in a scene where he has his shirt off at least once an issue. We try to do that.
In the first issue, the character Midnighter appears and it appears like a cameo, but he also appears in the second issue. It appears like he'll be a major recurring character, is that true?
TS: Oh yeah, absolutely. The story behind the superhero origins going around ties into Midnighter. He's at Dick's back all the time, sorta chasing him down. I thought it'd be kinda of fun to have his arch-enemy through the series be, basically, darker, gay-er Batman. I thought that would be cool.
There's a lot of cool stuff coming up with him, and he's obviously more super-powered than Dick is, so their fight will be awesome.
What is your favorite comic book sound effect that you've ever drawn or read?
TS: My favorite is "KRAKADOOM!" It's a long-time favorite. I think it's a Thor one, but I've seen it used elsewhere. It's like when Thor strikes the ground and giant letters say "KRAKA-THRAKADOOM!" or "THRAKADOOM!" It's a Workman, John Workman, one and it's one of my favorites of all time.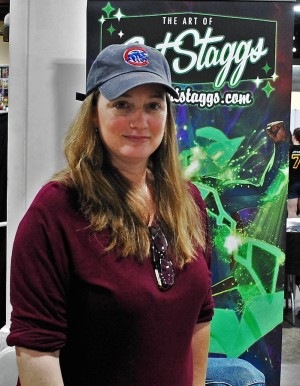 Cat Staggs
Cat Staggs is the current cover artist for DC Comics' Smallville: Season 11 series, Vampire Diaries series, and an interior artist for an upcoming story in Sensation Comics featuring Wonder Woman. Additional art credits include DC Comics' Phantom Lady miniseries, Womanthology, and various Star Trek and Star Wars properties.
The Quad: What can readers expect from your story in the upcoming Sensation Comics #1?
Cat Staggs: Lots of action. Lots of fighting. A villain from Wonder Woman's universe. And I wonderful, heart-felt finish that will hopefully resonate with a lot of people. Amanda [Deibert] wrote a really fantastic story.
What is it like collaborating with your wife?
CS: I love it! We've been doing it for years. We used to do a webcomic called Hot Mess. It was a weekly webstrip. It is loosely based on her own embarrassing moments that we would put out every week. We did that for a couple of years, so this was great that we were able to get back on a project together. It was a lot of fun. I enjoy working with her a lot.
Is it great working within a continuity-free kind of space?
CS: Oh yeah. That's one thing I'm mostly looking forward to about this Sensation thing is getting everybody's personal Wonder Woman story that they've always wanted to do. That's what I enjoyed so much about the Adventures of Superman and Legends of the Dark Knight. I enjoyed both of those immensely. I think anthologies are fantastic.
What is your favorite comic book sound effect that you've ever drawn or read?
CS: Oh, lord. Gosh. That's hard. Because then it's like, how do you actually say it? I don't know if I can answer that. I have always liked the "Snikt!" for Wolverine. I've always liked that one. And, for some reason, "Thwap!" is coming into my head. And I'm not sure why.
It's a good, cathartic sound effect.
CS: Yeah! So I'll go with that.