Getting excited for a new Weezer album is incredibly difficult. The fact that the band's 1994 self-titled debut (known as the Blue album) and 1996's Pinkerton are two of the greatest albums of their era is not up for debate. It's everything the band-and when I say "band," I generally mean songwriter and band leader Rivers Cuomo–has done since 2000 that has earned them ire even among their most ardent fans. At their best, post-2000 Weezer produced empty, weirdly sterile pop records like The Green Album and Maladroit. At their worst, well, goddamn are Weezer bad when they want to be. 2009's Raditude is the obvious low point. That's the record that featured writing credits from Dr. Luke and a song that featured Lil' Wayne. Not that I've got any problem with rap/rock crossovers. Sometime's they're really good! But, have you heard that song? It's irredeemably horrendous.
So when Weezer released the first single from their new album, Everything Will Be Alright In The End-their first since 2010's sort of OK Hurley-I was naturally pretty apprehensive. And I was right to be. "Back to the Shack" isn't terrible, but it's boring, and it suffers from the kind of ultra-literal lyricism that has colored late-2000s Weezer. "Sorry guys I didn't realize that I needed you so much/I thought I'd get a new audience, I forgot that disco sucks," Cuomo sings, very literally apologizing for Weezer's last few years of music. It's a very Cuomo move-literal, earnest, and more than likely, completely sincere-but it ends up just being kind of uncomfortable.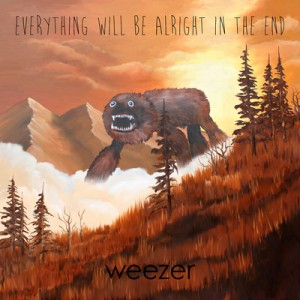 Fortunately, "Back to the Shack" is easily the worst song on Everything Will Be Alright In The End. Without any qualifications, this is a very good record. It's easily the best thing Weezer has released in nearly 20 years. Honestly, I had completely dismissed the idea that Weezer would ever release a good record again. But here we are.
Opener "Ain't Got Nobody" sets the tone, all chugging guitars and nonstop hooks. The aforementioned "Back to the Shack" is the second track and really serves to bring things down, but after that the record picks up and never really stops. "Eulogy for a Rock Band" features one of the most enjoyable choruses Cuomo has written in years, and "Go Away" is served by some absolutely lovely guest vocals from Best Coast's Bethany Cosentino.
The lyrics are still a problem here. Cuomo is never going to write lyrics like he did on Blue and Pinkerton. And that's fine. The Rivers Cuomo who wrote those albums was an emotionally unstable, often creepy dude, and asking a 40-year-old guy to replicate those feelings would be disturbing at best. But that doesn't forgive some of the material here. The otherwise solid "Da Vinci" features the lyrics "I looked you up on Ancestry.com/There was no record of dad or of mom," which I can't even begin to defend or explain. "The British Are Coming," which might be the best song Weezer have released since "El Scorcho," (Pinkerton's lead single) is literally about Paul Revere's midnight ride. That doesn't really bring down the song (it's really good), but it's a little weird.
Lyrics aside, everything else is fantastic. Ric Ocasek mans the boards for a third time (he produced both Blue and Green), and his work is worlds better than any of Weezer's recent material. The vocals are clear; the bass and drums move along with a satisfying rumble. And damn are the guitars good on this record. Cuomo is a great guitar player, and he uses this record to showcase it, especially on the album-ending "Futurescape Trilogy," a three-part, mostly instrumental suite that recalls Blue's "Only in Dreams."
Everything Alright in the End is a good new Weezer record. It doesn't reach the heights of Blue or Pinkerton, but that's completely OK. If Weezer can keep making records like this, I don't think it matters.