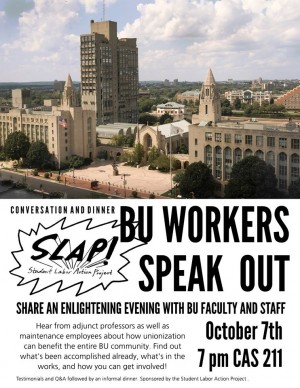 College campuses have always operated as hubs for activism and social change. Often the sites of protests, lectures, and marches, universities provide the structure and sheer manpower necessary to unite a concerned group around a cause. From issues revolving around climate change to race relations, public and private institutions are frequently at the forefront of bringing attention to inequities of all forms–especially when these controversies involve the university itself. This Tuesday, Oct. 7 at 7p.m. in CAS 211, an event entitled BU Workers Speak Out! The State of the Union at BU will be addressing some of these social concerns.
41 percent of BU professors are "adjunct," meaning they are part-time employees and not on the tenure track. These instructors teach one or two classes a semester at BU and frequently pick up extra classes at other universities around Boston. But often times, these sporadic episodes of employment are not enough to sustain a livable lifestyle.
In an interview conducted by the organization Adjunct Action, one professor reported,  "As an adjunct there is no job security. I am scheduled to teach a class at [a Boston university] in the fall. That class can be canceled up to the morning it is supposed to start—and that is it. No pay. So all of us are hustling for work. If I am offered another class and there is a conflict, I have to pick one or the other—but if the one I picked is canceled then I lose my compensation because the other one will no longer be available. They treat us like we are Kleenex."
This uncertainty then negatively affects students by removing the option for office hours or time spent connecting outside of the classroom. In a recent report conducted by the Service Employees International Union (SEIU), part-time professors receive little to no funding for research or creative development projects which would benefit the public as a whole.
As a result of these conditions, the adjunct professors at universities all throughout the Boston area have been working to unionize. Attempts have been successful at several colleges, most notably at Northeastern. Here at BU, the student organization Student Labor Action Project (SLAP) has been working closely with the professors as well as with the maintenance workers as they try to renegotiate their contracts.
John Griese ('15, ENG), the current president of SLAP, said in an interview with The Quad, "BU had been largely silent on the issue except for one major thing, when [the adjunct professors] went public with the campaign this summer, around the same time, BU put up a website that was listing all of the wonderful benefits that you get as a part time faculty at Boston University."
This website highlights the accomplishments of BU's own Part-Time Faculty Working Group and stresses that "while a union can't guarantee all that adjuncts might seek, neither, to be fair, can the Working Group. But the Working Group is at least comprised of our own folks, not outsiders with a national or citywide agenda".
Throughout all of the negotiation and discussion, however, the face of the adjunct professor is frequently lost in the shuffle. As Griese puts it, "This issue is easy for students to latch onto because we're kind of raised with our parents' idea of a professor, which is some old white dude in a tweed suit with tenure, and that's not at all the face of the people who teach most of our courses nowadays, and it's not just the face and the image, but that job is not the job that they are doing."
Come meet the face of adjuncts at BU on Tuesday, Oct. 7 at 7p.m. in CAS 211. SLAP is sponsoring an event where a panel of BU adjunct professors and maintenance staff members will speak out about their experiences attempting to unionize and dealing with the administration. The coalition meets weekly every Tuesday at 7p.m. in the Center for Gender, Sexuality & Activism (CGSA).