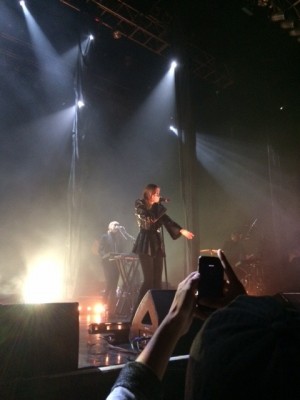 "I can't really dance," said Swedish indie-pop singer Lykke Li in a rather timid voice, donned in jet-black attire and cat-eye makeup. While she may not feel like she can dance, her singing is exceptional. Last Saturday at the House of Blues Boston, Lykke Li performed songs from her newest album I Never Learn, such as "No Rest for the Wicked," as well as past hits like "Dance, Dance, Dance," "I Know Places," and "Get Some."
Don't know Lykke Li? (pronounced LICKY LEE) If you find solemn music to be rather soothing and uplifting, or if you like Lana del Ray, Florence + the Machine, Feist, or The xx, Lykke Li might be suited to your taste.
Her songs often revolve around the complexity of love: insecurity in a relationship, hopeless romantics, problematic lovers, heartbreaks, and perhaps sorest of all, unrequited love (after all, she does have a song called "Unrequited Love.") In a Q&A with Stereogum, Lykke Li said she went through a rough relationship that fuels much of her music. In that interview, she said the relationship taught her not to have expectations but to let life just take the lead.
Lykke Li was originally asked to make big pop songs, but decided to go with her intuition, she said in a Boston Globe interview.
"I was like, 'No, I'm sorry, I'm just going to write the most depressing songs I can think of.'"
Lykke Li became a stronger person out of the ugly heartbreak,  feeling that she could express herself in any way she wanted.
What differentiates Lykke Li from other singers inspired by relationships is that she brings forward every raw emotion through her breathy, almost vulnerable voice — as if she's portraying how she felt during love. There is no reservation in her voice, and her ability to transform ugly, sad thoughts into something beautiful captivates me.
That is not to say that all her songs are depressing. One song — "Dance, Dance, Dance" — is about simply letting go and dancing your heart out. When she played that song live, she asked the audience to be the background vocals while she sang the lyrics. It was a beautiful connection between the singer and the audience.
During her performance, every song was more emotionally driven than the last.
Lykke Li told the Globe that playing live shows is "magical because you can do something with it again. It's almost like a play — you can relive it." She takes her music seriously and performs it well.
In her last song, Lykke Li sang in her mother tongue. Despite not understanding Swedish, the sound of her words was raw and beautiful — she is filled with honest emotions that simply draw you in.