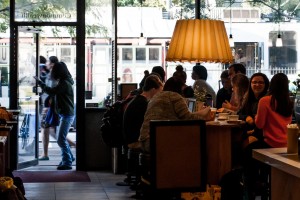 We've all heard the "because it's bad for the environment" answer to our questions about landfills, excessive electricity and Styrofoam–but do we all actually know why it's so bad?
This month, students at 10 universities all over the country, including BU, are participating in the Kill the Cup Challenge. Kill the Cup is all about choosing reusable mugs for your coffee and other drinks instead of the standard paper, or worse, Styrofoam cups (we're looking at you, Dunkin Donuts).
What makes Styrofoam so harmful, you ask? For this, I enlisted the help of a member of both Sustainability@BU and BU's Net Impact Undergrad organization, heavily involved with BU's Kill the Cup Challenge, Alex Wong. According to Wong, "The main reason that Styrofoam cups are bad for the environment is because they take forever (almost literally) to decompose. Styrofoam waste is taking up space in our landfills, which are getting smaller and smaller. I believe that Massachusetts is beginning to look toward greener alternatives partially because the landfills in the state cannot hold much more waste."
When asked about the importance of using renewable cups, Secretary of BU's Net Impact Undergrad Patricia Zundritsch replied, "Studies have shown that 16 billion paper cups are sent to the landfill every year. Unfortunately though many people believe they are recyclable, their plastic lining prevents them from being recycled."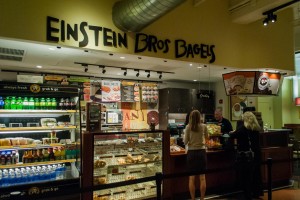 Zundritsch also says that students who would like to reduce their contribution to Massachusetts landfills can do so by "bringing their own mug, sharing the campaign with friends and posting pictures with their reusable mugs, just as they would on Snapchat or Instagram." By sharing your photo with the hashtag #KillTheCup, you automatically enter the chance to win prizes from both BU's Net Impact Undergrad and the national Kill the Cup Challenge organization.
Coffee shops around campus also encourage the use of renewable cups, most notably Starbucks. All of the campus Starbucks locations offer a 25 cent discount to anyone who brings their own reusable cup. Additionally, they're introducing a new, reusable and recyclable mug that customers can buy for just $1. The company's website claims, "If you use it daily for a month, you'll help avoid using more than a pound of paper or 3.5 pounds of wood." Unbeknownst to many, most Starbucks locations also have ceramic mugs available for those enjoying their drinks in-shop, so you don't have to drink out of a paper to-go cup just to throw it out in the store.
City Convenience also offers any size coffee for just $1 when you bring in your own mug. With these discounts available, the cost of a reusable coffee mug pays for itself quite quickly on campus.
Taking part in the Kill the Cup Challenge is a small, easy way to help make BU a greener campus. And if you want to get more involved with helping the environment, Zundritsch from Net Impact says the club organizes "panels with guest speakers, presentations, career workshops and fun field trips. Last semester Net Impact invested into a small microfinancing project through Kiva and took part in the sustainable art competition at BU."
Pick up a reusable mug at any campus Starbucks or City Convenience location. You  may run into some members of Net Impact while you're there who can answer any additional questions you may have about recycling. And don't forget to #KillTheCup for your chance to win great prizes!