By Andrea Van Grinsven
"I was worried about what we think about vaginas, and even more worried that we don't think about them," said Haley Jakobson (CFA '15) as the narrator in CFA's performance of Eve Ensler's The Vagina Monologues.
CFA's five performances, which ran from October 18 to 23, started the campus conversation about vaginas early. The play is performed by BU's Athena's Players every February in congruence with nationwide performances to benefit V-day, Ensler's campaign to stop violence against women.
But this rendition was just a chance to put on a great play.
"We're just doing it now because why not? There's never not a good time to do it!" said Olivia D'Ambrosio, the director of the play and a BU MS candidate.
The show also offers a much-needed source of female roles for the many female theater students in a world without many plays written for woman actors.
The Vagina Monologues was written and originally performed in 1996 by Ensler, a feminist playwright, performer, and activist, as the result of over 200 "vagina interviews" she conducted with women. Ensler's characters range from age 13 to 72, and detail experiences from sex work to surviving a Bosnian rape camp.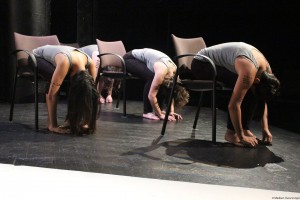 As the play unfolds, each monologue strips away another layer of the taboos associated with discussing and embracing female sexuality. The cast of five CFA actresses seamlessly slipped into each character and made use of the entire small theater space, often walking through the audience. The actresses were dressed uniformly in grey tank tops and yoga pants. Their arms were covered with words relating to sexuality, written in permanent marker.
Many of the cast members had seen the show before, or had at least known something about it, according to cast member Viviana Vargas (CFA '16). They worked to break their preconceived notions while also adhering to the script, she said.
"I hope people just take it in and feel something in themselves," Vargas said.
This show was D'Ambrosio's debut into directing. She had the opportunity to direct it through a cross-registration between the arts administration program and the MFA directing program.
"I'm really proud of it. People seem to be responding to it," she said.
The positive response was evident from the audience's standing ovation and whispers of people leaving the theater, overheard calling it "very brave."
"It's a very important show because it focuses around an under-discussed topic," said Cailey Bice (SED '17), who saw the show for the first time Wednesday. "And chances are people who don't want to see it are those who need it the most."