Would you believe around 50 strangers spent a Wednesday night watching porn together in CGS's Jacob Sleeper Auditorium? That's exactly what happened when Megan Andelloux, a certified sexologist and sexuality educator, held a conversation-style workshop and challenged students to think critically about porn during "Oh Megan! NSFW: Is All Porn Created Equal?," hosted by BU Wellness & Prevention Services and BU Students for Reproductive Justice.
"I'm not actually going to give you a definition of porn," Andelloux said. "That's not my job here tonight, but rather I want you to start thinking critically because the term porn is used interchangeably and differently by individuals… because everyone has a different definition of what sex is, and everyone has a different definition of what porn is."
Andelloux showed video clips and invited the audience to discuss why or why not people viewed them as porn. One clip showed two figures, cloaked in nude full body suits that erased all of their features, engaging in sensual activity. In a different clip, one partner stimulated the other partner with a vibrator. The camera focused on the use of a speculum to spread the partner's vaginal walls, showing the elusive G-spot and female ejaculation. Andelloux said she intentionally selected clips she felt were outside the mainstream genre of porn students are familiar with.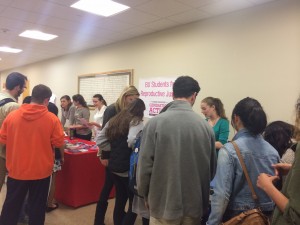 What makes something porn? The medium? Intent to elicit a sexual response? "Does that mean that humans are pornography because humans are designed to elicit a sexual response?" Andelloux asked, challenging students to assess what constitutes pornography before evaluating the ethics of it.
The need to distinguish ethics from morals was also central to the conversation. Andelloux, along with the workshop participants, concluded that ethics refer to what is deemed good on a societal level, while morals are held by an individual and can change as perceptions change. By this definition, Andelloux said she felt that pornography is technically more "ethical" than sex toys because the government acknowledges and regulates the industry, which is not the case with sex toys.
Andelloux presented students with results from research about pornography, deconstructing myths that porn leads to sexual predation, violence, and addiction, common points of contention for those arguing that porn is harmful.
She also asked students to question if porn can be educational instead of, or in addition to being, sexual, referring to the clip of the partners using the speculum. This same debate has called Biology textbooks and books about puberty into question, sometimes resulting in bans on material deemed pornographic. According to Andelloux, young people search out porn because it is one of the few places they have permission to look at others' bodies, which does have implications for developing body image.
"Do not ever base your body or base your sex life off of porn stars," she said. "It's like basing your driving history against race car drivers. Everyone's going to be unhappy."
By the end of the two hour discussion, it was clear that there isn't necessarily a right or wrong opinion when it comes to the morality and ethics of porn, only the need to keep the conversation going.
"Your morals can change, and I want you to keep that in mind because very often when we're talking about porn, it's presented in this black and white issue- you're either against porn or you're for porn and that's not really the way that we interact with it," she said.