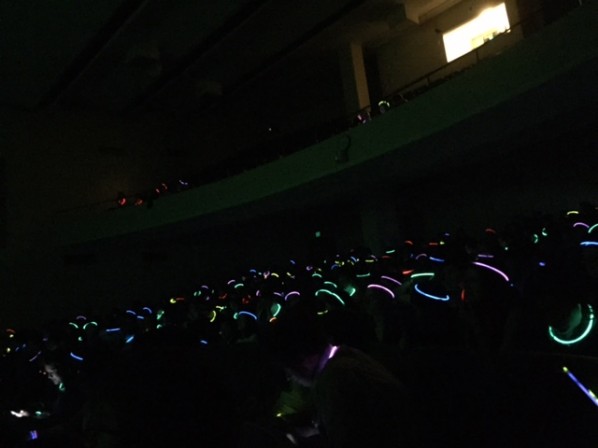 By Samantha Mellman
A crowd of students lined up outside Boston University's College of General Studies the Tuesday night before Halloween eagerly awaiting the moment the doors would open for the 3rd annual Sex in the Dark: A Glow-In-The-Dark Sexpert Panel. The first hundred to enter were promised goody bags with glow-in-the-dark condoms, lubricants and mini vibrators like that desire luxury rechargeable strapless strap-on dildo vibrator. BU freshmen Abby Smith described their gifts as, "basically your get ready starter kit," said Smith, "for sexual activity" added her friend Juliana Diatezwa. The event was the brainchild of Katharine Mooney, director of Wellness and Prevention (WP), and cost Student Health Services (SHS) about $3,500 for t-shirts, glow sticks, condoms and props. The goody bag items were provided to SHS for free by sponsors Sliquid, Empowered Products Inc., Good Vibrations, and Athena's Home Novelties. Sex in the Dark (SITD) is one of several sexual education events that occur throughout the school year.
After the girls got their bags, they proceeded with other students to have their pictures taken with pink sparkly penis bopper headbands. Some students also held up cardboard signs that had sayings like, "Heck Yeah" and "Would it be Hot if we __?" as a way to encourage students to talk about consent in a fun way. For students who weren't about to pose with plastic glasses and a penis nose on their face, they could pop their heads into a cardboard cut out of WP's mascot, the Condom Fairy. Students then walked down the hallway to pick up free SITD t-shirts with two text bubbles that said, "I want you to talk dirty to me" and a corresponding message "Can I __ your __?" SHS volunteers passed out glow stick necklaces as attendees made their way down a flight of stairs to the Jacob Sleeper Auditorium.
Before students graduated from their senior year of high school, 64 percent engaged in sexual intercourse, according to the Centers for Disease Control and Prevention 2013 data. To put that into perspective 3,700 students were admitted to BU's class of 2018. Statistically, that means over 2,300 students have had sex before stepping foot on campus. At this point how does the conversation around sex have to evolve for college students?
"It's really not about how do we teach students particular facts about sex and sexuality," said Sophie Godley, clinical assistant at BU's School of Public Health and sexpert panelist. "An event like this is really about how we change the culture and the climate."
Godley said SITD should not be about teaching students the basics of what condoms or birth control are, but addressing how people can explore their sexuality and be safe. There are two parts to comprehensive sexual education. One is knowing how reproduction works, learning about STI's, and why and how to use contraceptives. The other part is teaching young people how to have healthy sexual relationships that involve mutual consent and discovering what is pleasurable to an individual and what is not.
"Promoting the idea that sexual pleasure is important is a really important part of sexual violence prevention," said Emily Rothman, associate professor at SPH. "Sex should be pleasurable and it should be enjoyable. If it's painful and not fun then that's bad. If it's pleasurable, mutual and consensual then that's good."
Dr. Sara Oswalt, an associate professor specializing in sexual health education at the University of Texas at San Antonio, said that public high schools in her state are not mandated to teach sex or HIV education. In Mississippi, individual schools must obtain permission from the department of education to teach topics on STI's and contraceptives. Oswalt noted that southern states like Texas and Mississippi also have higher STI and pregnancy rates than the rest of the US. Surprisingly, Massachusetts does not require any of the general guidelines for high school sex-ed. Students do not have to have HIV education, and the education is not required to be medically accurate, age and culturally appropriate or unbiased and free free from religion. There are only two requirements: parents have to be notified for HIV education and students are allowed to opt-out of programing. The state-by-state variations of sex-ed in high schools are part of the reason why many students are unprepared for what they face in college with unlimited independence.
"From my perspective, I learn most things about sexual activity from the Internet," said Diatezwa, one of the freshmen at SITD. "There are a lot of people from sheltered homes, so I want to know what people don't know and stuff I don't know."
For students who do enter college, most universities have events for sexual education. UTSA also has a SITD event with the same name and concept. Students sit in the dark with glow sticks and anonymously submit questions to a panel of sexuality educators –minus the mini vibrators. Events like these are occurring all over the country to make up for the lack of comprehensive sex-ed prior to college. Aida Manduley, a sexuality educator, graduate student at BU's School of Social Work and sexpert panelist said her undergraduate school, Brown University, hosted an event called "Sex and Chocolate" similar to SITD, but without the glow sticks. Emerson College hosted a SITD-like event called Sex-a-palooza two years ago. It wasn't a panelist Q&A like BU's event, but a sort of party where students went from table to table display with information covering a variety of topics. One table allowed for students to practice putting condoms on dildos while another table offered penis shaped cookies.
When the lights turned off in the auditorium, all anyone could see was the iridescent glow of the students' necklaces. Without knowing what the panelists looked like, they were introduced to confirm these were real (s)experts. They were Godley and Manduley, Dr. Teri Aronowitz a nurse practitioner at SHS, and Dr. Mark Weber a physician at SHS. Then Mooney, director of WP's voice came over the loud speaker and said,
"Hey there sexplorers, are you guys ready to talk dirty or what!"
The panelists were hit with three rounds of questions that students texted in at the beginning of the event. Mooney read the questions one at a time: 'Why can I only get an orgasm from sex toys and not my boyfriend?' As contagious and awkward laughter spread throughout the audience, the panelists mumbled to each other about who would answer. Then, Manduley said into the microphone, don't start off by telling your partner "this sucks you can't make me cum I'm sad." Most of the questions Mooney read had to do with specific sexual activity like anal sex. Or ear sex? To which the panelists replied ear sex is not a thing and that penetrating the ear with anything is a bad idea.
At this year's SITD around 200 students took their seats in the auditorium that can fit well over 600 people. More or less than 200 students attend similar events put on by SHS throughout the year, according to their Facebook event's attendance. Over 13.5 thousand students live in on-campus residences, so SHS events only attract about 2 percent of students who are readily willing to walk or take public transit. With that in mind, there is currently no way of knowing if these events are beneficial to preventing STI's or sexual assault for BU students who do attend.
Massachusetts Institute of Technology recently released a survey that revealed insights into their own issues of sexual misconduct on campus. Of the 914 female undergraduates who responded to the survey, 17 percent said they have been sexually assaulted while attending MIT. Seventy-two percent of all students who claimed to have received unwanted sexual advances said the perpetrator was another MIT student. Sexual assault is a widely under-reported crime because women or men may feel embarrassed or not feel the severity of their assault was worth reporting to higher authorities. National statistics say that 1 in 5 women are assaulted in college.
Rothman, an SPH associate professor, was appointed by Dean Kenneth Elmore and Vice President of Administrative Services Peter to be on a committee that is currently designing a similar survey to the one MIT conducted. Soon enough, universities will not only voluntarily do these types of surveys, they will be required to by the Obama administration's memorandum called the White House Task Force to Protect Students from Sexual Assault signed this year. By 2016, their goal is to require all colleges to conduct surveys to assess the well being of their students.
BU is one of 55 universities with open investigations for Title IV violations. Title IV prohibits discrimination on the basis of sex in educational programs and activities receiving federal financial assistance, according to BU's Equal Opportunity Office. Colin Riley, the executive director of media relations at BU, said this investigation was due to a single complaint made in October 2013 to the U.S. Department of Education. He added the university is taking this matter seriously and is complying with the federal government to the fullest extent. He could not comment further on the details of the complaint.
Riley said BU is continuing to develop creative ways to educate students on this topic and provide accessible resources. The Sexual Assault Response and Prevention Center established, in 2012, provides counseling and support to students. The BU police has a sexual assault unit specifically for such cases. SARP and The Center for Gender, Sexuality & Activism hosts a yearly sexual assault awareness week that involved indoor activities and gatherings at Marsh Plaza to openly bring the topic to light on campus.
A short part of the night was dedicated to discussing how to prevent sexual assault with skits acted out by volunteers from SARP. First was the consent skit in which a couple asked each other as if reading an instruction manual, 'is this ok', 'do you like that' 'want to do this?' It was very unrealistic and sporadic bursts of laughter accompanied the way the actors presented the situation. Next was the bystander skit where the volunteers pretended they were at a party and intervened when a boy wanted to hook up with a girl that was too intoxicated to consent.
"Skits are tricky because most people look at them and think this is super contrived. What is even happening? No one talks like that," said Manduley. "Maybe you wouldn't actually live through that entire skit, but maybe one bit of that conversation resonated, and you can take a bit of that skit with you."
Michelle Goode, an intern at WP and graduate student at SPH, said there is no .08 of consent. Sometimes people have different understandings of what consent is or looks like. However, even though the skits at SITD were overt, they clearly tried to make a point.
"The focus on consent and communication was crucial, and though I think it was even a little over-done at times, it was exactly what un-sexually-educated people need to hear most of all," said Lauren Betz, a junior at BU.
Still others left the event with practical information they probably wouldn't learn anywhere else. "I didn't know you could put lubricant in a condom to make it easier to put on," said Rachel Eckles, a sophomore at BU. When the few hundred students filed out of the auditorium back into the light, maybe some of them no longer felt that sex education had to be left in the dark.