BU Global Programs hosted a panel discussion last week, fit with four expert professors, on the Ebola crisis, which is ravaging the West African countries of Liberia, Sierra Leone and Guinea, and making its way across the rest of the world. Somewhat ironically set in the Castle's pristine lounge, the discussion was an opportunity for BU to address some of the many questions about the horrific disease and the issues associated with it.
William Keylor, professor of international relations and history, started off the discussion by putting this crisis into perspective, comparing it to the Spanish flu epidemics of 1918 and '19 and the Asian flu pandemic of 1957. The two killed about 40 million and 2 million people worldwide respectively, while Ebola has killed just over 5,000. That is not to say that 5,000 is a negligible number, Keylor said, but to show what modern medicine has been able to prevent.
Keylor then brought up that morning's New York Times article, which revealed some discouraging facts about the international aid that is (or isn't) reaching the West African countries most affected by the virus. Keylor said that ineffectiveness is increasingly disheartening.
"There is tension between the donor countries…and the recipient countries", he said, and that lack of cooperation is preventing supplies and labor from reaching their maximum potential.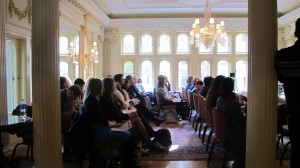 George Annas, a professor in the School of Medicine and the School of Law, then raised the question of drugs and vaccines that may help patients in Africa. He brought up ethical questions like which is better: to use a placebo-control trial of a drug in which half the patients will not actually receive any real medical help, or not to try any drug at all.
Professor of Global Health Kojo Yeboah-Antwi asked if experimental drugs and vaccines were really "important and essential" in this particular case. What's most essential, he said, is "basic public health and clinical management," a sentiment reaffirmed by the discussion mediator and Professor in the School of Public Health Susan Foster. She noted the heroic work of NGOs in not only treating patients, but also taking care of crucial details like safe burials in a medically and socially conscientious way.
Later in the discussion Yeboah-Antwi made a sobering observation: if the ratio of civilians to physicians in Liberia is 70,000 to 1, then the death of just one physician due to Ebola in the country condemns tens of thousands of potential patients to a similar fate. He stressed the importance of ensuring physicians and other healthcare workers have the necessary medical supplies and protective gear to perform their jobs safely, pointing out that doctors in West Africa are still treating patients for diseases other than Ebola.
When the floor opened to questions one woman, notepad in hand, asked what we can do to prepare for the next big outbreak based on what we've learned so far from this crisis. None of the experts on the panel refuted her assumption that there would be a "next big outbreak" to prepare for.
In fact, Foster said that there's research suggesting, "the next outbreak is very likely to be airborne." Something like influenza or SARS is not out of the question and "would require a whole other level of protection" for the country. Keylor expressed his concern for a certain percentage of the public's distrust of science, citing global warming deniers as the source of his unease. If all of the research in the world cannot convince someone a pandemic exists, then scientists' ability to help the people diminishes.