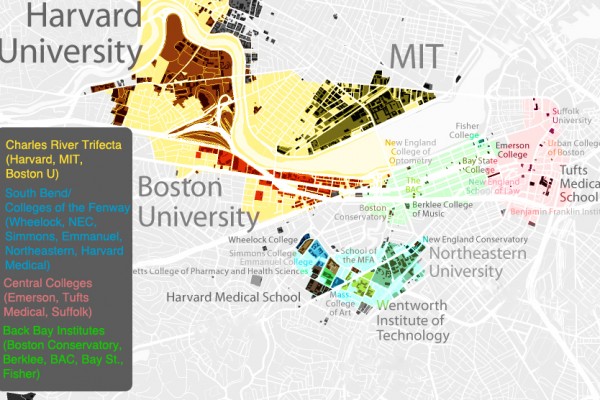 Going to college in the city is expensive. The price of attending Boston University is $45,686 for the 2014/2015 academic year, much more expensive than going to college in places like the South or Midwest.
Going to school in a city like Boston gives you access to experiences that you don't have in most places.
"One of the major attractions to attending school in Boston is the plethora of companies that are based in the city and surrounding area. Whatever your major, there is usually an internship or some other experience that can enrich your learning experience and allow you to gain some skills that are essential to your area of study," said Kyla Fearon, a sophomore from Northeastern University.
At BU, students have the opportunity to get hands-on experience in the field they are interested in through research, internships and volunteer work. For example, the College of Communication provides opportunities like the State House Program and a fellowship with National Public Radio-affiliate WBUR right on campus.
Alyssa Ling (CAS '17), who is interested in teaching, likes the accessibility to schools in the city because it allows her to volunteer. "There are a lot more opportunities to help out in schools here, as compared to other places," she said. Ling volunteers at William Monroe Trotter Elementary School in Dorchester through BUILD — a collaborative program that allows BU students to tutor students in the city's public schools.
Those experiences help after graduation. Boston University graduates typical early career salary is $50,100. Alums from Massachusetts Institute of Technology and Tufts University report similar numbers.
More generally, Boston has a lot of opportunities for young professionals after students graduate. According to Social Explorer, which provides nice visualizations of US Census data, 18 to 34 year olds make up 71% of all employed adults in Boston, compared to 65% in the rest of the country. Plus, the median earnings for full-time employees in Boston is $44,548 compared to $33,883 in the United States.
Put in words, Boston is a good place to be young, with lots of job opportunities for young people.
Still, going to school in the city has it's downsides. A big one students point to is the lack of cohesion on city campuses. "Lots of schools don't really have a campus; rather it's incorporated into the city. So one downside is that we never really get the full 'campus' experience," said Ling.
Joyce Chang, a sophomore at Boston College, which is 45 mins away from the city by T, echoed that sentiment. She said she likes that students there have close bonds with other students and faculty. Chang said it translates into a strong sense of community where students feel safe and can depend on school resources.
But even if city campuses can feel disjointed, they make up for it in their connections to the city.
"Attending a university in a city like Boston is a one-of-a-kind experience," said Fearon, the Northeastern student.
College is as much about exploring and experiencing new things as it is about textbook learning, and there is always something to do in the city, especially relating to the arts. Students have the opportunity to attend the Museum of Fine Arts, see a show at the Huntington Theater, or watch the Boston Ballet. Many of these cultural experiences are free or at a student discount.
Often these opportunities are within walking distance, and the city's landmarks make it hard to get lost. "I love that the city is walk-able, and that you can never get lost with our trusty Pru' standing tall," said Leslie Ress (CAS '15).
The best part of living in the city though would be the the type of people you meet in Boston. According to Boston Magazine, "a quarter of a million college students reside in Boston and Cambridge, making us America's youngest major metropolis," and many of these students come from diverse backgrounds. Nearly 20% of the population of 18 to 34 years olds in Boston is born in another country.
While the city may not feel like a tight-knit community, many students here at BU are accepting of others, whatever flaws you may have. 
As a shy and indecisive female from suburban New Jersey, I have grown a thicker skin while living in Boston. The students at BU are driven, motivated, and hard working, which forces me to get out of my comfort zone and to be more confident in myself. While I may have chosen the insecure career of journalism, I am confident that if I work hard, go after the opportunities presented, and trust myself, everything will eventually fall into place. 
After all, there is always something happening in the city of Boston.