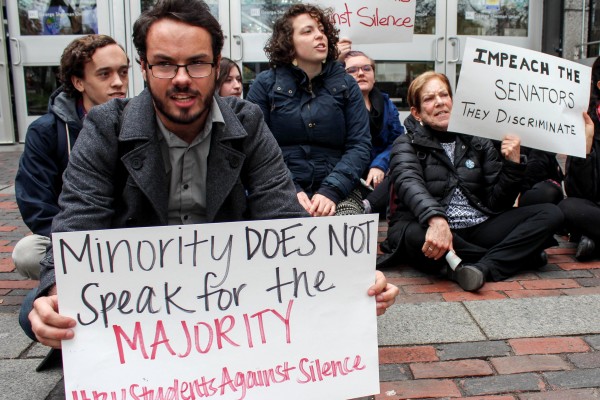 Tuesday afternoon more than 30 students staged a sit-in outside the George Sherman Union in response to the removal of two Student Government E-Board members from office. At Monday night's Senate meeting, senators voted to remove Vice President of Finance Kimberly Barzola (CAS '17) and Vice President of Internal Affairs Marwa Sayed (CAS '17) from their positions. This follows last week's impeachment hearing where senators voted to proceed to a trial for removal from office.
Citing the BU Student Government Constitution, senators voted 26-13 in favor of removing Sayed for failure to "maintain meeting logs," and 37-2 in favor of removing Barzola for failure to publish a "budget report for each Senate meeting." Three senators were absent, though they sent proxies to the meeting, none of whom were allowed to vote on these issues.
In the hours that followed that meeting, students took to social media to voice their outrage, using the hashtag #BUStudentsAgainstSilence. At Tuesday afternoon's protest several of the participants carried signs with this hashtag, along with messages such as "Minority Voices Matter" and "Dissolve Student Government."
Dissapointed in my school today after the removal of 2 inspirational, hard-working WOC leaders from @BUStudentGov. #BUStudentsAgainstSilence

— Arri (@bostonarri) November 10, 2015
The demonstration started in Marsh Chapel at noon before participants headed to the GSU to begin the sit-in. During the hour-long event, members of the protest chanted phrases such as "What do you want? Justice. When do you want it? Yesterday." and "Student Government does not represent me."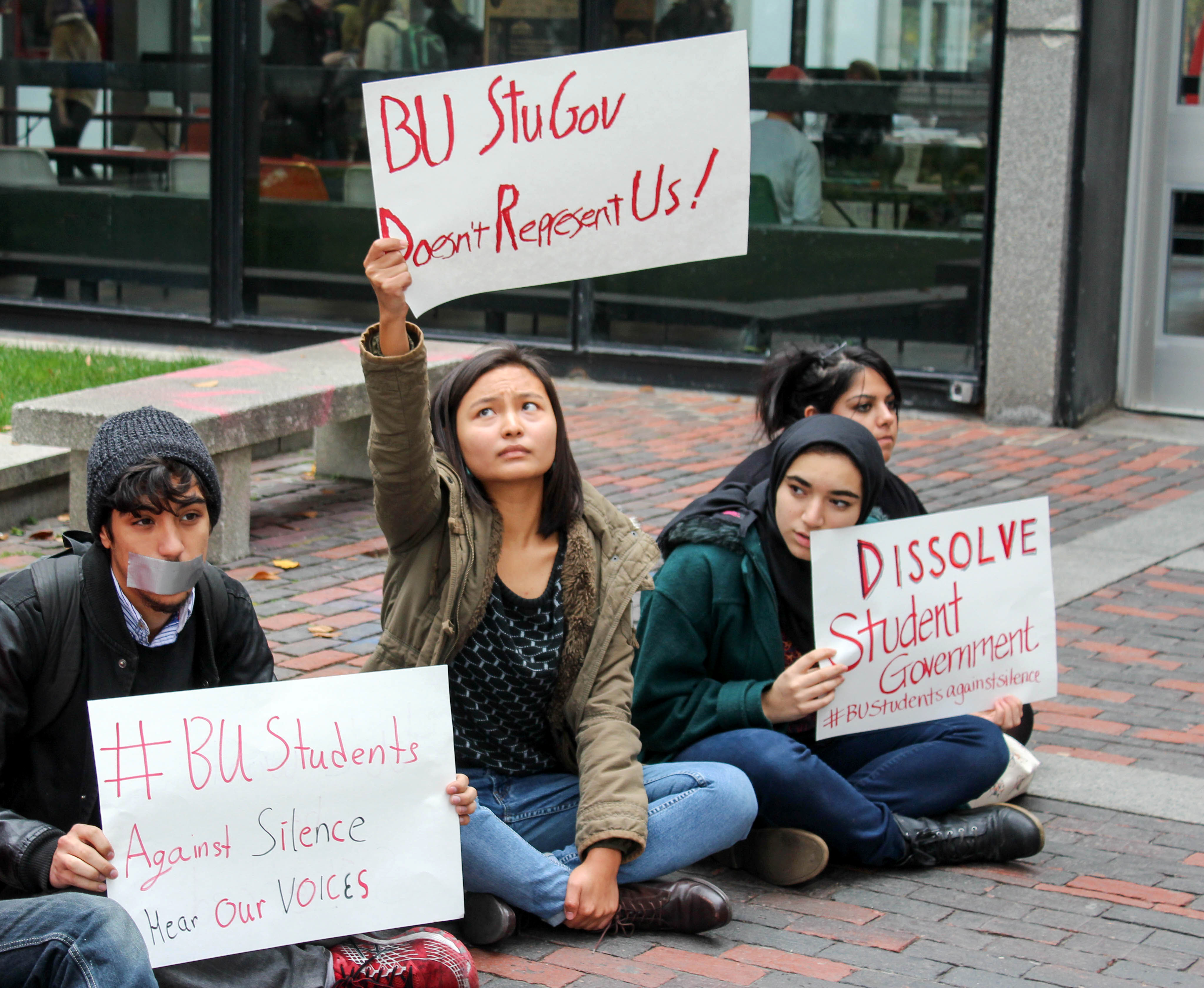 Yasmin Younis (CAS '18), a member of the protest, explained what brought the group together. "We want justice for Kim and Marwa," Younis said. "People are asking questions and taking pictures. … We want to get people talking [about this trial]."
One witness Daniel Nieto (COM '18) sat at a nearby table as the protest went on. "People are just walking by," Nieto said. "I'm just kind of taking it all in."
Beyond Monday night's trial, Younis shared the group's larger objective. "The ultimate goal is to get student government to actually represent the student voices," she said. "The senators didn't want us [members of the public] there."
At Monday night's trial, members of the public were asked to leave the room more than once for Senate discussion and vote.
Younis expressed frustration with the student government's mixed signals. "They tell us to go to meetings and speak out, so we spoke out."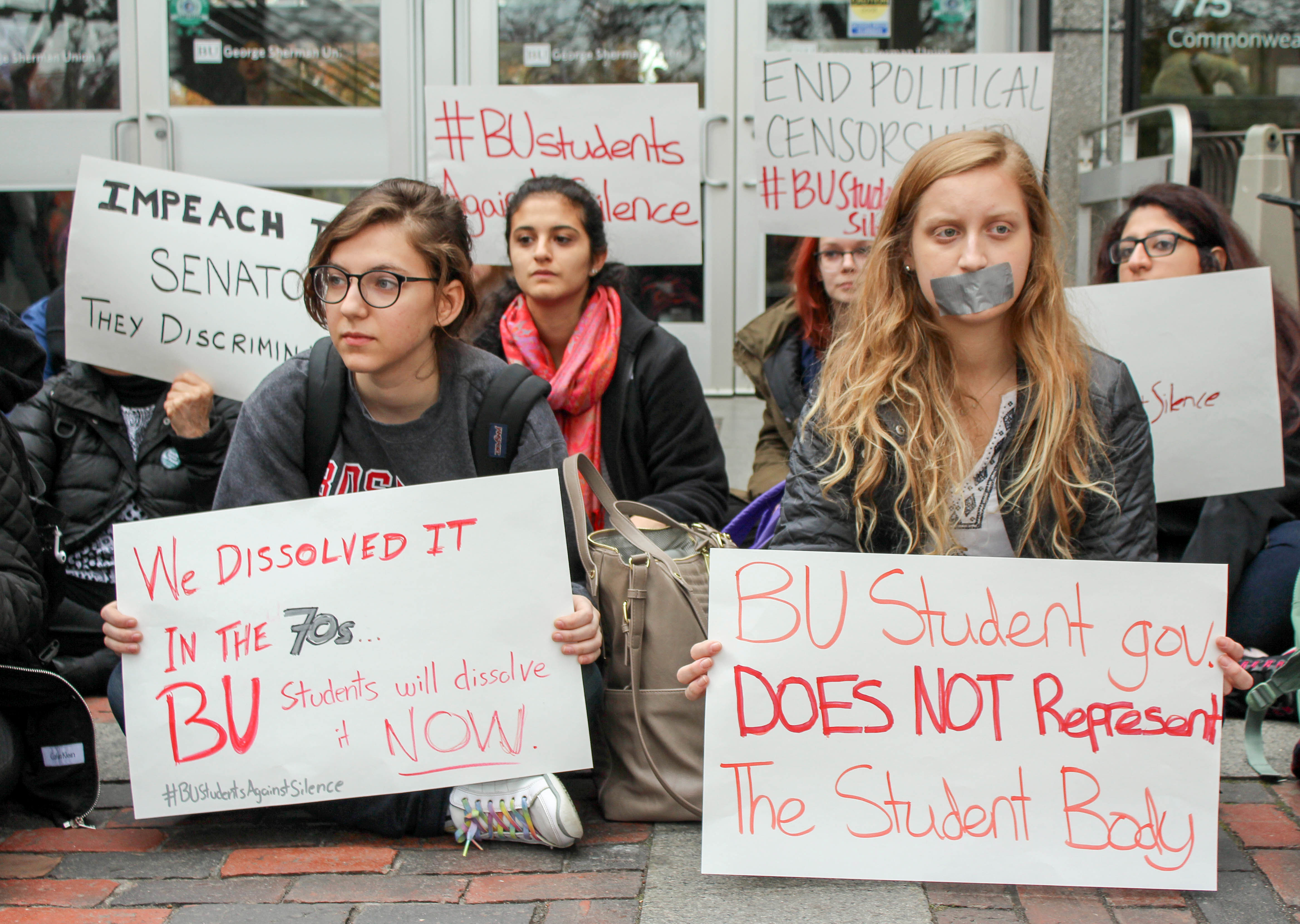 In response to the initiative Make The Names of Senators Publicly Available on the Terrier Voice website, as well as questions from the student body, the BU Student Government has published a list of senators, complete with constituency and contact information. Prior to Monday's meeting the Senate webpage only included senators' head shots.
BU Students Against Silence also published a petition on Change.org late Tuesday night. The group asked students to sign the petition to demonstrate that "the BU Student Government, as it currently stands, does not represent me."
True BU, the slate that ran and was elected to Student Government, originally consisted of Andrew Cho as president, Mel Finau as vice president, Marwa Sayed as vice president of internal affairs and Kimberly Barzola as vice president of finance. Due to resignations and removals, the only remaining member of this slate is Cho. There is no word yet as to who the next vice presidents of internal affairs and finance will be.